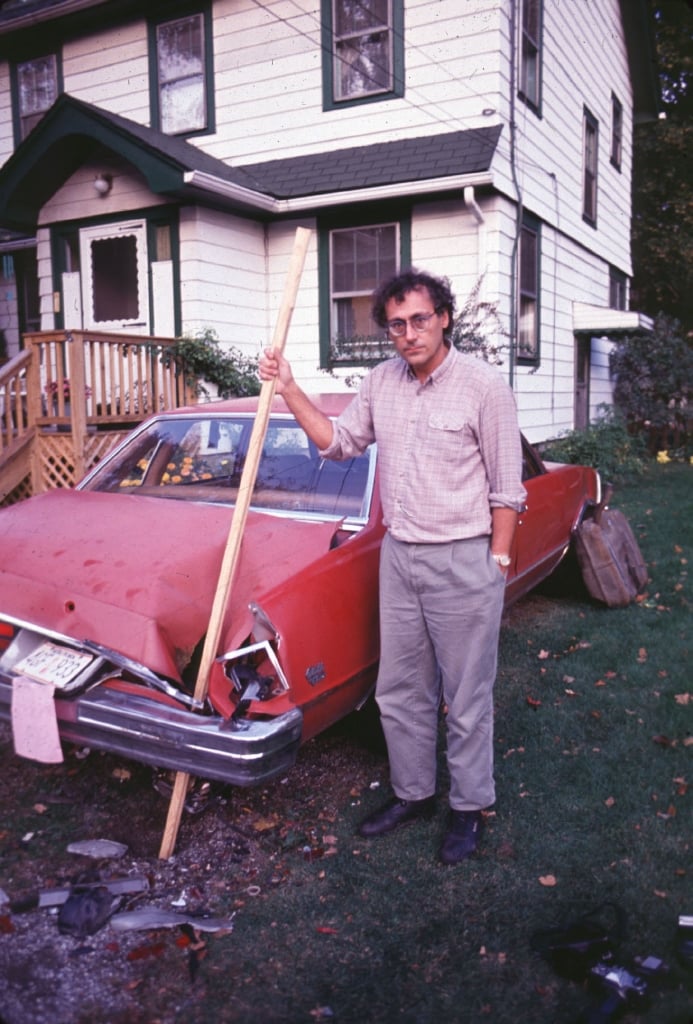 Cartersville, GA, October 4, 2018–On a typical fall Friday night in 1992, families were gathered watching high school football when they witnessed a brilliant, green fireball streak across the sky. Because they were filming the game, 16 different cameras captured the spectacular sight that was seen from 4 different states. A minute later, Michelle Knapp was at home in Peekskill, New York, watching TV when she heard a loud crash.  When she rushed outside to see what happened, she discovered that what everyone else had seen in the sky was now in her driveway. A 27 pound meteorite had made its way from space and then smashed through the trunk of her 1982 Chevy Malibu.
The crown jewel of Tellus Science Museum's newest special exhibit, Meteorite Headlines, is the Malibu that was struck by the Peekskill meteorite. The car has travelled around the world – having just arrived at Tellus Science Museum from a museum in Paris – for visitors to see the impact of the meteorite that made national headline news.
Greenlight Capital Full Q2 2021 Letter: Einhorn Thinks Inflation Is Here To Stay
David Einhorn's Greenlight Capital returned -2.9% in the second quarter of 2021 compared to 8.5% for the S&P 500. According to a copy of the fund's letter, which ValueWalk has reviewed, longs contributed 5.2% in the quarter while short positions detracted 4.6%. Q2 2021 hedge fund letters, conferences and more Macro positions detracted 3.3% from Read More
In addition to the car, the special exhibit includes the fascinating stories of some of the world's most talked about meteorites, along with things hit by meteorites and the actual meteorites.
Tellus Science Museum Executive Director Jose Santamaria states, "This has been one of the most interesting exhibits we've curated to date. Some of the artifacts were not terribly difficult to track down because they were the headline-makers, but learning more about them has been a treat for our staff. We are excited to share those stories with our guests."
Graham Ensor, a witness to the meteorite that fell near Barwell, England on Christmas Eve 1965 will open the exhibit Friday night, October 5th as he recounts his experience. Only 9 years old when he saw the fall, it sparked a lifelong interest in meteorites and he has made it his mission to collect pieces of the Barwell meteorite and the structures it hit.
"We are grateful to Graham for travelling from England to come share his story with our guests. He has also loaned us pieces of the Barwell meteorite and some of the structures that were struck to be used in our special exhibit. We are also thankful for the help of the Meteorite Association of Georgia for the wealth of knowledge and the vast amount of research they were able to provide for this exhibit. They have been a wonderful resource for us and we couldn't have put this exhibit together without their assistance," Santamaria continued.
Meteorite Headlines is a special exhibit curated by Tellus Science Museum and has never been on display collectively before. It will be on exhibit at the museum through March 24, 2019. The special exhibit is free to Tellus Museum members and included with regular museum admission for non-members.
---
Tellus Science Museum, a Smithsonian Affiliate, is a 120,000 square foot science museum located in Cartersville, just north of Atlanta. For more information about Tellus Science Museum call 770-606-5700 or visit www.tellusmuseum.org or www.facebook.com/tellusmuseum.