What the activism world is talking about
John Flannery is out as CEO of General Electric after little over a year in charge. A unanimous board decision to give his job to an outsider, former Danaher CEO Larry Culp, came at the same time as the company announced a $23 billion impairment in its power division.
John Flannery , who was previously the boss of GE Healthcare, was a replacement for Jeff Immelt, whose exit was precipitated by an intervention from Trian Partners – the activist he initially encouraged to invest in the stock to champion his turnaround project. Trian, whose chief investment officer Ed Garden joined the board in October last year, hasn't said anything about the stock recently. As it gears up for a new campaign, the performance of its investment in GE will surely hurt – the stock is down 56% nearly since it disclosed its position in October 2015.
A Look At The Portfolio Of Billionaire Charlie Munger
Charlie Munger is one of the world's greatest investors. Over the past six decades, he's helped his business partner and friend, Warren Buffett, turn a struggling textile business called Berkshire Hathaway into one of America's largest firms. Q3 2020 hedge fund letters, conferences and more If you're looking for value stocks, and
Q2 hedge fund letters, conference, scoops etc
What we'll be watching for this week
Will shareholders vote to replace Wheeler REIT's board with Stilwell's nominees on Wednesday?
Will Brookdale propose further changes, as suggested by Land and Buildings, before its shareholder meeting on Thursday?
Will shareholders of Essendant tender their shares to Staples or keep hopes of a merger with Genuine Parts alive.
Activist shorts update
Folli Follie announced that an investigator found large discrepancies in the company's financials following a three-month probe. The jewelry company's founders Dimitris and Ekaterini Koutsolioutsos resigned at the meeting but CEO Dimitris went on to contact potential investors to garner support for its restructuring plans, saying he believes he is part of the solution for the company's turnaround and would feel like a coward to leave it now.
Investigators revealed that the reported revenue for Folli Follie's Asian business was overstated by nearly 90%. Short seller Quintessential Capital Management accused the company of fabricating the business in May.
To arrange an online demonstration of Activist Insight Shorts, email us or view our product brochure to find out more.
Chart of the week
The number of services companies (globally) publicly subjected to activist demands (between January 1 and September 28 of each year).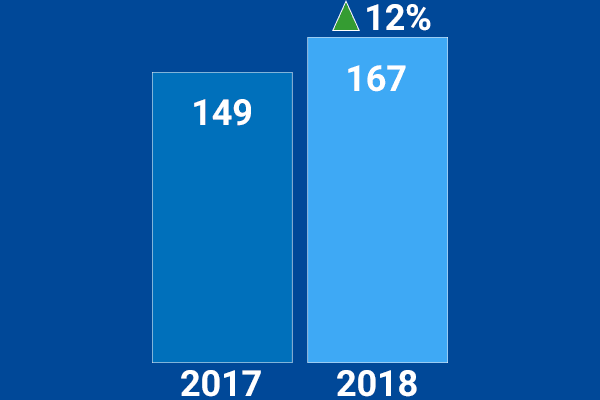 If you require statistics on shareholder activism, contact our team at [email protected] or subscribers of Activist Insight Online can visit our interactive statistics page.