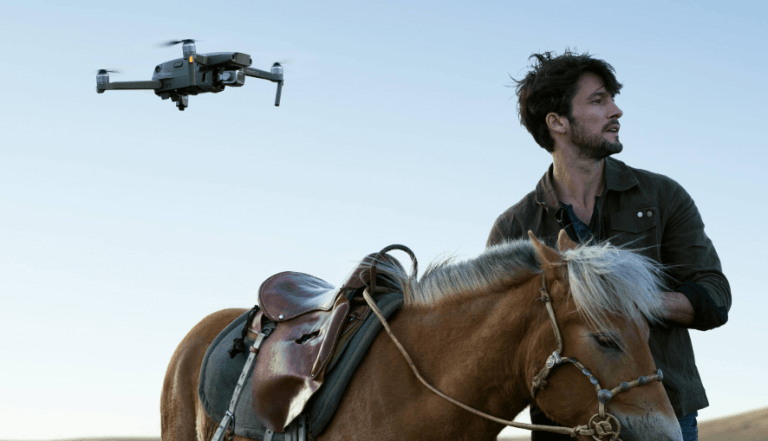 Chinese drone maker DJI seems to be single-handedly transforming the drone market. GoPro tried to enter the segment but quit after a miserable failure of its Karma drone. DJI recently launched the Mavic 2 Pro and Zoom drones for professionals, content creators, aerial photographers and videographers. The company claims these are the most advanced camera drones they have ever built. Let's take a detailed look at the DJI Mavic 2 Pro, the more expensive of the two, to find out if it's worth buying.
DJI Mavic 2 Pro design
The Mavic 2 Pro appears similar to the original Mavic but it's a bit heavier. The new one weighs 900g, about 200g more than its predecessor. The additional weight makes it a bit difficult to carry around especially considering you'll also be carrying the controllers, cables, extra batteries, battery chargers, and other accessories. It's not something you can quickly whip out and start flying.
However, the additional weight also provides it more stability up in the air. As a result, the drone can record more stable videos even in stiff breezes. The DJI Mavic 2 Pro comes with redesigned propellers and a new speed-control system that make it much quieter than the original Mavic.
Bedford Park Opportunities Fund Q2 Letter: Long Converge Technology Solutions
The Bedford Park Opportunities Fund returned 13.5% net of all fees and expenses in the second quarter of 2021, bringing its year-to-date return to 27.6%. Q2 2021 hedge fund letters, conferences and more   In the fund's second-quarter investor letter, which ValueWalk has been able to review, Jordan Zinberg, the President and CEO of Bedford Read More
DJI Mavic 2 Pro camera capabilities
The quality of photos and videos is the most important thing buyers look at when purchasing a new drone. And the new Mavic 2 Pro doesn't disappoint. It's the world's first drone to sport Hasselblad camera. Hasselblad's Natural Color Solution technology allows you to capture aerial shots with stunning color detail.
It features a 1-inch 20-megapixel image sensor that is 75% larger than its predecessor. The larger sensor captures more light, enhancing the low-light image quality. It can capture RAW photos and 4K videos in a variety of formats including MOV and MP4.
The Mavic 2 Pro also has variable apertures of f/1.1 and f/2.8. You can switch between the two apertures depending on the lighting conditions to capture bright and clear shots. Samsung offers similar dual-aperture technology on the Galaxy Note 9 camera. The Mavic 2 Pro also gets a new 'Hyperlapse' mode where the camera moves during a shot.
Advanced obstacle avoidance
The DJI Mavic 2 Pro gets an advanced omni-directional obstacle avoidance system. The drone has obstacle sensors on all sides to enhance safety during flight. It will ring to warn the user, and navigate around obstacles such as trees, people, birds, etc that might come in the way of your shot. However, DJI's obstacle avoidance system doesn't mean you can fly the drone recklessly, especially in crowded areas.
Other features
DJI's new drone has a range of up to five miles. It means you can control the drone from a distant location to effortlessly capture shots from unique perspectives. It also gets a 'Sport mode' that allows the drone to fly up to a speed of 45mph. By comparison, the original Mavic Pro had a top speed of 40mph.
DJI claims the new Mavic 2 Pro can remain in the air for around 31 minutes per battery charge compared to 27 minutes for the previous Mavic Pro. But it will last that long only in ideal settings. In real world, there will be a number of factors such as strong wind, time spent connecting your phone with the drone, setting it up, and others that could bring down the actual flight time.
DJI Mavic 2 Pro price
The Mavic 2 Pro retains the best of its predecessor while pushing the boundaries in camera, obstacle avoidance and other areas. DJI has priced it at $1,449, slightly higher than the Mavic 2 Zoom that costs $1,249. The drone is indeed expensive but it's good enough to replace the more expensive equipment professionals use to capture stunning footage.
The Mavic 2 Pro is not for hobbyists. If you are a hobbyist, you are better off buying the $400 DJI Spark or the Mavic Air that costs $800. If you do plan to buy the Mavic 2 Pro, consider shelling out an additional $319 for the "Fly More" kit that includes two batteries, a multi-charger, a remote controller, and other accessories. It's totally worth it.