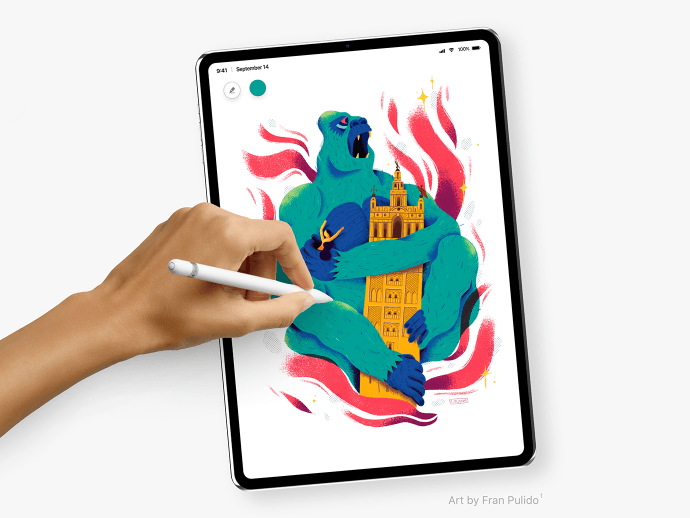 The 2018 iPad Pro models are just around the corner. Apple is expected to unveil them – along with new Macs – later this month. We have already seen a bunch of leaks related to the new iPad Pros, and recently the iOS 12.1 beta software also indicated that the launch was imminent. The iOS 12.1 beta contained references to an 'iPad2018Fall' device in the Setup app, which runs when a new device is set up.
Now Guilherme Rambo of 9to5Mac has revealed fresh details about the 2018 iPad Pro models. TF International Securities analyst Ming-Chi Kuo has said earlier that there would be two models: a 10.5-inch (or 11-inch) version and a 12.9-inch model. Citing reliable sources familiar with the matter, Rambo says the upcoming iPad Pro models would ditch the home button and Touch ID fingerprint sensor in favor of the Face ID technology.
Here's how the Face ID would work
The new iPad Pros will get thinner bezels. The bezels will still be thick enough to accommodate the TrueDepth camera system without a notch. Its design would be similar to the leaks we have seen before. Rambo added that the 2018 iPad Pro models would have the same image signal processor as the iPhone XS and XS Max.
Benjamin Graham GEICO Buy Was Just A Simple Value Play
Was Ben Graham's big purchase of GEICO shares actually a value investment? Perhaps it was contrary to what many believe. "In 1948, we made our GEICO investment and from then on, we seemed to be very brilliant people." -- Benjamin Graham, 1976 Both Benjamin Graham and Warren Buffett can attribute a large part of their Read More
The Face ID technology will work both in portrait and landscape orientations. However, it won't work upside down. The Face ID setup process will also be similar to the process on current iPhones. You have to complete the setup process only in portrait orientation. After that, you can use it in both portrait and landscape modes. It is unclear whether Apple would bring landscape support to iPhones via a future software update.
Magnetic Connector, Apple Pencil 2
Among other things, the 2018 iPad Pro models will be able to output 4K HDR videos to external displays via its USB-C port. They will have a new panel in the Settings app to let you control HDR, brightness, resolution, and aspects for the external displays. Past reports have indicated that Apple could replace the Lightning connector with a USB Type-C port to support higher bandwidth applications.
The upcoming iPads will also get a new Magnetic Connector on the back for accessories. It will allow you to connect with a new version of the Smart Keyboard and other accessories.
The 2018 iPad Pro models will also come with a new Apple Pencil. The Cupertino company hasn't updated its stylus since the original one. Similar to the AirPods and HomePod, the new Apple Pencil will be paired with iPad Pro by proximity. You will be able to switch between devices without connecting Apple Pencil to the charging port. Rambo didn't disclose whether the current Apple Pencil would work with the upcoming iPad Pros.
Other rumored features of 2018 iPad Pro models
Rambo also revealed the model numbers of the 2018 iPad Pro models. There will be two WiFi and two LTE models in both size options. The WiFi versions carry model numbers iPad8,1, iPad8,2, iPad8,5 and iPad8,6. The LTE variants have model numbers iPad8,3, iPad8,4 and iPad8,7 and iPad8,8.
Last month, noted tipster Steve Hemmerstoffer aka @OnLeaks and MySmartPrice shared new iPad Pro renders based on CAD images. The renders showed off an angular chassis with chamfered edges similar to the iPhone 4, replacing the rounded chassis and soft edges of the current models.
https://twitter.com/OnLeaks/status/1036719500492791808
Antenna lines are visible along the top and bottom edges of the back panel. The location of buttons remains the same as the current iPad Pro models. Hemmerstoffer's renders indicated that Apple could do away with the 3.5mm headphone jack to bring the iPad family in line with the iPhones.
According to the rumor mill, the 2018 iPad Pro models would sport LCD screens with True Tone technology. Both models are expected to run an octa-core A11X or A12X processor, though they would retain the 4GB RAM. The new chips would be based on TSMC's 7nm FinFET technology. There won't be a microSD card slot. The tech giant is expected to offer them in 64GB, 256GB, and 512GB storage options.
Apple could hold a special event later this month at the Steve Jobs Theater to announce the new iPad Pro models and Macs. Or it could announce them through nothing more than a press release. Considering there will be a bunch of products, Apple is more likely to hold a special event.