Despite pressure from activist investor Third Point Partners to pursue a sale, Campbell Soup decided to undergo a number of asset sales that fall short of shopping the whole company. The canned soup maker said Thursday that it plans to focus on its Campbell Snacks and Campbell Meals and Beverages businesses in the North American market, divesting its international operations and fresh foods unit to reduce debt.
Q2 hedge fund letters, conference, scoops etc
Advisers are waiting to see what Third Point – which partnered with fellow shareholder and Campbell descendant George Strawbridge – will do in response to Campbell's announcement. Previous reports indicated the activist may launch a proxy fight at the soup maker if it is unwilling to sell itself. The nomination deadline for the 2018 annual meeting is September 16.
Separately, the world's best-performing activist fund, Judah Value Activist Fund, has gone for the banks. Bloomberg reported last week that the activist investor started building a stake in an unnamed Singaporean bank and plans to advance proposals that will ultimately lead to increased value in the company.
What we'll be watching for this week
Will LaSalle accept Pebblebrook's takeover offer and delay its Thursday shareholder meeting or will it stick to its agreement with Blackstone?
Will Minfocus shareholders vote for the status quo or for former CEO Gerald Harper's nominees?
Will Dan Loeb's Third Point Partners back down after Campbell's refusal to sell the company as a whole?
Activist shorts update
Citron has exited its short position in CV Sciences, only one week after disclosing a bet against the cannabidiol products developer. The short seller said it made a 70% return off the bet after accusing the company of securities fraud, claiming it failed to disclose that its patents were rejected. Shortly after Citron disclosed its bet, a class-action lawsuit was filed against CV Sciences, also alleging securities fraud.
Even though CV Sciences CEO Joseph Dowling said "the conclusions in the complaint and in the 'report' by Citron Research are outright false, and demonstrate either an ignorance, a disregard, or both, of the basics of patent prosecution," shares still plummeted nearly 19% on Wednesday afternoon. Dowling continued his line of defense the following day, maintaining that the company is delivering solid financial results and is confident in its prospects.
Citron also disclosed a short position against medicinal cannabis company Cronos, claiming the high share price is a result of recent hype surrounding the industry. In addition, the short seller has an ongoing bet against Aurora Cannabis and has accused the company of accounting fraud. "Stay tuned for more cannabis trades, our team is working hard to bring you the next 70% return," Citron tweeted Wednesday.
To arrange an online demonstration of Activist Insight Shorts, email us or view our product brochure to find out more.
Chart of the week
The number of Japan-headquartered companies publicly subjected to activist demands (between January 1 and August 31 2018).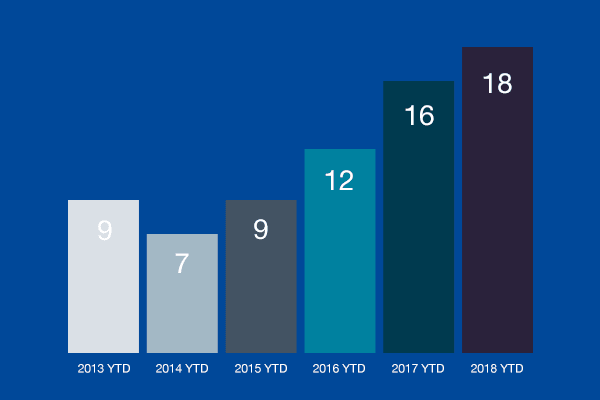 Article by Activist Insight