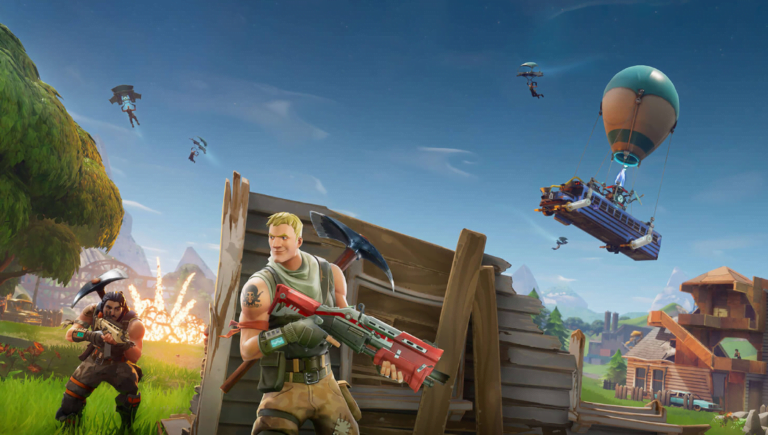 Sony has long been criticized for blocking cross-play with other platforms. These criticisms have grown intense since the Japanese company kept blocking cross-play and progression on Fortnite, one of the most popular games ever. Now Sony has finally given up and approved limited PS4 cross-play, starting with Fortnite.

Limited PS4 cross-play
Sony previously blocked Xbox One and PS4 cross-play for Rocket League, Minecraft and Fortnite. Since Microsoft and Nintendo already support cross-play for these titles, Sony's stubbornness in blocking PS4 cross-play angered Fortnite fans, who weren't able to access their skins, purchases or progress on other consoles like the Xbox One or Nintendo Switch if they played the game on the PS4.
?

Exodus Point Outperforms As Rates Trading Profits Jump [Exclusive]

Michael Gelband's Exodus Point launched in 2018 with $8.5 billion in assets. Expectations were high that the former Millennium Management executive would be able to take the skills he had learned at Izzy Englander's hedge fund and replicate its performance, after a decade of running its fixed income business. The fund looks to be proving Read More

— Xbox (@Xbox) September 26, 2018
However, from now on, Fortnite players will enjoy cross-play between all gaming consoles and operating systems.
"We recognize that PS4 players have been eagerly awaiting an update, and we appreciate the community's continued patience as we have navigated through this issue to find a solution," Sony PlayStation chief John Kodera said in a blog post.
Sony is starting an open beta for Fortnite that will support "cross platform gameplay, progression and commerce" across the PS4, Xbox One, Nintendo Switch, Android, iOS, Microsoft Windows and Mac. As of now, not many details are known about the cross-play beta, including how long it will be.
Is Fornite responsible?
In the past, Sony has been a firm believer in maintaining a closed online environment. For instance, Sony CEO Kenichiro Yoshida, previously claimed the PS4 is the best platform for playing games. Yoshida implied that there was no need for PS4 owners to connect to other platforms. Even Kodera admits that allowing PS4 cross-play is a "major" policy change for the company.
Sony's firm stance on PS4 cross-play drew industry-wide criticism, including from Xbox boss Phil Spencer and Xbox Corporate Vice President Mike Ybarra. Microsoft executives argued that the Japanese company was paying no heed to the demands of gamers about cross-play. Developers like EA also raised their voices in favor of cross-platform play. Even Tim Sweeney, head of Fortnite developer Epic Games, noted that cross-play was "inevitable" because it is in the best interest of gamers.
Now after all those complaints and requests, Sony has finally given in. One question that naturally arises is why now but why not before? A simple answer to this complicated question is Fortnite.
Before Sony's announcement, Fortnite was available on all platforms, including Mac, Windows, Android, iOS, the Nintendo Switch and the Xbox One, but not on the PS4. Though Sony is not claiming — and it may never — that neither Fortnite nor its developers changed its stance, it is definitely not a coincidence that the first PS4 cross-play game is one that is currently a massive hit among fans.
Just in time for Season 6
Sony's decision to allow PS4 cross-play for Fortnite does suggest that going ahead we could see more support of cross-play games on the console.
"We will update the community once we have more details to share, including more specifics regarding the beta timeframe, and what this means for other titles going forward," Kodera said.
The Japanese company is now working to implement full cross-play support in Fortnite. Sony's PS4 cross-play support arrives just in time for Fortnite Season 6, which debuts tomorrow. The official Fortnite Twitter account has been regularly posting teasers about the upcoming season to keep fans excited and guessing about what the next season has in store for them.
So far, the Season 6 teasers included a DJ Llama skin, a bandito cowgirl and a new wolf skin. Hopefully we will get one or two more teasers before the new season starts tomorrow. All the teasers so far have shown a purple cube in the background and cube-related imagery. Despite the teasers, there is still a big mystery on what to expect from Season 6.
However, a new leak ahead of the launch hints at one big feature fans can expect in the next Battle Pass. It has been reported that the PlayStation Store icon for Fortnite Season 6 has been leaked and that it hints at the arrival of the long-rumored pets feature for Fortnite. In the leak, the DJ Llama is seen with a pet dog riding on its back.
Updated on