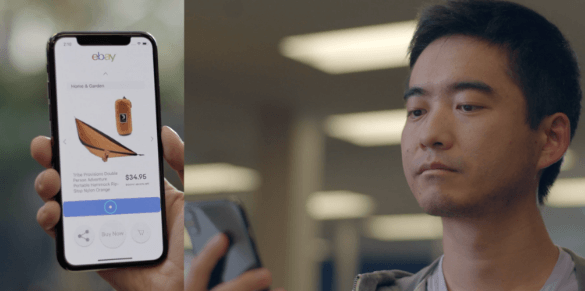 eBay has come up with a new technology that could help with hands-free shopping. eBay's HeadGaze could also assist physically-impaired people. It enables users to interact with their iPhone X using only head movements.
How eBay's HeadGaze works
eBay's HeadGaze specifically uses the iPhone X's TrueDepth front-facing camera and Apple's ARKit platform to track a user's head movements. The new hands-free shopping technology is not yet available to users, but the online retailer showcased the technology to work within its app. The company has also open-sourced HeadGaze on GitHub for anyone to use.
By tracking the user's head motion, eBay's HeadGaze moves the cursor toward interactive buttons and scroll bars. The technology can also help a user a click a desired option. To trigger a click, the tech tracks how long a cursor has stayed in one spot. For instance, if a user wants to look at another image of a product, they must move the cursor onto that image by moving their head and then wait a few seconds for the click to register.
Philip Carret And Warren Buffett: Why Sell If There's Nothing Wrong?
Philip Carret was an investor and founder of Pioneer Fund, one of the first mutual funds in the United States. Carret ran the mutual fund for 55 years, during which time an investment of $10,000 became $8 million. That suggests he achieved a compound annual return of nearly 13% for his investors. Q1 2021 hedge Read More
eBay's computer vision team, led by Muratcan Cicek, developed the HeadGaze technology. Cicek is an eBay intern and a Ph.D. candidate. One use case for the technology is to assist physically-impaired users with shopping.
However, he also points to several more scenarios in which the tech can help: "Tired of trying to scroll through a recipe on your phone screen with greasy fingers while cooking? Too messy to follow the how-to manual on your cell phone while you're tinkering with the car engine under the hood? Too cold to remove your gloves to use your phone?" Cicek says.
To test the HeadGaze technology, eBay created an app called HeadSwipe. The new app focuses on buying and browsing items in eBay's deals section, and it can be navigated entirely using head movements on the iPhone X. The HeadSwipe app has also been open-sourced on GitHub.
Hands-free shopping will be a big market
eBay is also exploring ways to track eye movements, a technology that could take hands-free shopping to a whole new level. The eye tracking tech could also help those who are paralyzed from the neck down and can only move their eyes.
"The fusion of these gazing experiences opens up a broader possibility on defining various hands-free gestures, enabling much more interesting applications," Cicek said.
Researchers at the University of California, San Diego are working on developing a technology which uses eye tracking for communication. The researchers have also developed a prototype called EyeHome, which would allow users to navigate a phone-like interface by simply looking at certain parts of the screen.
These days, companies are making big investments in technologies that will help expand the accessibility of their devices and services. Recently, Airbnb added several new accessibility filters to enable users with disabilities to search for desired accommodations. Google added "wheelchair accessible" routes to Maps and is also working to add native hearing aid support to Android.
Additionally, Microsoft recently announced its Xbox Adaptive Controller to enable people with disabilities to play games. The controller went on sale last week. Microsoft has also committed $25 million to its AI for Accessibility program.
According to data from the World Bank, about 15% (or 1 billion) of the global population suffer from some "form of disability." About 20% those experience "significant disabilities." Further, a 2011 report from the Institute on Disability noted that if the U.S. declares people with disabilities a minority group, it would be the biggest minority group in the country.
Adding Apple Pay support on eBay
eBay is also working on a plan to restructure the way it handles payments on its platform. Earlier, the company removed PayPal as a primary payment processor for purchases and revealed intentions to manage end-to-end payments by itself, something that could happen by the end of this year.
It is also known that whenever eBay starts managing end-to-end payments, it will also start supporting Apple Pay. A couple of months ago, the company announced that it will start supporting Apple Pay for some customers and sellers starting this fall.
"The company is on track to start managing payments on a limited scale in the US early this fall, at which time buyers will be able to use Apple Pay to purchase items from sellers participating in the initial phase of the new payments experience," eBay said.