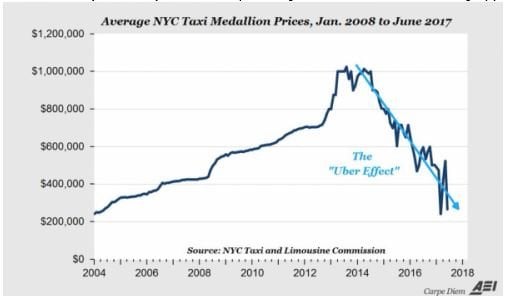 What an interesting week, to say the least, from Elon opening his mouth too wide and Uber/Lyft fighting NYC on new ride share app regulations. All in all, last week presented us with a chance to look at a NYC taxi medallion chart, who wudda ever thought? Anyway, regulations were signed into law last week by NYC mayor De Blasio, limiting the amount of ride sharing app licenses, as well as requiring a minimum pay for its drivers of $17.22 an hour. No doubt they will fight, but hey considering this medallion chart, we do think the taxi brigade has a legitimate beef. The traders in us think this chart is well oversold!
Regarding Tesla and as if they haven't had enough bad press from Elon, who apparently thinks he is Trump and can say whatever he wants. Musk made some curious comments about the Saudi's wanting to take Tesla private. Now we know the Board of Directors will have a big issue with him saying such things, we know the SEC will have its say as well, so Elon, please spare us. Anyway, it was enough to goose the stock, as Elon's tweets suggested a $420 price tag. Here is a pic of the move and our own narration suggesting a massive triple top!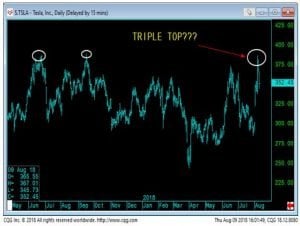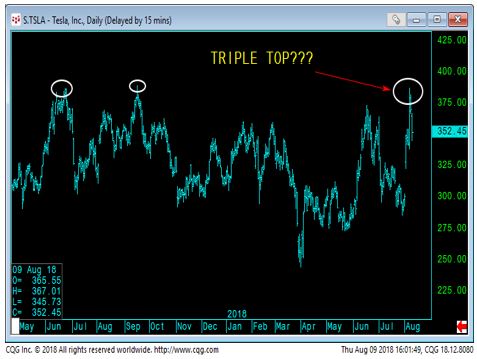 Corsair Capital Profits From Goldman Sachs' SPACs [Exclusive]
Corsair Capital, the event-driven long-short equity hedge fund, gained 6.6% net during the second quarter, bringing its year-to-date performance to 17.5%. Q2 2021 hedge fund letters, conferences and more According to a copy of the hedge fund's second-quarter letter to investors, a copy of which of ValueWalk has been able to review, the largest contributor Read More
Last week we noticed that the DAX index was setting the overall equity market tone and we posted this chart: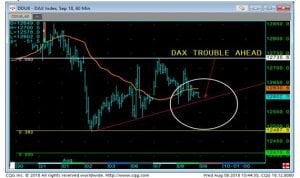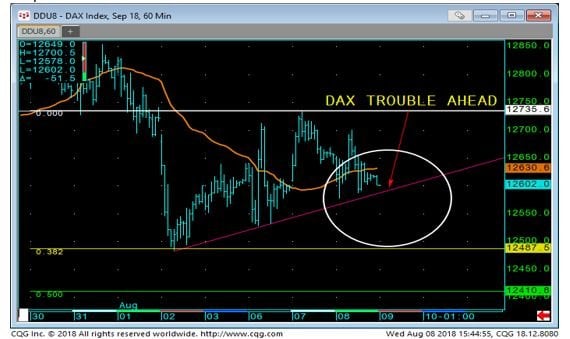 Then two days later we shared this: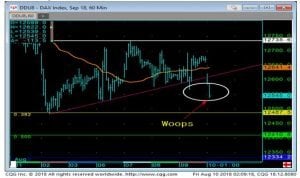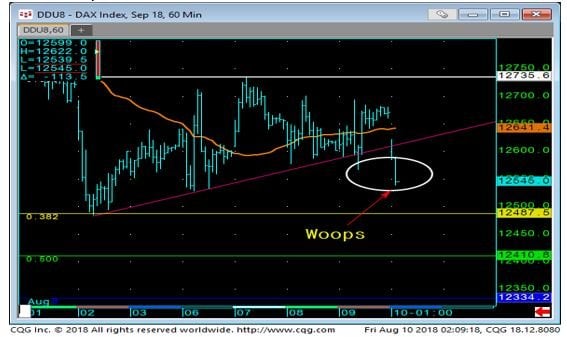 At the same time, we posted this chart of the SP500 futures: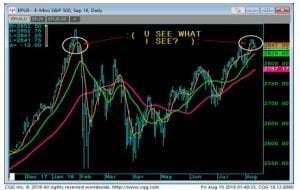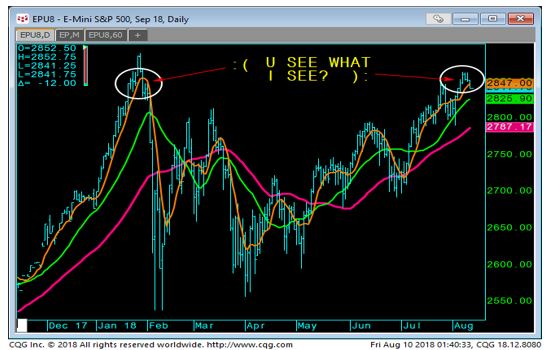 Fast forward to today and we have the Turkish Lira crisis as it has plunged some 43% ytd! US tariffs will continue as Trump has vowed to add to the tariffs to combat the plunge in the Lira. Continuing on, the equities today saw Tencent the Chinese tech giant, with its first quarterly profit drop in over a decade. This dragged all the markets lower with it. Here is a picture of the MSCI (following charts courtesy of Keystone Charts Inc).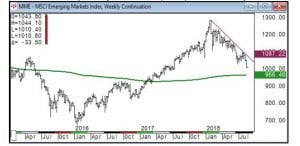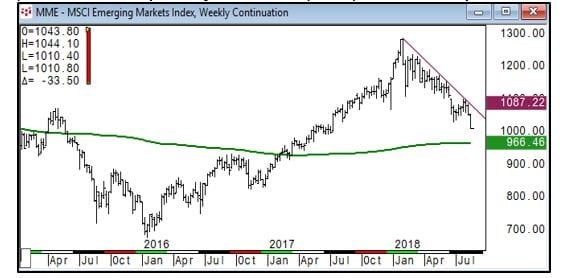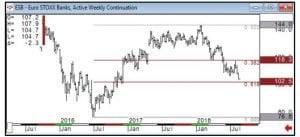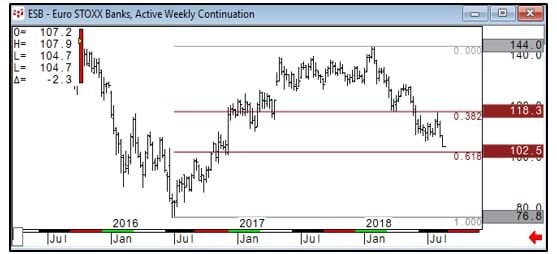 The SPX chart which is beginning to exhibit a double top when combined with Februarys high's. A failure to stay above 2800 should see this cycle wave back down: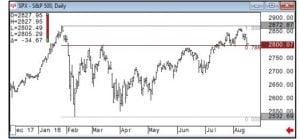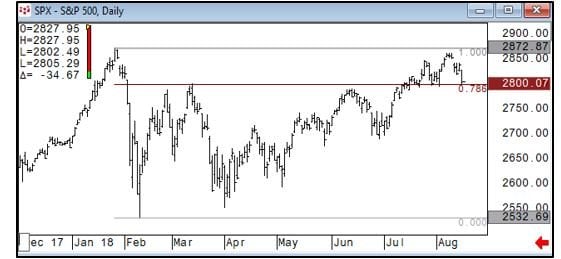 The Nasdaq futures chart with 7241 as a major turning point for us: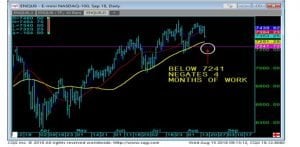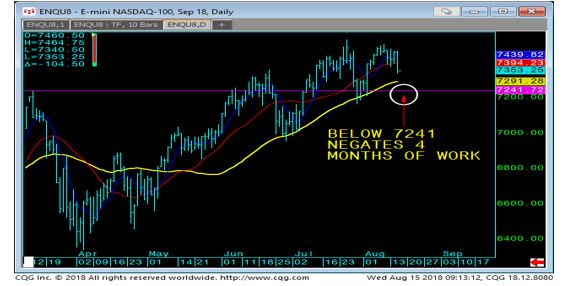 Looking at the VIX complex we can see risk is back and rising: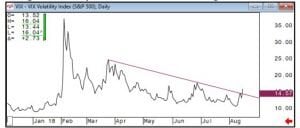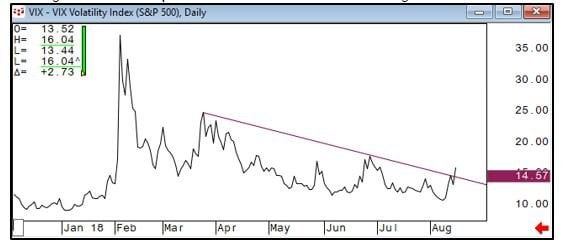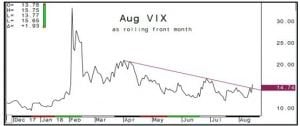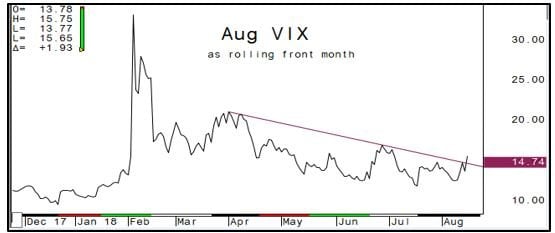 The Euro has also been under fire here since last week and now that it's below the 1.16 level the pressure is clearly on toward lower levels: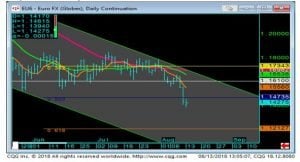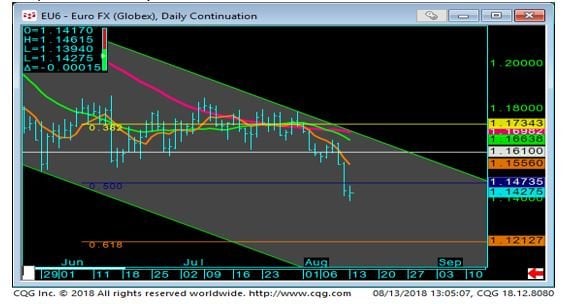 Moving on to the US 10yr yields, which after taking down some massive treasury supply last week, yields have reverted lower: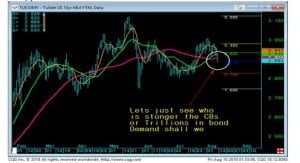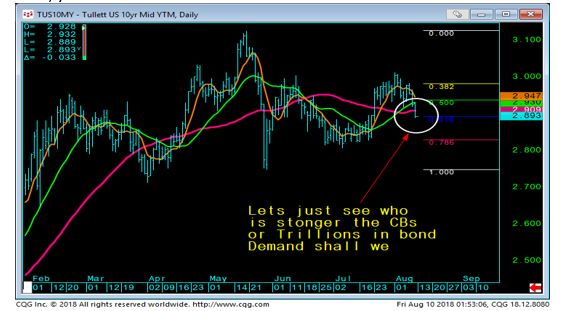 The OMB was out recently with their 10yr forward rate prediction models, what struck us as odd is that they flatlined their assumption of the US 10yr rate at 3.7%, which historically seems odd, or maybe they just realize they can never raise rates: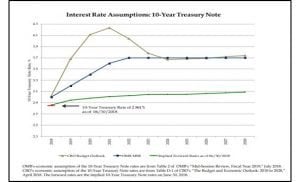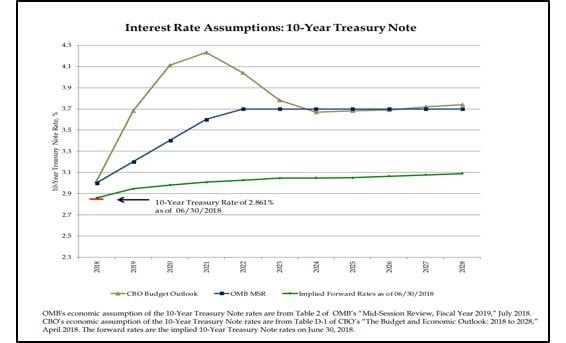 Just to paint an example of how awful their predictive skills are, and considering the multitude of high level Ivy league PHDs on the payroll, here is their report from 2014 with our annotated actual 10yr rate line in red, called "Reality" just to show how far off they were: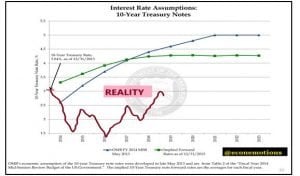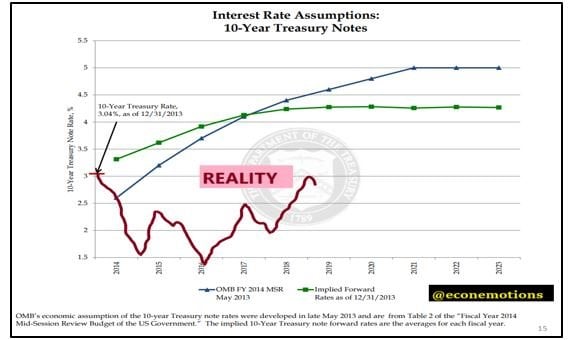 Our final chart is of Nat Gas, we feel that the world is on the precipice of some major volatility in terms of weather anomalies and thus energy should be at the forefront of people's concerns, so we present this chart, which has put in an extremely long base and nearing the 200-week mvg avg: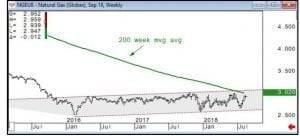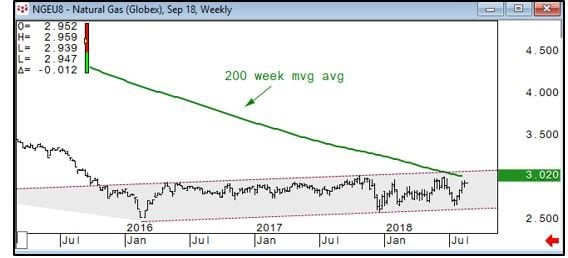 We leave you with the Crypto currency settlement page, which shows the market hitting lows once again for the year. The SEC is hell bent on thwarting any new ETF applications and thus the road continues to be a bumpy one. We are long term bulls on the decentralized technology, but as we have stated many times in the past, technology can take years to advance and thus, we are just in the beginning stages, so keep that in mind: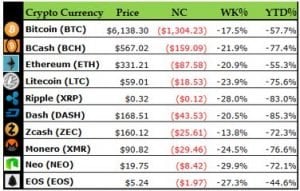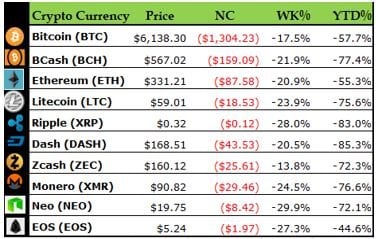 Finally, congrats to Brooks Koepka who joined an elite group when he won last week's PGA Championship. He is only the 5th person to win both the PGA and US Open in the same season. He also set the PGA record with a 72-hole score of 264, who knows, if he didn't hurt his wrist, he may have won the Masters as well.  We also want to applaud France this week for voting to ban cell phones for ages 3 to 15 while in school. We like the progressive nature of their thinking as they realize the addictive influence of these devices, as well as the host of other electromagnetic frequency emissions they have, could and certainly may be both psychologically damaging as well as physically. That's all folks, Cheers!
If you enjoyed reading this article...........http://info.capitaltradinggroup.com/ctgs-weekly-unique-insights-newsletter-0-1