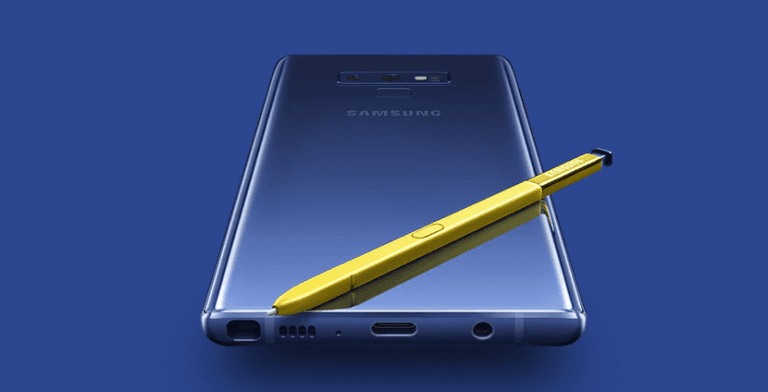 Samsung has officially unveiled its newest flagship Galaxy Note 9 phablet. Thanks to torrents of reliable leaks, we knew almost everything about the device even before its launch. Samsung fans were not expecting the Note 9 to be so expensive. Coincidentally, the Note 9's starting price is the same as Apple's 2017 flagship iPhone X, which remains the benchmark against which all other premium smartphones are still compared. How does the Note 9 stack up against the iPhone X? Let's dive into a detailed Galaxy Note 9 vs iPhone X comparison to find out.
Galaxy Note 9 vs iPhone X: Design
Both the Note 9 and iPhone X are ultra-premium smartphones. The iPhone X has been around for almost nine months, and it had received a major design overhaul. It has a nearly bezel-less design with a display notch that some customers find annoying. There is no physical home button on the device. The rear panel is made out of the glass to facilitate wireless charging. You'll also find a vertically-aligned dual camera system on the back of iPhone X.
The Galaxy Note 9 looks incredibly stunning with a nearly bezel-less design. It has no display notch or physical home button. It gets a horizontal dual camera system on the back. The pill-shaped fingerprint sensor is placed right below the camera module. The Note 9 measures 161.9 x 76.4 x 8.8mm, which means it is taller, wider, and thicker than the iPhone X's 143.6 x 70.9 x 7.7mm. The Note 9 is also heavier at 201g compared to the iPhone X's 174g.
Jim Chanos Unveils Lastest Short As Fund Manager Bets On Further Market Declines
Jim Chanos has a new short target in his sights. Earlier this week, the hedge fund manager disclosed that he is betting against "legacy" data centers that face growing competition from the trio of technology giants, which have previously been their biggest customers. The fund manager, who is best known for his winning bet against Read More
Galaxy Note 9 vs iPhone X: Display
The OLED display panels for both the iPhone X and Galaxy Note 9 are made by Samsung Display. The iPhone X features a 5.8-inch OLED screen with a 2,436 x 1,125 resolution and 458ppi pixel density. No doubt the iPhone X screen is great considering Apple's expertise in fine-tuning color reproduction. But the Note 9 appears to be better than its rival. The iPhone X has a relatively smaller screen with a notch, which is less pleasing to the eyes when watching videos or playing games.
In contrast, the Galaxy Note 9 gets a much bigger 6.4-inch Super AMOLED Infinity display with Quad HD+ resolution of 2,960 x 1,440 pixels. It also has a higher pixel density of 516ppi. In display tests conducted by Tom's Guide, the Note 9's Super AMOLED screen registered a 224% sRGB color gamut compared to the iPhone X's just 128.6%. Also, the Note 9 turned out to be brighter at 604 nits compared to the iPhone X's 574 nits.
It's worth pointing out that things could soon tilt in Apple's favor when the company launches three new iPhones next month, including a giant 6.5-inch iPhone XS Plus. Unfortunately, all of them will still have the display notch.
Galaxy Note 9 vs iPhone X: Processing power
The iPhone X is powered by Apple's A11 Bionic chipset. It has been dominating the benchmark tests since its release last year. No Android phone has been able to beat it. At least not yet. The Galaxy Note 9 is powered by Qualcomm's 64-bit octa-core Snapdragon 845 SoC. It's the same processor you'll find inside the Galaxy S9, S9 Plus, and OnePlus 6. Geekbench benchmark results show that the A11 Bionic is still way ahead of the Snapdragon 845.
Tom's Guide also tested the 6GB RAM variant of Galaxy Note 9 against the iPhone X on Geekbench. Unsurprisingly, the iPhone X emerged the winner. It scored an impressive 10,357 points compared to the Note 9's 8,876 points in multi-core tests. Benchmark results don't always reflect the real-life performance of a device but they do show what a phone is capable of. Anyway, the iPhone X isn't the true competitor of Galaxy Note 9. Samsung's newest phablet will be competing with Apple's upcoming trio of iPhones, which will be running a more powerful A12 processor.
Galaxy Note 9 vs iPhone X: RAM and storage
The Note 9 is the clear winner here. The iPhone X comes with 3GB LPDDR4 RAM and 64GB or 256GB storage options. The 256GB storage is sufficient for most people, but if you want to have a lot of videos and games on your device, there is a limit. Beyond the 256GB, you'll have to use iCloud. Apple doesn't offer the microSD card slot, most likely because that way it could charge ridiculously high prices for higher storage variants and earn gargantuan profits.
On the other hand, the Galaxy Note 9 will be available in two variants: one with 6GB RAM and 128GB of built-in storage, and another with 8GB RAM and 512GB storage. If you still want more storage, the Note 9 has a microSD card slot that supports up to 512GB of external storage. It means the Note 9 could offer you maximum storage of 1TB. That's huge! It will be interesting to see the performance difference between the 6GB and 8GB RAM variants.
Galaxy Note 9 vs iPhone X: Camera
The Note 9 camera hasn't yet been tested in the real world, but its specifications are same as the Galaxy S9 Plus. It has two lenses on the back, both of which support optical image stabilization (OIS). The 12MP Super-Speed Dual Pixel wide-angle lens has variable apertures of f/1.5 and f/2.4, allowing the camera to switch between the two apertures depending on the lighting conditions to take the best shot. The 12MP telephoto lens has a fixed aperture of f/2.4. It offers up to 2x optical zoom and 10x digital zoom.
Samsung has also added an 8MP camera on the front for selfies, which is impressive. Though the Note 9 camera's on-paper specs are same as that of Galaxy S9 Plus, Samsung has improved it via software and AI. For instance, it has a new Scene Optimizer feature that uses AI to analyze the scene and the object to automatically classify it into one of the 20 categories. It then optimizes the white balance, contrast, saturation, and brightness based on the category to take incredibly stunning pictures.
The Note 9 also has a feature called Flaw Detection. It will let you know instantly if there is something wrong with the picture you just clicked, giving you a chance to take another photo before you lose the moment. The iPhone X was among the best smartphone cameras when it released last year, and it's still among the best. It features a 12MP wide-angle lens and a 12MP telephoto lens on the back. The iPhone X has a 7MP snapper on the front for selfies.
Remember that specs comparison doesn't tell us the full story about a phone's camera capabilities. We will have to wait until the Note 9 gets tested in the real world before concluding how it stacks up against the iPhone X. Then again, Apple's upcoming iPhone XS and iPhone XS Plus are expected to have much better cameras than the iPhone X.
Galaxy Note 9 vs iPhone X: Stylus and DeX
There is no direct comparison here because the iPhone X lacks both these features. The Note 9 is a productivity and business-focused device, and these features serve the same purpose. The new S Pen gets Bluetooth Low Energy that allows you to perform a variety of Bluetooth actions for different apps. It does everything that last year's S Pen did. On top of that, you can use it to control PowerPoint to advance slides, switch camera modes, play or advance songs in a music player, and use apps like Spotify.
Samsung claims you can recharge the new S Pen in less than a minute by reinserting it into the Note 9's holster. It has a standby time of up to 200 clicks or 30 minutes.
The Note 9 also supports Samsung's DeX desktop experience. The Korean company has given it a major upgrade with the Note 9. Users no longer need to have a special stand or dock. Instead, you can use an HDMI adapter to connect the device to a monitor to get a desktop-like experience with keyboard shortcuts and multitasking. The phone itself serves as the trackpad. You'll also need a Bluetooth keyboard, though.
Galaxy Note 9 vs iPhone X: Battery and software
The Note 9 packs a huge 4,000mAh battery, which offers "all day" battery life. Last year's Galaxy Note 8 packed a 3,300mAh battery, which would easily last more than a day of normal usage. By comparison, the iPhone X comes with a decent 2,716mAh. It's not impressive, but not bad either.
Talking about software, the Note 9 runs Android 8.1 Oreo with Samsung's custom skin called Samsung Experience 9.5. The iPhone X runs Apple's proprietary iOS 11 software, and should receive the iOS 12 update when it is released to the public next month.
Galaxy Note 9 vs iPhone X: Pricing
The iPhone X shocked Apple fans last year when the company announced its price tag of $999 for the base model. The 256GB model costs $1,149 in the US. The Galaxy Note 9 is not any cheaper than the iPhone X. It costs $999.99 for the 6GB/128GB model. The 8GB/512GB Galaxy Note 9 will set you back by $1,249.99, making it even more expensive than the iPhone X. Samsung has tried to justify the price tag with an upgraded S Pen, AI camera, bigger battery, and higher storage options.
The specs comparison suggests that the Galaxy Note 9 has a lot going in its favor, except for the price tag and processing power. In the end, things boil down to whether you prefer Android or iOS. If you have no interest in iOS, the Note 9 is the best device you can buy (or pre-order) right now. If you are platform-agnostic like me, you can purchase the Note 9 right now or wait for the iPhone XS Plus launch next month to determine which is a better buy.
Updated on