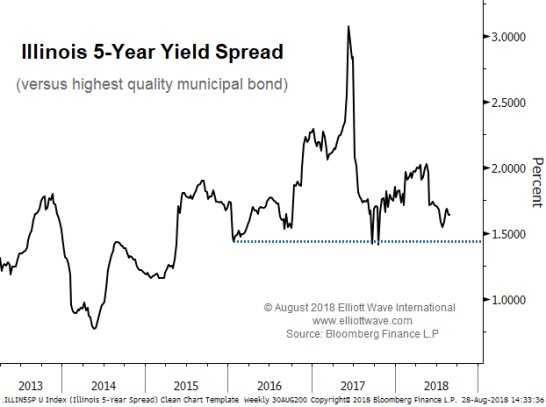 Chicago is considering one last throw of the dice.
Q2 hedge fund letters, conference, scoops etc
"Now this could only happen to a guy like me," sang Frank Sinatra in the opening line of his tribute to Chicago, My Kind of Town. Perhaps Mayor Rahm Emmanuel wakes up every morning thinking the same thing but, rather, in a cloud of melancholy given the dire straits that the city finds itself. City of Chicago pension plans face massive deficits and are only 27% funded. To anyone with half an inkling as to how financial market growth works, that situation is simply unsustainable. Yet city officials continue to kick the can down the (pot-holed) road. The latest proposed scheme is to borrow $10 billion via a pension obligation bond in order to plug some of the $28 billion shortfall. If the issuance is endorsed (a decision is pending), it will be the biggest pension obligation bond ever issued by a U.S. city. The proposal involves linking the bond specifically to sales tax revenues in order to achieve a higher rating and subsequently lower borrowing cost than with general obligation bonds. This, critics say, locks Chicago residents into debt more deeply.
Corsair Capital Profits From Goldman Sachs' SPACs [Exclusive]
Corsair Capital, the event-driven long-short equity hedge fund, gained 6.6% net during the second quarter, bringing its year-to-date performance to 17.5%. Q2 2021 hedge fund letters, conferences and more According to a copy of the hedge fund's second-quarter letter to investors, a copy of which of ValueWalk has been able to review, the largest contributor Read More
However, it is one of the main reasons touted by the scheme's supporters that raised our eyebrows as socionomists. The thinking is that, by borrowing at around an expected 5.25%, the city will be able to reap a substantial margin by investing the funds (presumably in the stock market). Notwithstanding the fact that borrowing to speculate in the market is a rather risky (or desperate) strategy, the inherent belief that stock market returns seen over the past nine years will linearly continue is classically symptomatic of a peak in social mood.
The state of Illinois as a whole remains at risk of downgrade to junk bond status and it, too, is planning fresh borrowing. As the chart below shows, the 5-year interest rate spread over the highest quality municipal bonds is far below the crisis levels of 2017, but finding solid support at the 2016 reaction low is a sign that structural weakness in finance remains.
The Wall Street Journal notes that previous cities to issue pension obligation bonds include Detroit, Stockton and San Bernardino. They all subsequently declared bankruptcy. Chicago is, Sinatra sang, "one town that won't let you down." Investors in its bonds will be praying that is true.
---
About Murray Gunn
Murray Gunn is Head of Research for Elliott Wave International's Global Market Perspective (www.elliottwave.com).