The Gibraltar Blockchain Exchange (GBX), which aims to position itself as a world-leading institutional-grade token sale platform and Digital Asset Exchange, has undergone its official full-scale launch to the public today.
Q2 hedge fund letters, conference, scoops etc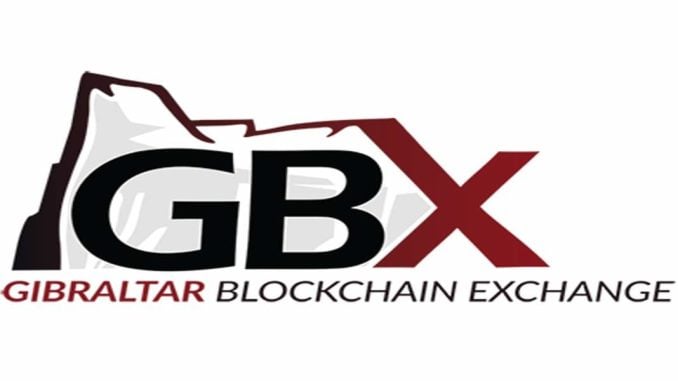 This is a significant step not only for the exchange but also for the global blockchain ecosystem as a whole. Gibraltar was the first jurisdiction to introduce regulations around Distributed Ledger Technology in January 2018, and this latest announcement makes it clear that Gibraltar is open for business, with the GBX as its standard-bearer as a token sale platform and conduit for digitial asset transfer.
See the press release below

Gibraltar – 23 JULY, 2018 – TheGibraltar Blockchain Exchange (GBX), which aims to position itself as a world-leading institutional-grade token sale platform and Digital Asset Exchange, has undergone its official full-scale launch today. The newly launched exchange is now open to members of the public and will feature fiat onboarding for customers, as well as a number of trading pairs, which it is set to expand in the future.
"Today marks the most exciting development on the GBX journey thus far and is a significant indication that Gibraltar is open for business. The launch comes at a time when the cryptocurrency and token markets are reaching a new stage of maturity. In 2018 alone, Initial Coin Offerings (ICOs) have raised a combined total of $13.7 billion USD globally – more than was raised in all ICOs which took place before 2018 combined. We are excited to enter this pivotal stage in our development at such an important time for the industry. The fact that we can launch with fiat onboarding is a huge added bonus for our community," said Nick Cowan, CEO of the Gibraltar Blockchain Exchange.
Following the official launch, the GBX platform is now accessible to members of the public who have undergone a standardised KYC process and incorporates fiat onboarding. At present, three USD pairs are available for customers, with USD onboarding available for BTC, ETH and RKT. A greater number of fiat currencies is planned to be incorporated onto the exchange in the future.
The newly launched Digital Asset Exchange hosts a total of 6 tokens at present, including BTC, ETH, BCH, ETC, LTC, and RKT – which have a combined market capitalisation of over $170 billion USD. Going forward, issuers that have completed their token sale on the GBX GRID will have the opportunity to list their tokens on the GBX platform's Digital Asset Exchange. This opportunity to list new tokens will also be open to other token issuers that have not come through the GBX GRID.
The primary medium of exchange for trades on the GBX platform will be the GBX-generated Rock Token (RKT). RKT are ERC-20 compliant utility tokens and can be used to pay trading fees; listing and sponsor fees; and for issuer staking on the GBX. They shall also grant holders early access to token sales hosted on the GBX GRID and reduced trading fees on the Digital Asset Exchange.
The official launch of the GBX follows an exclusive early access period, or 'Soft Launch', which saw 300 participants introduced to the exchange. These early access members were required to give feedback on their experience using the exchange, which was used to inform substantive developments to the online platform, including the development of the finalised User Experience (UX), ahead of the official launch. The newly launched exchange now features an updated User Interface (UI) which incorporates user-friendly charts and a more optimal trading experience.
In addition to those early access users, a significant number are already signed up to the GBX GRID, the exchange's token sale platform, which recently completed its first successful ICO. These individuals have already received KYC and AML clearance to participate on the exchange and represent an enthusiastic pool of potential future customers for the GBX.
"We have made concerted efforts to ensure that upon our public launch the GBX would host a number of leading cryptocurrencies and tokens to ensure utility for the trading community. We are already looking forward to making significant additions to this offering in the future as we continue to make sustained progress in offering users the most comprehensive trading options possible. We are also rolling out a number of initiatives designed to facilitate and encourage greater uptake. Later this month, for example, we will launch the GBX 'Exclusive Trading Competition', that will include a total prize pool of 1 million RKT. Meanwhile, new users that register before the 17th of August will benefit from zero trading fees until the 14th of September," added Cowan.
The GBX network now boasts 15 Sponsor Firms spread across the globe. The robust listing process is what sets the GBX apart from its competitors, as Sponsor Firms are responsible for introducing pre-vetted token sale projects to the GBX. This ensures that only quality tokens are accepted and allowed to enter the GBX ecosystem. The platform can now bring token sale projects from inception, through the token sale, and all the way to listing on the exchange.
"The official launch of the GBX is the result of not only the hard work of an extraordinary team, but also the dedication of our wonderful community, who share our passion for blockchain technology and our vision of a mature crypto market. We are proud to be opening our exchange to the public so that more people may join us on our journey, working toward a new era of trust, openness, and global acceptance for the crypto industry. I believe Gibraltar and we here at the GBX offer something genuinely different. Gibraltar was the first jurisdiction to introduce regulations around Distributed-Ledger-Technology, and we are reaping the rewards of that today," concluded Cowan.
Like Us On Facebook - For Business And General News: ValueWalk - For Tech And Science News: ValueWalk Tech - For Tech Insights, Technical Questions and Queries: Follow Our COO, Sheeraz Raza.