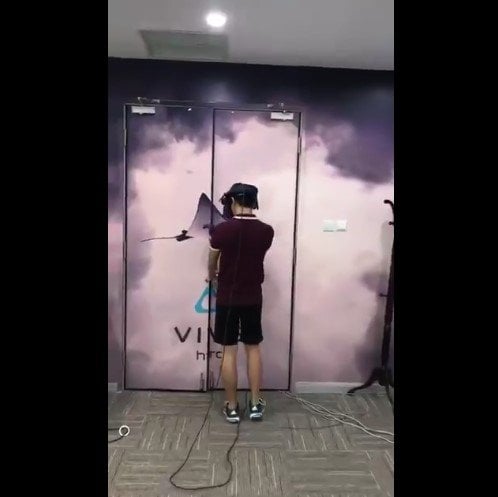 It would seem that Valve and HTC are collaborating to overcome the biggest challenge of virtual reality, and that is to overcome the problem with larger rooms and multi-rooms. The new HTC multi-room VR is now in the works. It will enable users to explore different rooms and switch between them. Nevertheless, it's unlikely that we are going to see this new technology anytime soon.
HTC has demonstrated how its breakthrough technology works on the Vive Pro using multiple base stations and a beta version of SteamVR 2.0.
To share this technology with the world, Vive China President Alvin Wang Graylin used Twitter to highlight the progress HTC and Valve are making on it. Initially, he shared two images that revealed 16 2.0 base stations that were connected to SteamVR and spread throughout multiple rooms. Next, he shared a video showing a tester equipped with the Vive Pro headset and embarking into the virtual world while walking between three rooms. Each room is equipped with two 2.0 base stations. The user of the headset and HTC multi-room VR moves from room to room, and the headset locates tracked objects placed in the three rooms.
Axon Capital Up 60% In 2020; Says These Tech Stocks Are Value Stocks
Axon Capital was up more than 60% for the first 11 months of 2020 after making some changes to deal with the year's challenges. In his delayed third-quarter letter to investors, which was reviewed by ValueWalk, Axon's Dinakar Singh noted that the year was not only "incredibly stressful" but also "successful." Q4 2020 hedge fund Read More
Here's a video of the test environment that people asked for. Three separate tracked spaces, with two 2.0 BS each, all in a shared virtual space. (Seems to work even behind closed door) Trackers placed within the shared space to show common coordinate system between spaces. pic.twitter.com/efqJKajky6

— Alvin Wang Graylin (@AGraylin) July 11, 2018
Still not finished
The HTC Multi-room VR is not yet available to consumers, and it's unclear when it will become available. For now, SteamVR can't do better than track from four base stations at a time, Alan Yates of Valve pointed out in a tweet.
To be completely clear; the 1st four that it sees in a session. So this announcement is a little premature. This release is mainly about beta support for the radio-based channel configuration tools.

— Alan Yates (@vk2zay) July 11, 2018
Furthermore, it's impossible to buy the equipment that was used for the videos. Buying the Vive Pro bundle is the only way to acquire two 2.0 base stations. However, neither Valve nor HTC has announced whether they will be sold separately.
The SteamVR beta should provide "support for the radio-based channel configuration tools," Yates added in a tweet. Although it's not available yet, it is a good start toward making VR more explorable and detailed. Many gamers are looking forward to playing with a multi-room setup.