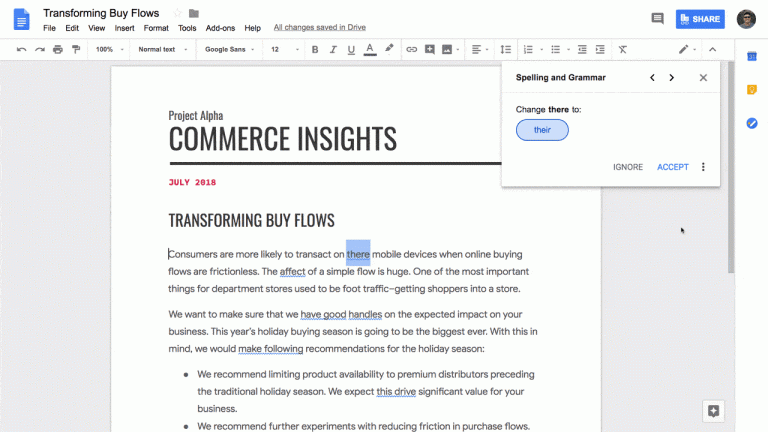 Google Docs is getting more and more advanced compared to its competitors. Yesterday, Google announced that it's bringing a great variety of improvements to its suite, and one of those improvements also includes Google Docs grammar checking AI. Given that many people, especially writers, use Google Docs, now they will be able to use it in order to check grammar. That way, software like Grammarly will have a little more competition.
Google Docs grammar checking AI will be capable of recognizing words that usually get mixed up by people – such as "then" and "than," or "affect" and "effect," as well as wrong uses of commas and clauses and usage of incorrect tenses. As Google described in its blog post, the system relies on machine translation, technology that is found on Google Translate, which translates multiple languages. However, instead of properly translating languages, it will be correcting everyday errors that we make.
Not many details regarding how the algorithm will work are yet disclosed or how the AI will work. However, we already know that Google is capable of a lot of things when it comes to machine translation. It is likely that Google will already focus on the strong foundation it built using machine translation on Google Translate.
Seth Klarman Describes His Approach In Rare Harvard Interview
In a rare interview with Harvard Business School that was published online earlier this month, (it has since been taken down) value investor Seth Klarman spoke at length about his investment process, philosophy and the changes value investors have had to overcome during the past decade. Klarman's hedge fund, the Boston-based Baupost has one of Read More
Not the first
Adding artificial intelligence as a grammar checker is not the first feature of this kind. There is a good competitor that offers both free and premium versions of its grammar checking software that can be added into Microsoft Office Word or as a browser extension.
The software is called Grammarly and it uses an advanced artificial intelligence algorithm which helps analyze the sentence, discovering errors in spelling, tenses and punctuation, as well as style and sentence structure in a pro version. The pro version also offers a pretty reliable plagiarism checker feature.
Not available to everyone
The Google Docs grammar checking AI feature won't be available to everyone just yet. Right now, Google is only launching it for the business users. That said, business owners would need to enable it to test it out.
Google didn't mention when and whether the feature will get released for consumers worldwide, nor whether it will feature a selection of other languages other than just English.
Smart Compose feature
Google also announced that it'll roll out the Smart Compose feature that business customers can use on Gmail. The new feature is capable of autocompleting whole sentences based on the text input. The feature came out as an "experimental feature" in May. However, it will turn into reality in the following weeks.
Updated on