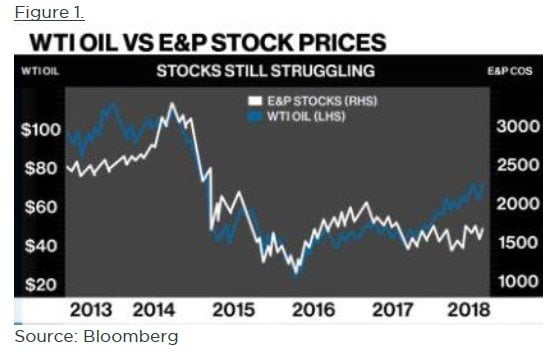 Forge First Asset Management commentary for the month ended June 30, 2018.
Q2 hedge fund letters, conference, scoops etc
The Sui Generis Canada Partners LP fund was down 0.62% for the Class A Lead Series during June 2018, resulting in a year-to-date net return of 0.70% and since inception (March 1, 2015) cumulative net return of 10.17% (2.95% annualized).
Seth Klarman Describes His Approach In Rare Harvard Interview
In a rare interview with Harvard Business School that was published online earlier this month, (it has since been taken down) value investor Seth Klarman spoke at length about his investment process, philosophy and the changes value investors have had to overcome during the past decade. Klarman's hedge fund, the Boston-based Baupost has one of Read More
---
The month of June was a somewhat frustrating one for us at Forge First as the portfolios struggled to gain traction amidst a market that also seems inclined to take two steps forward and two steps back. Our portfolio returns were largely held back by the kneejerk nature and short-term focus of this market reacting to the "will they, won't they?" trade war rhetoric. We truly have no opinion on whether they "will" or "won't", but we would prefer that the public servants get their bluster out of the way so we can invest accordingly.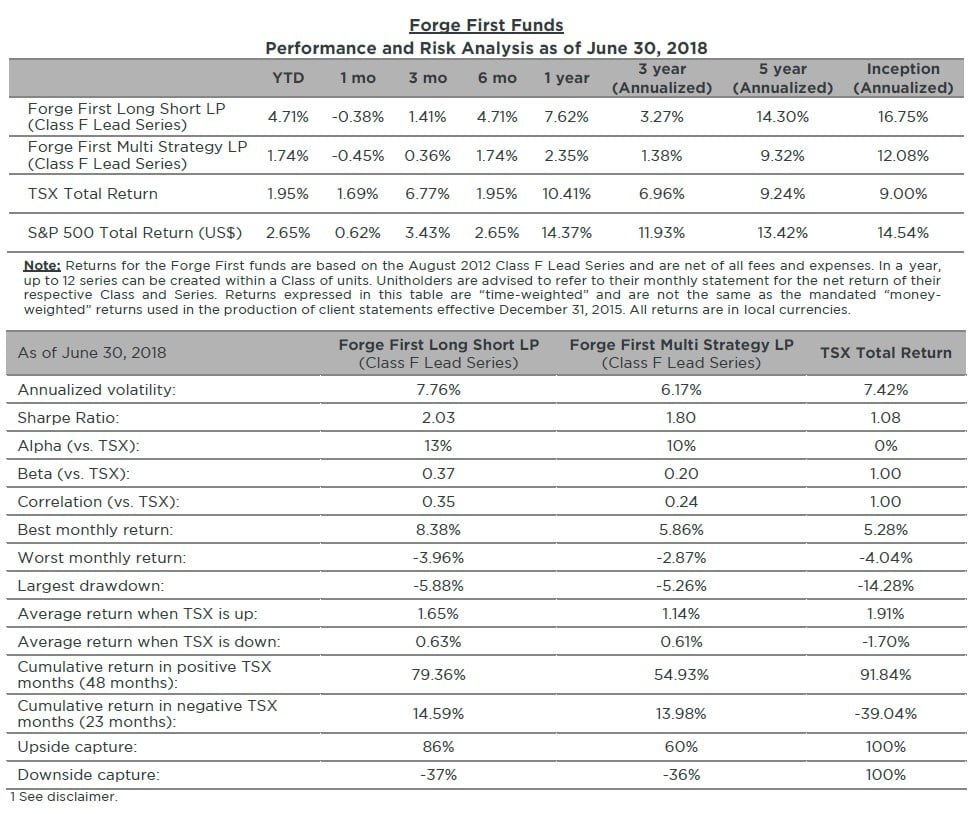 While we are directionally agnostic when it comes to markets, we admit our preference would be to have some form of direction exist as volatility for volatilities' sake isn't useful for anyone. That said, as we type this and perhaps by the time you read it, we shall know if there is substantial bite to go with the trade war bark. Should there actually be some real bite and an escalation of tariff slapping (why does the media love to say "slapping" tariffs?) then we suspect the markets will indeed have a path of least resistance and it's unlikely to be up. While our base case is still that cooler heads will prevail as we do not believe anyone truly wants to kill the golden goose that is the global economy right now, one certainly needs to consider the likelihood, however small it may be, that trade tensions and the real-world tariffs begin to weigh on global economic growth. Now combine this with an energy narrative that has flipped from desperately trying to keep oil prices above loss-making levels for producers to now attempting to keep oil prices below an economically punitive level for consumers, and one may have a recipe for an inflationary environment at the same time economic growth begins to weaken; this of course represents the dreaded stagflation.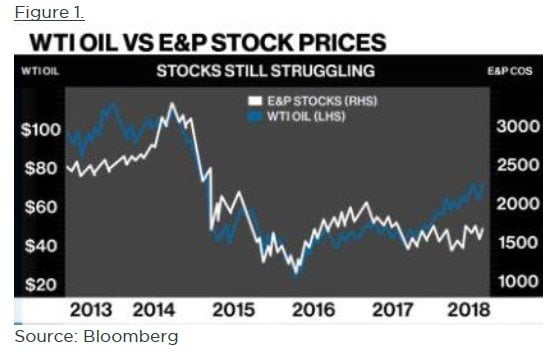 Speaking of which, energy stocks have reverted to their late 2017 form of ignoring a rising commodity price (Figure 1). Like late 2017, we believe this will be a temporary phenomenon as investors will soon be forced to raise price decks and face the reality of companies being left to trade at <4x cash flow on very reasonable 2019 assumptions. Unfortunately this has become a sector where the gains seem to come all at once rather than the remarkably steady rise in the commodity itself. That said, we continue to see a bullish environment for the energy space for at least the next 18 months.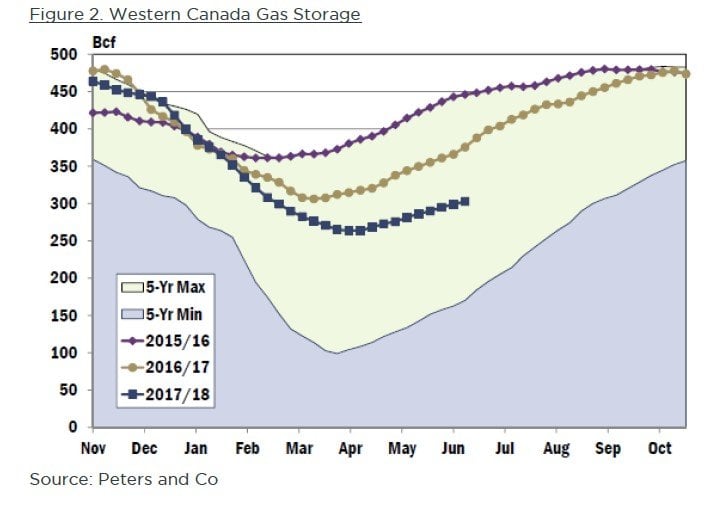 Lastly on energy, in our April commentary we mentioned building a position in the natural gas space across various subsectors. That was a commentary that seemed to garner a reasonable amount of attention, so we thought it made sense to give a brief update on where we stand. We have gained incremental confidence in both the bullish state of Canadian natural gas inventories (Figure 2 above) as well as the future of liquefied natural gas in Canada. We now believe it's highly likely we shall see two LNG final investment decisions made before the end of 2018, one from the LNG Canada consortium (led by Shell) and one from Chevron. These two factors, combined with average weather, make us very comfortable in our positioning for the foreseeable future.
Given the directionless malaise that has settled over markets, we are left to focus on individual stories rather than the market itself. While our relentless search for companies that generate substantial free cash flow doesn't yield as many names as we would like, there are nevertheless interesting ideas that make their way into the portfolios, either long or short. One particular name that seems to now be garnering a lot of attention is one of our longest standing short positions, CI Financial (CIX.CA). CI is operating in an environment for retail mutual funds that is particularly difficult at the moment given the proliferation of ETFs and the downward pressure on management fees they have created. However, CI has encountered additional trouble given the relative performance of their funds and greater than expected redundancies following their $780 million acquisition of Sentry Investments last fall. Net sales have been deeply negative through 2018, and given that performance is almost always a leading indicator for sales, the future doesn't look encouraging either. Fund performance and rankings for CI's top 20 funds (by AUM) has continued to deteriorate year-over-year (Figure 3).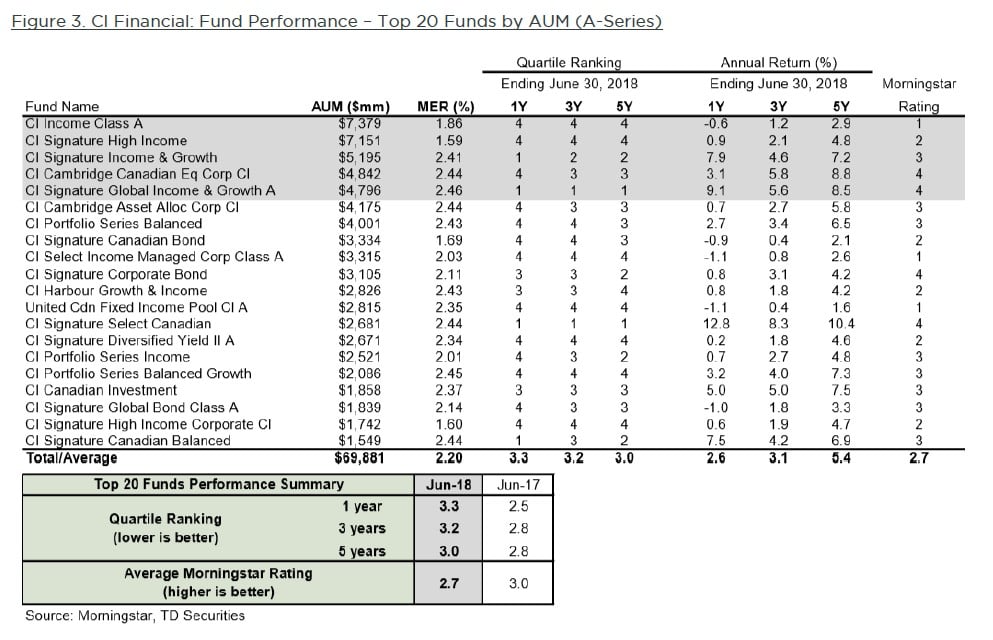 Beyond the deteriorating fundamentals for the business and the macro headwinds that are clear to us, CI has been making what we believe are ill-advised capital allocation decisions. The company has been levering up to buy back stock in the market at what we and the Dominion Bond Rating Service (DBRS) believe is an alarming rate. From their report on June 25, 2018 where DBRS placed CI Financial under review with negative implications, "the ratings could be downgraded if CI's debt levels continue to increase...Increased use of the credit facility to fund non-investment activities would also be viewed unfavorably, especially when combined with continued net outflows of AUM". Subsequent to this report CI reported their June AUM numbers which indicated continued net outflows and also reported their buyback activity for the month, an amount we believe is well in excess of the cash flow generated by the business.
2018 Mid-Year Review
Forge First Long Short LP ("FFLSLP") generated 4.71% for the Class F Lead Series during the first six months of 2018 while our less directional fund, Forge First Multi Strategy LP ("FFMSLP"), made 1.74% (Class F Lead Series). We are content with this performance on an absolute basis, and in the context of the level of volatility that we've seen in markets year-to-date. To put this into context, based on daily returns, the S&P 500 Total Return Index (US$) resulted in an annualized standard deviation (a measure of volatility) of 16.3% for the first half of 2018, compared to the TSX Total Return Index at 9.3%, FFLSLP at 6.0% and FFMSLP at only 3.3%. Both funds generated 6-month Sharpe Ratios (a measure of risk-adjusted return) over 1 and beta metrics of only 0.4 for FFLSLP and 0.2 for FFMSLP. On a sector basis, energy was the largest contributor to our returns this year, making money in both the long book and short book (readers of our commentaries would know this has been a sector we've had conviction in for some time now). Financials and Consumer Cyclical positions were strong contributors as well.
Given the length of the bull market we've experienced since the lows of 2009, combined with a variety of concerns in the macro environment (think tightening monetary policy, trade and geopolitical uncertainty, shifting demographics, and high equity valuations), it's our view that navigating financial markets will become more challenging over the next 5 years. The next 5 years won't be as easy as the last 5-10 years. Hence, we feel it's prudent to begin to incorporate alternative strategies into your investment portfolio if you haven't already. Utilizing funds that have a history of generating positive returns in down markets (negative downside capture ratios), low correlation, and lower volatility will serve investors well at this point in the economic cycle.
Please do not hesitate to reach out to us if you wish to learn more about how our strategies can complement and lower volatility in your investment portfolio. As always, we welcome any feedback, and for more information please visit our website at www.forgefirst.com.
Thank you,
Daniel Lloyd
Portfolio Manager
E: dlloyd@forgefirst.com
Andrew McCreath, CFA
President and CEO
E: amccreath@forgefirst.com
Updated on