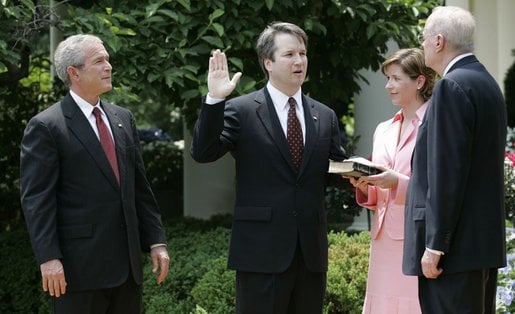 When Donald Trump promised on the campaign trail he'd only choose extreme anti-choice Supreme Court nominees who would overturn Roe v. Wade – he meant it.  President Trump's pick, Brett Kavanaugh, would not only undermine women's reproductive rights, he'd overturn the Affordable Care Act, and end protections for patients with pre-existing conditions.
[REITs]
Q2 hedge fund letters, conference, scoops etc
Robinhood 2021 Conference: Cathie Wood discusses her investment process with Lee Ainslie [Exclusive]
ARK Invest is known for targeting high-growth technology companies, with one of its most recent additions being DraftKings. In an interview with Maverick's Lee Ainslie at the Robinhood Investors Conference this week, Cathie Wood of ARK Invest discussed the firm's process and updated its views on some positions, including Tesla. Q1 2021 hedge fund letters, Read More
But that's not all.  I started writing this email because I wanted to give you a list of three things you should know about Brett Kavanaugh and his record.  Then I made it four. Then five.  The fact is, putting Judge Kavanaugh on the Supreme Court would be devastating to our nation for many reasons. 
So, here's my list of links – read them all or skim and share a few. But just know that in 2006 I voted against putting him on the D.C. Circuit Court, and today my opinion hasn't changed.  There is no way I'm voting to put this extreme conservative on the highest court in the land.
The Trump Administration is not only refusing to defend the ACA, they're actually arguing that coverage for pre-existing conditions is unconstitutional!  Read how having Brett Kavanaugh on the court could be the final vote they need. 
Read about how Brett Kavanaugh has consistently ruled against workers who stand up to corporate mistreatment, and how he opposes government agencies looking out for everyday Americans.
Justice Anthony Kennedy often ruled in favor of the Environmental Protection Agency's rules to regulate new pollutants and greenhouse gases.  Read about how a Justice Kavanaugh would seek to do the opposite, and gut the EPA's vital role.
Kavanaugh wrote that "Congress should give back to the President the full power to act when he believes that a particular independent counsel is 'out to get him.;'" and that the President doesn't have to follow the law if he "deems the law unconstitutional."
Do I even have to say why all of that is extremely concerning?  I think you get it.
Not only was Brett Kavanaugh hand-picked by right-wing interest groups bent on overturning Roe v. Wade, but he tried to say that the Affordable Care Act's requirement that insurance companies cover contraception violated religious nonprofits' religious freedom.  I don't think the religious views of your boss should have any impact on whether or not you can get birth control, and I think that's common-sense for most people.  Read about Kavanaugh's record on reproductive rights here.
New Jersey has strong gun safety laws, but if Brett Kavanaugh is confirmed, he could invalidate them.  We don't need a conservative court telling us how to protect our children. Read how Judge Kavanaugh's view of gun rights is way out of step with the rest of us.
The bottom line is, we need a Justice who will follow the rule of law not the rule of Trump, especially when the future of reproductive rights, LGBTQ rights, voting rights, workers' rights, and the civil rights of all Americans are on the line.
Do your part and forward this email to any friend or family member who needs to see it.
Thank you so much,
U.S. Senator Bob Menendez