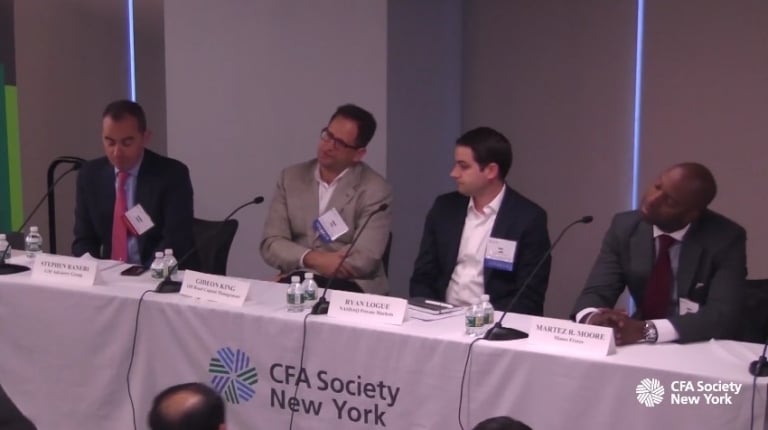 An excerpt on alternative investment due diligence from CFA Society's "2nd Annual PE/VC Conference: Perspectives from Allocators and Managers".
Q2 hedge fund letters, conference, scoops etc
Alternative Investment Due Diligence Overview: 2nd Annual PE/VC Conference
Corsair Capital Profits From Goldman Sachs' SPACs [Exclusive]
Corsair Capital, the event-driven long-short equity hedge fund, gained 6.6% net during the second quarter, bringing its year-to-date performance to 17.5%. Q2 2021 hedge fund letters, conferences and more According to a copy of the hedge fund's second-quarter letter to investors, a copy of which of ValueWalk has been able to review, the largest contributor Read More
Transcript
So in contemplating taking outside capital again after I retired I am .And in fact I look at this the victims out there of this panel and and I wonder what it is you're trying to solve for in general.
Most of the time I was trying to solve for in the last call it 25 years how to earn rates of return with good records that were uncommon not available to others and to distinguish myself and my team from from other teams and other families that are trying to put assets to work.
So what what my partner and I asked ourselves was how can we access assets that are that most family offices or institutions can can not source analyze due diligence and structure. And it's been an extraordinary evolution because what I have and what I have come to understand again actually whatever revisit it is that the smaller Hugo the less worth it is for you. But the better your due diligence can be justice.
When I started the risk arbitrage business 1994 small bank deals had risk arbitrage spreads of you know 15 percent big five billion dollar deals had risk arbitrary spreads are 6 percent. So the bigger the more commodity rise. So what I've tried to do is source off the run assets that are not privy to that cannot access the billions and billions of dollars that are maniacally flowing into into private equity. And that means buying an amusement park the Santa Monica Pier Amusement Park the Ferris wheel which me my partner just did with some other partners then then so be it the cash on cash return. There is extraordinary.
That deal was spoken for not selling anything that anyone on this panel will match or pay higher fees and the other people are just kidding. But but so so so here's a small asset that institutional buyers sort of shunned because it wasn't big enough because it didn't fit into a box.
Six Flags didn't buy it for example because it wasn't a gated amusement park. So we came in and what we discovered was this extraordinary asset that was throwing off all this cash flow.
But the due diligence was laborious and difficult because we were trying to understand an amusement park in California governed by a City Council many of which call themselves socialists in Santa Monica California and I'm no socialist so it was difficult to get on. So so we we encountered all the small deal issues notwithstanding not stating the structuring the financial modeling the partnering the cultural issues we encountered we encountered issues we had never seen before but I can tell you all that in your family offices. And you're trying to make good rates of return and not just cover our rear ends.
Then I would make it my my sort of mission in life to find these types of assets that are not picked over by the big guys that are the subject of the type of due diligence that one cannot do in public companies.
There is no insider trading on a private asset which is the beauty of it so you can meet everyone. Ask any question ask it obsessively to the point where they hate your guts and then ask it again.
Better Valuation & Asset Classification: 2nd Annual PE/VC Conference
Determining the Credibility of Private Investors: 2nd Annual PE/VC Conference
How to Source Deals: 2nd Annual PE/VC Conference
Gideon King, Off Road Capital Management, Intro: 2nd Annual PE/VC Conference
Martez Moore, Moore Freres, Intro: 2nd Annual PE/VC Conference
Ryan Logue, NASDAQ Private Markets: 2nd Annual PE/VC Conference
Stephen Raneri, GMAG, Intro: 2nd Annual PE/VC Conference
Inverted Approach for Capturing Alpha: 2nd Annual PE/VC Conference
Issue of After Tax Returns: 2nd Annual PE/VC Conference
Leverage Lending Market: 2nd Annual PE/VC Conference
Sector Specific Due Diligence: 2nd Annual PE/VC Conference