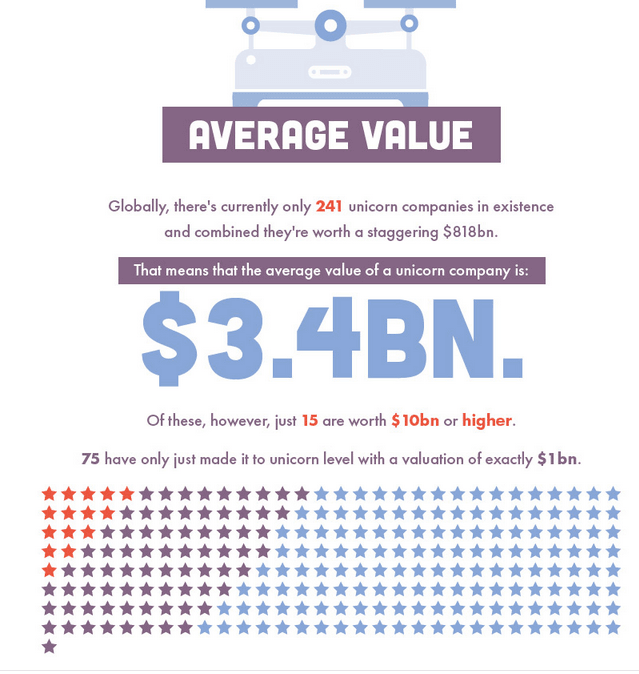 Just like in the real world, unicorns are something of a mythical creature in the world of business.

If you're not aware, a unicorn is a privately-held startup, valued at $1bn or more, and while they're not as rare as they once were, it's still estimated that less than 1% of businesses will achieve this elite status.
There are currently 241 unicorn companies in existence, worth about $818bn combined, including the likes of Uber and Airbnb, which have both experienced meteoric rises.
London Value Investor Conference 2022: Chris Hohn On Making Money And Saving The World
Chris Hohn the founder and manager of TCI Fund Management was the star speaker at this year's London Value Investor Conference, which took place on May 19th. The investor has earned himself a reputation for being one of the world's most successful hedge fund managers over the past few decades. TCI, which stands for The Read More
For example, it's actually kind of crazy to think that Uber didn't even exist ten years ago, but now it's such a huge part of our lives and is a multi-billion-dollar company. But how long does it take a business to reach unicorn status?
Well, recent research by comparethemarket.com has crunched the numbers to find that the average unicorn only took seven years to reach the magic $1bn mark, and 19 companies (7.9%) managed to make the leap in the space of just twelve months.
But how has this changed over the years? Back in 2013, when Cowboy Ventures partner Aileen Lee coined the 'unicorn' phrase, she chose this term because these businesses were so rare, like a unicorn.
But since then, we've seen a real spike in their number, with comparethemarket.com's research showing that since then, 416 startups have earned unicorn status, including those which have since exited the list (previous unicorns which have been bought out include Facebook, Snapchat and YouTube).
They also found that 2017 was the year that has seen the most new unicorns join the list (66) and estimate that around 70 will be added throughout 2018 (based on 32 having hit the milestone by June 18th).
This certainly suggests that more unicorns are popping up, and they're growing at a much quicker rate.
It's also pretty unsurprising to see that the majority of the unicorns were started up in recent years, with 160 (66%) being incorporated in the last ten years and almost all of them (94%) being started since the year 2000.
Why is this? Because the vast majority of the unicorns are either tech startups, or largely dependent on tech in some way.
In fact, the research has broken the unicorns down by more specific categories and found that while mobile startups reached unicorn status the quickest (with an average of two years), a much older industry was only one year behind: real estate.
Other industries which made the leap quickly included biotech, fitness, cybersecurity, social and travel, all of which took an average of five years.
And if we take a look at exactly where in the world these startups were conceived, we see that just 23 countries have produced unicorns, with the superpowers of the USA and China leading the way with 114 and 70 unicorns, respectively (the UK was third with 13, while there were only three African unicorns and two from South America).
It's kind of surprising that there aren't more UK-based unicorns, although some that you might have heard of include Deliveroo, Just Eat, BrewDog and Skyscanner, while some to watch out for in future include fintech firm TrueLayer and digital bank Monzo.
But while it's the USA and China that can boast the highest number of unicorn companies, it's actually Japan that is home to those which hit $1bn the quickest, taking just four years on average to reach the milestone (not including those countries with just one unicorn).
More and more companies are hitting the $1bn mark quicker than ever, so who knows what the next big unicorn could be. Might it even be your startup?
This list from Apiumhub has speculated as to some potential startups which could make the jump to unicorn status in 2018 and the stats certainly suggest that it's becoming easier, but don't let this fool you into thinking these companies had an easy ride.
It takes a lot of things to create a successful startup that can hope to one day become a unicorn, including a great idea and a strong team, but one thing that you'll notice all of them have in common is that they're all disruptors, which have innovated the market they work in, you only need to look back to the example of Uber to see this.
And while the majority of today's unicorns are in the tech space, they're by no means limited to it, covering all kinds of sectors, such as construction, education, healthcare and more.
However, some commentators believe that this unicorn boom could be something of a bubble and that many of the current unicorns are overvalued.
Of course, this doesn't mean that all unicorns are destined to fail, but it's certainly something to keep an eye on in the future.

Updated on