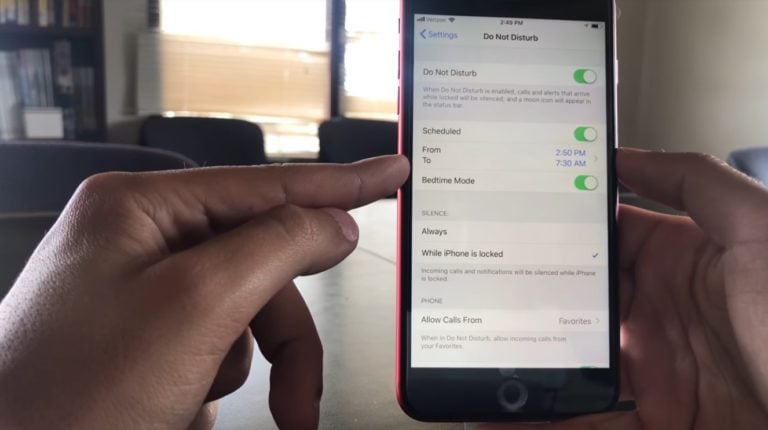 Everyone who prefers Apple over Android phones is looking forward to iOS 12. One Reddit user managed to get the iOS 12 beta running on their iPhone X. According to the Redditor, the phone becomes much more proactive with iOS 12, compared to the previous versions of the firmware, with features like a smarter Siri and auto Do not Disturb mode.
The thread on Reddit was started by a user who goes by the handle flangeboy. He wrote that running the iOS 12 beta on an iPhone X brought the auto Do not Disturb mode. Apparently, the user went out to dinner with friends, and when checking out the phone at some point, they saw a message from iOS reading something along the lines of this: "You seem to be having dinner with x and x do you want to switch on do-not-disturb for the duration of this important appointment."
Upon selecting the option, Do not Disturb mode was turned on, although the user couldn't take a screenshot of it. It is worth pointing out that user hadn't marked the date they were going to dinner with friends before they went out, which is quite impressive and could mean the presence of a new or smarter Siri.
Looking Into the Gaming Industry with VanEck's JP Lee
ValueWalk's Raul Panganiban interviews JP Lee, Product Managers at VanEck, and discusses the video gaming industry. Q4 2020 hedge fund letters, conferences and more The following is a computer generated transcript and may contain some errors. Interview With VanEck's JP Lee ValueWalk's ValueTalks ·
Soon after, an iPhone 8 user going by the name kadupse joined the thread with an interesting idea about the possibility of a smarter Siri and auto Do not Disturb mode.
"It won't automatically know you are in a meeting just by being near people you had been with before," the user commented. "But if you messaged anyone about this meeting Siri will notice that and surface a suggestion."
Thus, it's possible that if the user messaged his friends about having dinner on their iPhone, Siri would notice it and ask if he wants to activate Do not Disturb mode. So are we really experiencing a newer and smarter Siri that can guess what we're doing and ensure no one disturbs us? If true, it is a pretty cool feature that allows users to have a more personalized experience with their smartphone.
Do you think this feature will make it to the final version of iOS 12? Let us know.