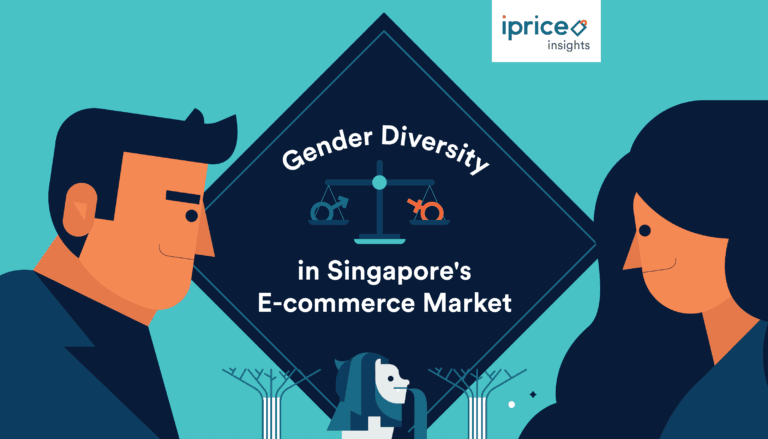 Gender diversity has come to more light recently especially with studies released by BCG and McKinsey analysing the topic more in depth. It has also been correlated with improving company performance due to wider points of views from different perspectives. A report by McKinsey Global Institute suggests that $12 trillion could be added to global GDP by 2025 by improving gender diversity in the workplace.
[REITs]
Q1 hedge fund letters, conference, scoops etc, Also read Lear Capital: Financial Products You Should Avoid?
Option Trading and the Future of Option Alpha with Option Alpha's Kirk Du Plessis
ValueWalk's Raul Panganiban interviews Kirk Du Plessis, Founder and CEO of Option Alpha, and discuss Option Alpha and his general approach to investing. Q1 2021 hedge fund letters, conferences and more The following is a computer generated transcript and may contain some errors. Interview with Option Alpha's Kirk Du Plessis
The issue has also come to spotlight especially in Singapore. They aim to achieve the Diversity Action Committee's (DAC) target of having 20 percent female representation on the boards of listed companies. The efforts taken to improve are hugely supported by the local government. Minister for Culture, Community and Youth, Grace Fu quoted women only occupy just over 10 percent of board seats which is far from optimal.
As e-commerce in the region is emerging, the market is expected to keep growing in Singapore. Analyzation of the gender diversity in the top-level management of Singapore's top e-commerce players is done by iPrice Group. A total of 282 employees and top 15 e-commerce players as listed on Map of E-commerce Q1 2018 is involved and interesting insights are found based on the study.
Men Dominate Overall Top-level Management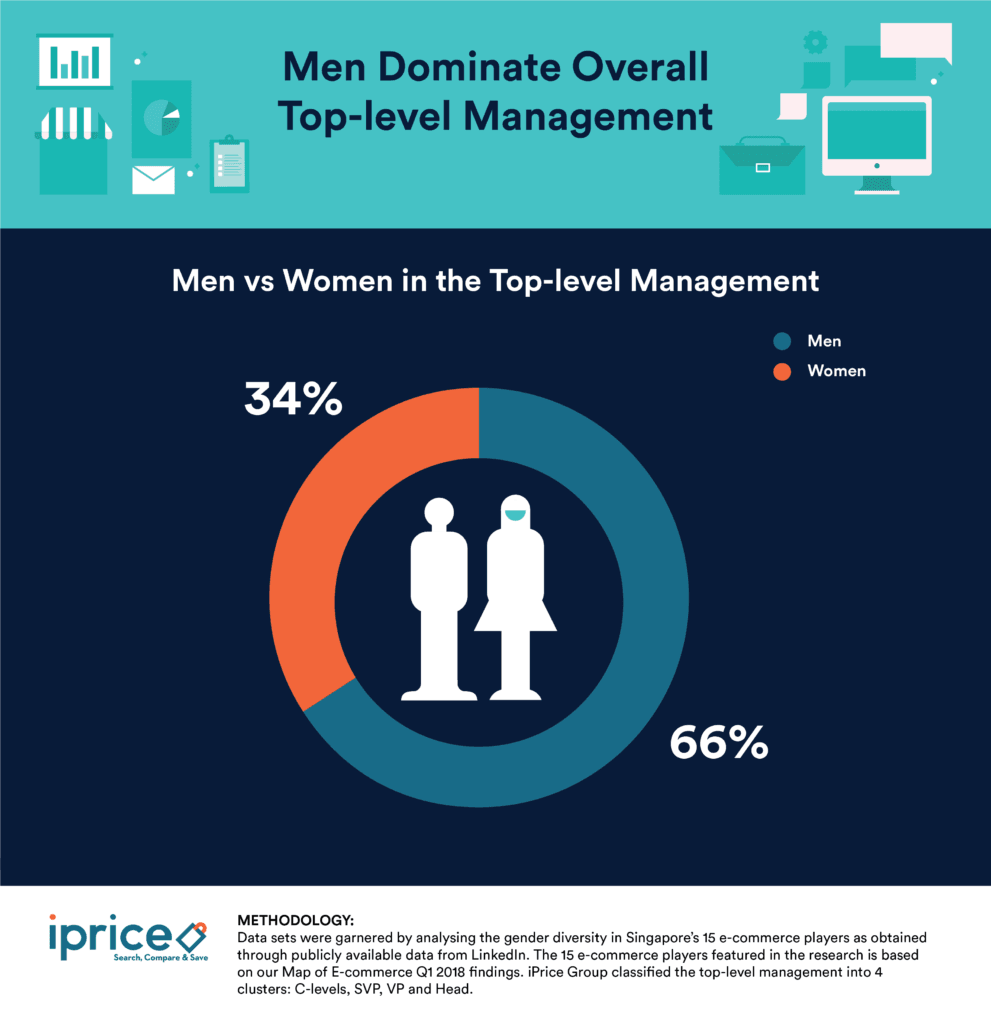 Analysing all the management roles for top 15 e-commerce players, men dominate 66 percent of the roles, while women take up the other 34 percent. This trend follows a similar pattern with the results of other studies of gender diversity in the workplace: men make up the majority of management in the workplace.
According to a study conducted by LeanIn.Org and McKinsey titled Women in the Workplace 2017, women remain underrepresented in the corporate world despite earning more college degrees than men. In addition, a study on gender diversity on Singapore's corporate boards also show the same result that women only occupy 10.3 percent of board seats.
Pipeline Problem: The Gender Gap Between Men and Women Widen as it Moves Up to C-levels in Company Hierarchy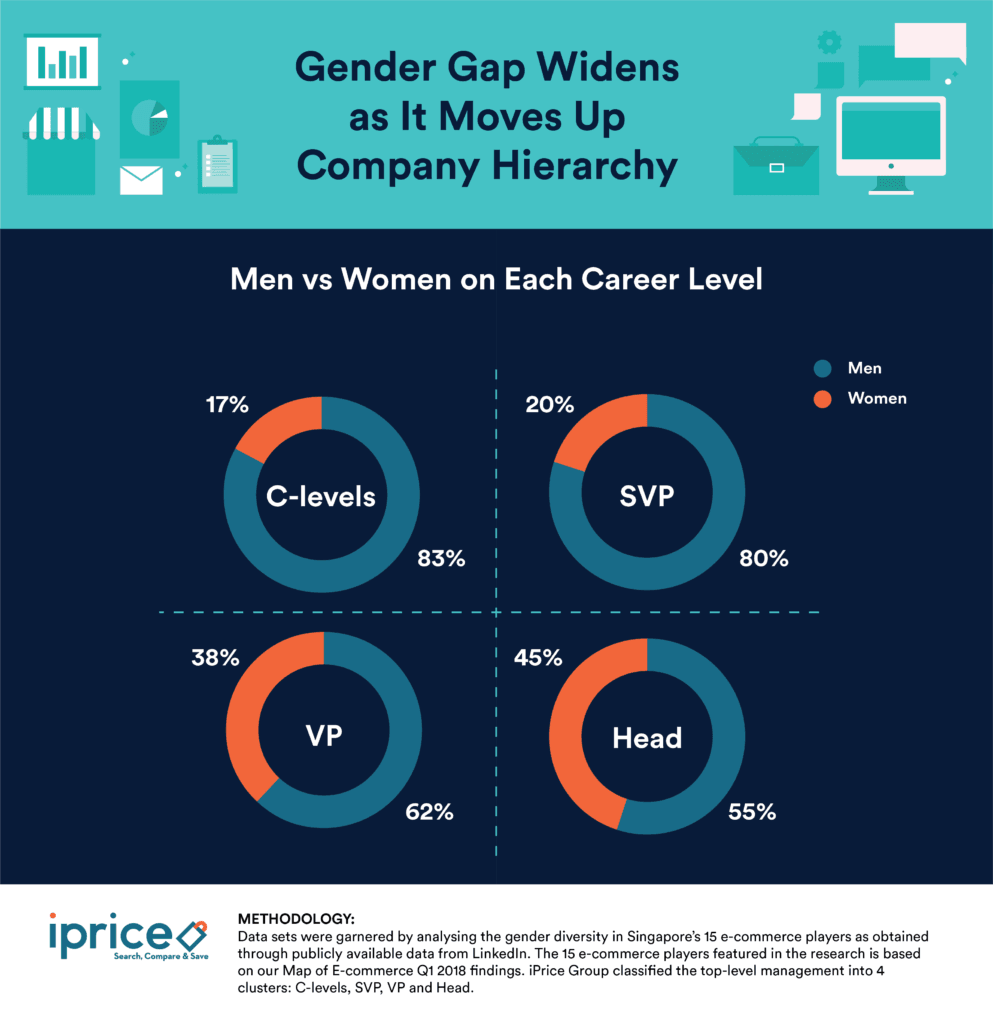 Looking at 4 levels of management as the metric, the distribution between both genders have a difference of 10 percent at the lowest level. The percentage of men and women at the Head-level of managerial roles are at 55 percent and 45 percent respectively. Following that is the VP-level (Vice President), which sees the percentage of men increase to 61 percent and percentage of women decrease to 39 percent.
A larger gap is seen when we move up the career ladder. Men take up 80 percent of the SVP-level (Senior Vice President) roles whereas women take up only 20 percent. At the highest level, the C-levels, women make up only 17 percent and the percentage of men increase their domination to 83 percent. This brings us into the prevalent pipeline problem indicating lesser women on higher management.
Aside from management roles, there's also gender pay gap in Singapore. According to a study by consumer research firm ValuePenguin, men are still earning nearly 20 percent more than women, and the situation has not seen improvement since 2006.
Fashion E-commerce: Gender Distribution is Close to Equal Between Men and Women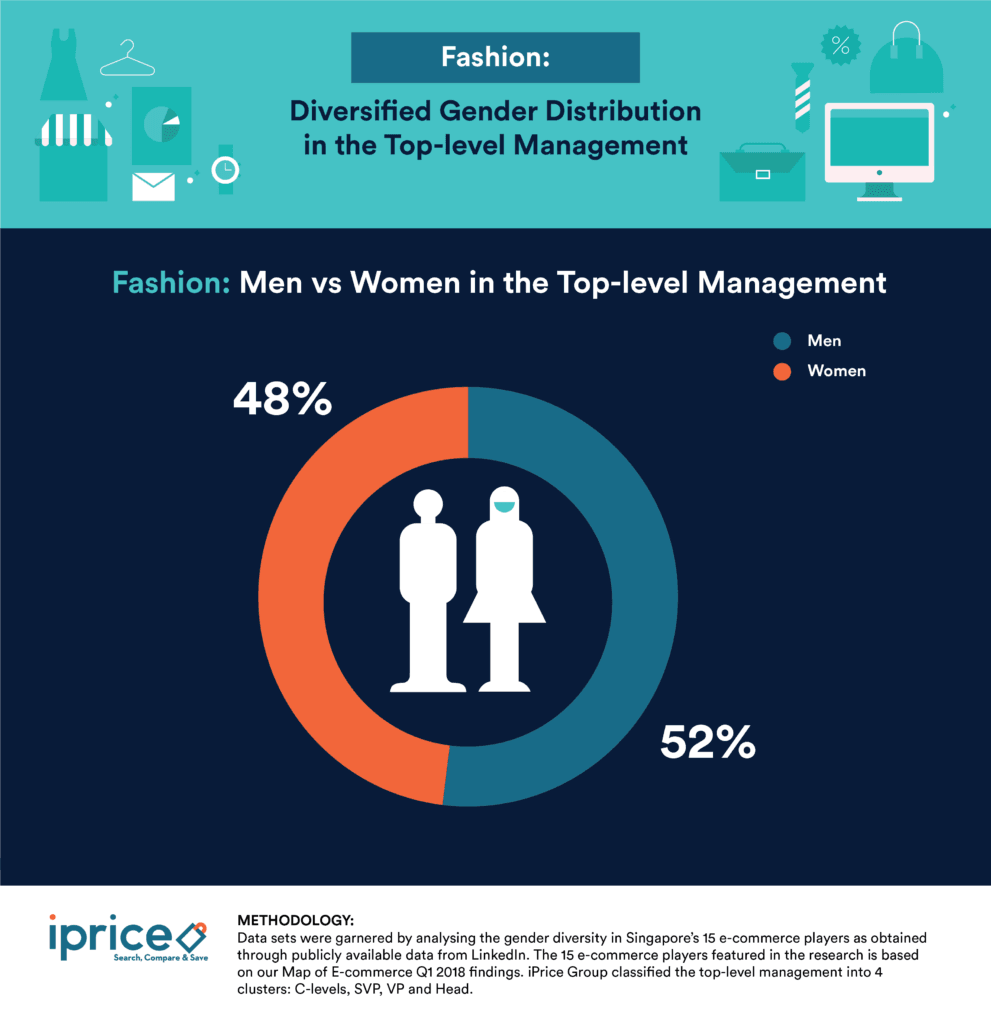 The overall fashion e-commerce industry has a more even gender distribution as the gap between men and women are closer in population. Men make up 52 percent of the total population whereas women stand closely at 48 percent. This is a positive observation as the genders are more evenly distributed among top-level management.
The even distribution of genders is believed to be able to bring positive impact for the workplace. Ms Grace Fu, Minister for Culture, Community, and Youth quoted that having female board members make sound business sense, as they can bring diversity in views and ideas to the table.
Fashion E-commerce: Gender Gap is Small Between Men and Women Along the Career Ladder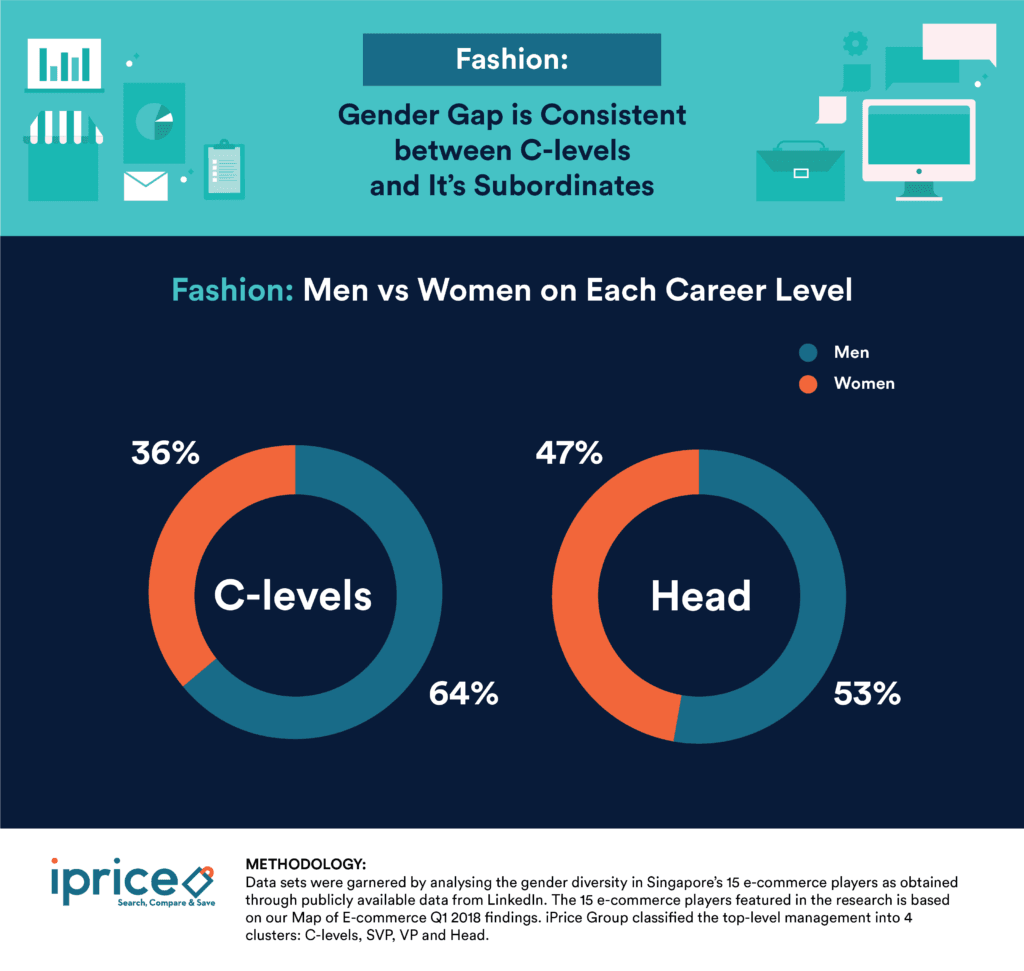 Analysing the management roles from the fashion e-commerce industry, a smaller gap between men and women is more prominent. The percentage of the gender distribution on the C-levels and Head-levels is closer compared to the results of the overall e-commerce industry.
At the Head-level, men hold 53 percent of the roles whereas women hold the other 47 percent. Men make up 64 percent of C-levels roles, whereas the women make up the remaining 36 percent. It isn't a major difference when compared to the larger gender gap of the same C-levels roles in the overall e-commerce industry.
Hopefully, we will be able to replicate the results of the fashion e-commerce industry, bringing us closer to achieve the Diversity Action Committee's (DAC) target by 2020.
---
METHODOLOGY:
Data sets were garnered by analysing the gender diversity in Singapore's top 15 e-commerce players as obtained through publicly available data from LinkedIn. The 15 e-commerce players featured in the research is based on our Map of E-commerce Q1 2018 findings. iPrice Group classified the top-level management into 4 clusters: C-levels, SVP, VP and Head.
Original source: https://iprice.sg/trends/insights/gender-diversity-management-singapore-e-commerce/