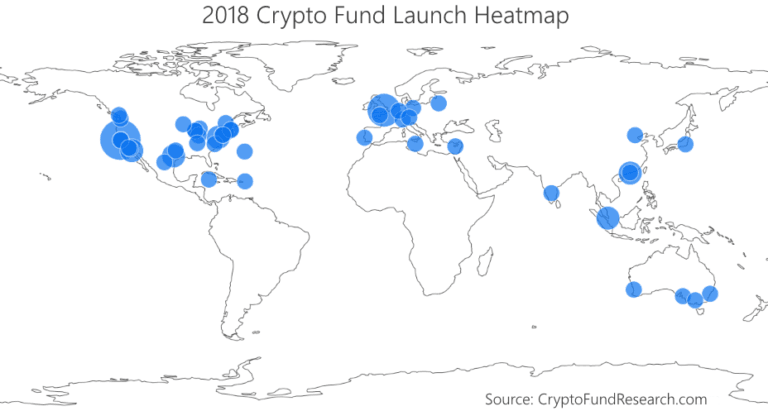 Since 2017, crypto funds have been the fastest growing sector of the hedge fund industry. Despite falling cryptocurrency prices this year, the number of new crypto funds being launched has actually accelerated. In just the first five months of 2018, there were a whopping 61 crypto fund launches, according to Crypto Fund Research. This number includes 41 crypto hedge funds and 20 venture capital funds.
If the current pace of new fund launches continues, 2018 will see 147 new crypto funds – more than the record 130 launched in 2017.
[munger[
Qualivian Investment Partners July 2022 Performance Update
Qualivian Investment Partners performance update for the month ended July 31, 2022. Q2 2022 hedge fund letters, conferences and more Dear Friends of the Fund, Please find our July 2022 performance report below for your review. Qualivian reached its four year track record in December 2021.  We are actively weighing investment proposals. Starting in November Read More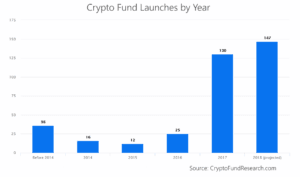 Of the 130 crypto funds opened in 2017, 98 were hedge funds. This represented more than 13% of all 735 new hedge funds in the year. Based on the fast start to 2018, it is possible crypto funds will represent 15% or more of all hedge funds launched in 2018.
Some may be surprised by the rapid pace of new crypto funds. The SEC and CFTC have been aggressive in their regulation of the industry. Likewise, regulators in the EU, China, and India have all either regulated, or outright banned, crypto investment funds.
Increased regulatory scrutiny is compounded by falling cryptocurrency prices. Bitcoin, for example, which was up more than 1,300% in 2017, is down more than 50% for the year. Most other major cryptocurrencies have also fallen in 2018.
Crypto Fund Research currently lists more than 360 crypto funds. Just over half of these launched since the beginning of 2017.
"The general sentiment was that we could see a slowdown in fund launches for 2018 as prices of cryptocurrencies fell sharply and regulators began to crack down on ICOs and certain unregulated funds," said Josh Gnaizda, CEO of Crypto Fund Research. "Yet we've actually seen the opposite. The pace of new crypto fund launches has accelerated."
The United States accounted for 29 of the 61 crypto funds launched in 2018. The UK, Germany, and Australia all were home to three or more new funds.
Though the number of crypto funds is increasing rapidly, assets under management have actually fallen slightly since the end of 2017. This is largely due to plummeting prices of Bitcoin and other cryptocurrencies. Crypto hedge funds and venture capital funds cumulatively manage just over $5 billion in assets. This is less than the size of many traditional hedge funds.
It remains unclear whether the pace of new cryptocurrency fund launches is sustainable. Half of all crypto funds have less than $10 million in assets. Without some appreciation in cryptocurrency and blockchain assets, some consolidation, or at least a significant slowdown in new fund launches, is probably inevitable.
More info on 2018 crypto fund launches, including charts and graphs, can be found here: https://cryptofundresearch.com/2018-crypto-fund-launches-and-data/
Updated on