Elliott Management Corporation And Bluescape Resources Company letter to the Board of Directors of Sempra Energy
Q1 hedge fund letters, conference, scoops etc, Also read Lear Capital: Financial Products You Should Avoid?
The Board of Directors
Michael Mauboussin: Here's what active managers can do
The debate over active versus passive management continues as trends show the ongoing shift from active into passive funds. Q2 2020 hedge fund letters, conferences and more At the Morningstar Investment Conference, Michael Mauboussin of Counterpoint Global argued that the rise of index funds has made it more difficult to be an active manager. Drawing Read More
Sempra Energy
488 8th Avenue
San Diego, California 92101
Dear Members of the Board:
We are writing to you on behalf of Elliott Associates, L.P. and Elliott International, L.P. (together, "Elliott") and Bluescape Resources Company LLC ("Bluescape") (collectively, "we" or the "Sempra Shareholder Group"), which together own a $1.3 billion or 4.9% economic interest in Sempra Energy (the "Company," or "Sempra"), making us one of your largest investors.
By way of introduction, Elliott is a multi-strategy investment firm that was founded in 1977 and has more than $35 billion in assets under management today. Elliott has a strong track record of investing in the power, utility and energy sectors and working with companies to create long-term, fundamental stakeholder value. Bluescape is a private investment firm founded by John Wilder in 2007 focused on value-oriented investments in the upstream oil and gas, power and utility industries.
Together, Elliott and Bluescape have recently collaborated on two investments in the utility industry, NRG Energy and FirstEnergy Corp. Both investments allowed Elliott and Bluescape to form positive partnerships with the respective boards and management teams and resulted in more focused companies and compelling returns for shareholders.
First and foremost, we are pleased to be Sempra shareholders. Sempra owns a collection of excellent regulated and long-term contracted critical infrastructure businesses. Despite the attractive characteristics of its businesses, Sempra shares are deeply undervalued by the market. In our view, this persistent and substantial undervaluation stems from a focus on sheer size that has permeated management and Board thinking. This has led to the creation of a conglomerate structure consisting of disparate businesses grouped together with no compelling strategic or financial rationale. The resulting complexity and management and Board detachment has introduced numerous risks for all key stakeholders. Unfortunately, certain of these risks have become reality, and all of Sempra's key stakeholders have suffered as a result.
Fortunately, we believe that Jeff Martin and his team have a unique opportunity to address these issues and create a more Sustainable Sempra. Importantly, our ideas and proposals provide Sempra's businesses the unique ability to capture wins all around -- to maximize overall reliability and service for customers, opportunities for employees, transparency and accountability for regulators, and value and certainty for shareholders. If executed, we believe this can lead to $11-16 billion line-of-sight value creation ($139-$158/share) representing a 38-57% uplift.
Through extensive work with a team of advisers and experts, including an industry leading financial adviser, leading corporate, tax, and regulatory counsel, and a big four accounting firm, we have developed a two-step plan to unlock this value:
1) Reset Oversight: We have identified six independent, highly qualified directors with diverse experience and expertise who are excellent additions to the Board and are interested and ready to help oversee the transition to a Sustainable Sempra.
2) Strategic Review: Establish a Strategic Review Committee of the Board that is empowered to conduct full and unfettered "no stone unturned" portfolio and operational reviews aimed at identifying value-creation opportunities for all key stakeholders.
While the specific details, evaluations and conclusions will ultimately be up to the Committee, we believe the goal of the Strategic Review Committee's work should be to formulate a strategic performance plan to i) unlock Sempra's significant conglomerate discount, ii) highlight the value of its LNG development pipeline, and iii) improve the safety, reliability and service of its core US utilities through continued system investment, importantly, with no net increase in customer rates. This can be viewed as a "back to basics" strategy where individual businesses can excel without unintended externalities and boards and executives can execute their core competencies, in turn, benefitting all key stakeholders.
We are making today's letter and accompanying presentation public in order to facilitate a full discussion of these ideas and provide transparency to all Sempra's stakeholders regarding our views. Our materials can also be downloaded at www.SustainableSempra.com.
Our goal is to enter into a constructive dialogue with Sempra's Board and management to discuss our ideas for sustainable value creation and reach a mutually established path forward. There is strong recent precedent for collaborating with Elliott and Bluescape in the utility industry to maximize value. We think an agreement can be reached quickly to enhance the Board and establish the Strategic Review Committee with the proper oversight, resources and mandate necessary for much-needed, fully objective portfolio and operational reviews. We believe this review can be completed and a Sustainable Sempra Plan announced to all key stakeholders by year-end.
Thank you in advance for considering our ideas. We look forward to meeting to further these discussions and will make ourselves available at the Board's earliest convenience.
Respectfully,
Jeff Rosenbaum
Portfolio Manager
Elliott Management Corporation
C. John Wilder
Executive Chairman
Bluescape Resources Company
---
Sustainable Value Creation For All Stakeholders
Executive Summary
About Elliott and Bluescape
Elliott and Bluescape have conducted exhaustive research on Sempra, including working with a team of industry-leading advisers and experts, to evaluate and develop our recommendations
Elliott and Bluescape's world-class team of advisers includes:
Six Highly Qualified Board Candidates with deep industry, regulatory, executive, and leadership experience and strong local ties
Leading Regulatory Counsel to understand each jurisdiction in which Sempra operates; we retained four specialized local law firms (California, Texas, FERC, and Mexico) to study the regulatory implications of our proposal's various potential results
Leading Corporate Counsel to review Sempra's corporate governance and legal structure
Leading Financial Adviser to independently verify the viability and value creation potential of the proposed strategic plan
Big 4 Accounting Firm & Tax Counsel to vet structures and understand the tax consequences of contemplated spin-offs and divestitures
Independent Compensation Consultant to unpack Sempra management's incentive structure and benchmark against industry peers
Why Are We Here?
Elliott and Bluescape collectively own a 4.9% economic interest in Sempra valued at more than $1.3 billion1 We believe Sempra can achieve $11-16 billion of value creation from an appropriately conducted business review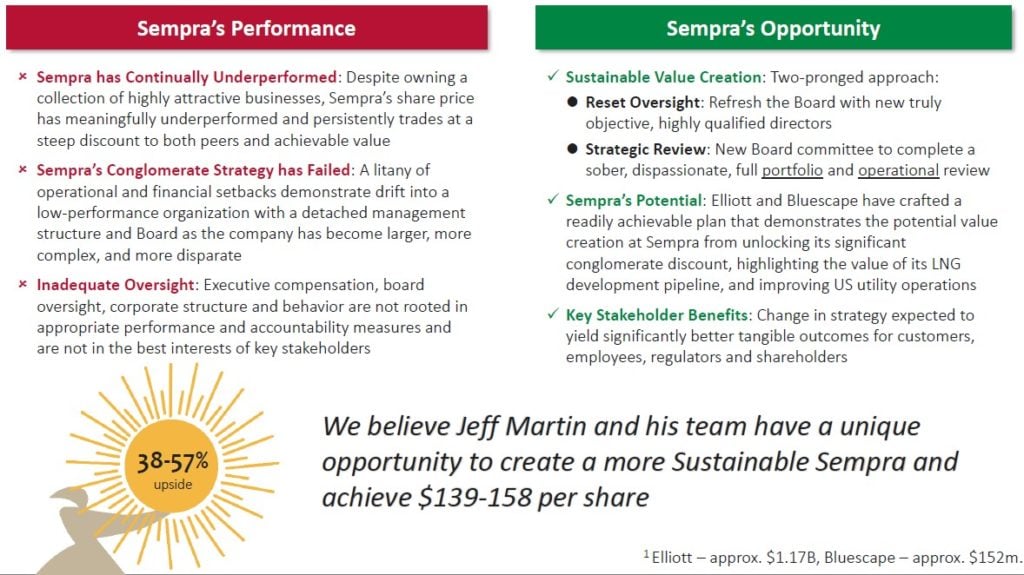 Sempra Has Underperformed
Sempra's total shareholder return ("TSR") has meaningfully underperformed peers and, importantly, its own opportunity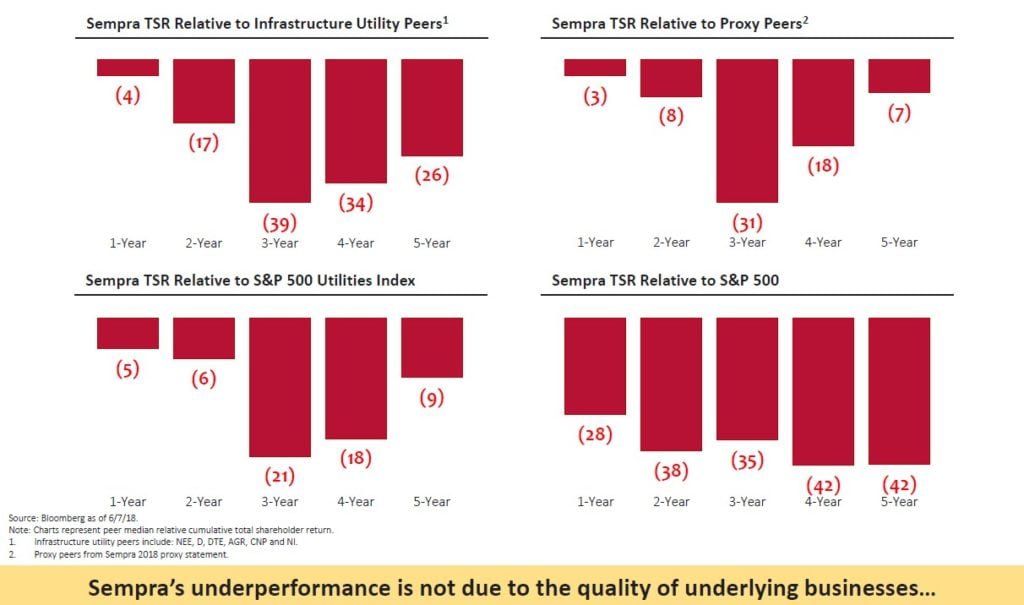 Lowest Valuations Among Peers
Sempra's steep valuation discount to peers reflects a substantial conglomerate discount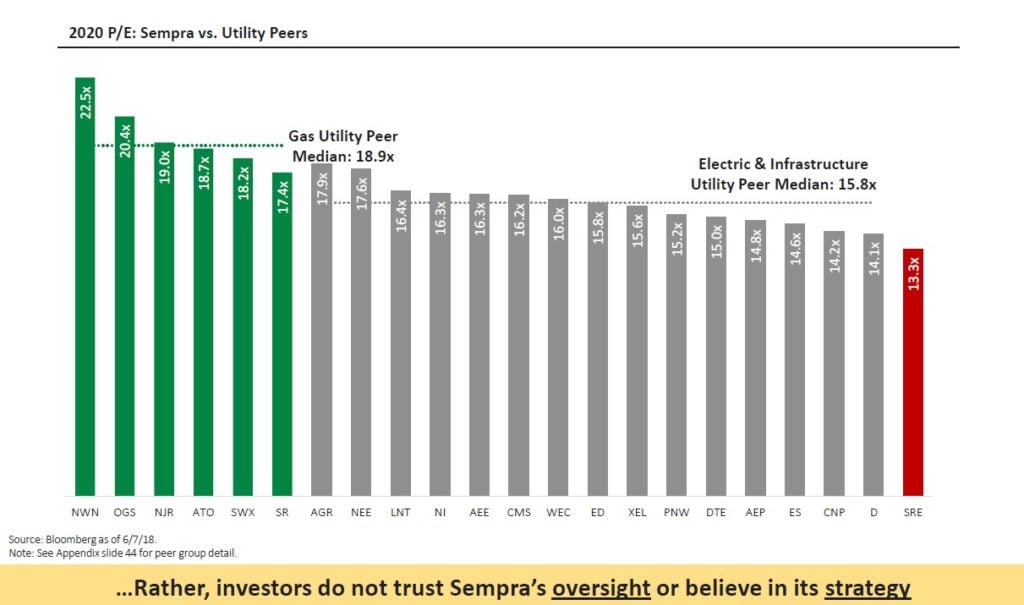 See the full presentation below.