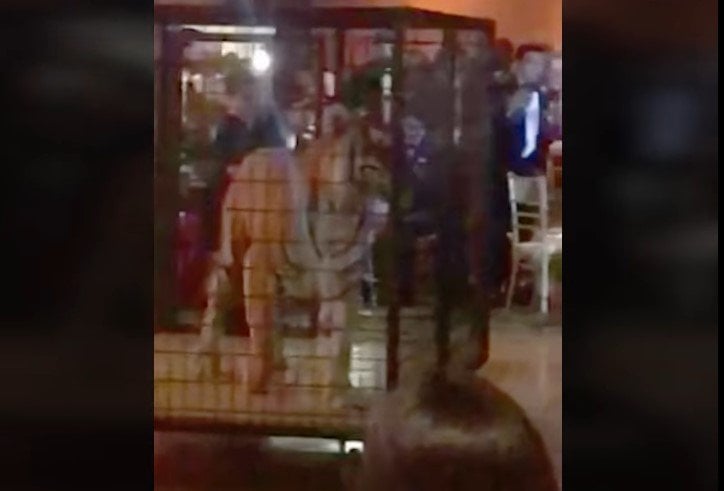 A Miami, Florida high school has caught international attention after a jungle themed event featured a live animals as entertainment. Christopher Columbus High School, a private all boys Catholic school in Miami, held its prom on Friday, themed "Welcome to the Jungle." Event organizers arranged for a live tiger to be kept in a tiny cage at the event. By Sunday, footage of the tiger at prom had gone viral, sparking mass outrage.
Animals as Decoration?
The footage shows the tiger was highly agitated, probably due to the noise, flashing cameras, and fire dancers. The big cat can be seen pacing back and forth and growling.
Qualivian Investment Partners July 2022 Performance Update
Qualivian Investment Partners performance update for the month ended July 31, 2022. Q2 2022 hedge fund letters, conferences and more Dear Friends of the Fund, Please find our July 2022 performance report below for your review. Qualivian reached its four year track record in December 2021.  We are actively weighing investment proposals. Starting in November Read More
Family members of students and people across the country took to social media to express their outrage over the animal abuse and concern for the safety of the teenagers in attendance.
"This poor tiger was used as an EXOTIC amusement for the mindless teenagers who were present," wrote Mari-Cris Castellanos, the sister of one student, "It is not the student [sic] fault to be so naive BUT it's the CCHS STAFF who arranged this event, there for [sic] they are responsible for this tigers misery."
Castellanos also posted videos of the tiger frantically pacing back and forth as teenagers look on and loud music plays in the background.
Although the tiger has drawn the most attention, the school brought in other wild animals for entertainment. Students were able to pose for pictures with a lemur, an African fennec fox, or two macaws. Birds were used as centerpieces.
PETA, People for the Ethical Treatment of Animals, issued a statement concerning the allegations of animal abuse, "Wild animals aren't prom decorations. Displaying a tiger in a tiny cage and allowing students to handle lemurs is cruel to the animals and dangerous for the students, and it sends the harmful message that living beings are props to be used for human amusement."
Some were also concerned for the safety of the teenagers in attendance. It isn't hard to imagine a teen sticking their hand in the cage or getting close enough to be mauled by the anxious big cat. Even handling the macaws, fox, or lemur could have been dangerous, especially considering the flashing lights and loud music.
The School Responds
David Pugh, the school's principal, issued a statement deferring the blame for the tiger at prom, "We recognize this decision has offended some and for that we apologize. Although it was in a controlled environment and handled by professionals approved by the Florida Fish and Wildlife Conservation, we understand how some individuals may be concerned."
The Florida Fish and Wildlife Conservation can be contacted here.
The school also defended their decision to bring wild animals to a high school dance.
"Two Miami-Dade Police officers were present the entire time. The animals were provided by facilities that are licensed by the Florida Fish and Wildlife Conservation Commission. The tiger, which was displayed for a few minutes in a cage was never harmed or in danger, was not forced to perform, was always accompanied by his handlers, and for the great majority of the time was lying down in a relaxed state facing away from the audience."
After sustained backlash, Pugh issued another statement to an ABC affiliate, expressing some regret.
"Upon reflection, we regret the decision to have live animals at our prom." The Catholic school principal went on to say, "This decision in no way reflects the Marist values, teachings of the Catholic Church and/or the accomplishments of our young and that of our distinguished alumni. We remain proud of the work we do in our community by raising awareness for pediatric cancer, autism and our homeless veterans, to name a few."
Animal Expert Weighs In
It's not just PETA, teachers, and parents, that were outraged by the tiger at prom. Ron Magill, curator for ZooMiami and animal behavior expert, said that tiger was "obviously distressed."
Magill told the Miami Herald, "The tiger is clearly looking for a way to get out of that situation, it's not difficult to interpret that behavior."
Magill explained, "He was surrounded by people, cell phones, lights, jugglers juggling fire. I really don't know what they were thinking. Exploiting animals for entertainment at parties — that time has passed. We know better; we've been educated."
Aside from the frantic pacing, Magill could also read the big cat's ears, "When you see a tiger's ears go to the side, or go flat back, that is not a good thing. That's what we call helicopter mode; it's how we read cats."
The Catholic Perspective
Principal Pugh claimed in his statement that the tiger at prom does not reflect on the school's Catholic values, but the Catholic Church takes of strong stance on the treatment of animals and wildlife, especially under the direction of Pope Francis. In Catholic teaching, humans are considered "stewards" of nature and wildlife, and are directed to treat animals humanely.
The Catechism, which is the organized teachings of the Catholic Church, reads, "Animals are God's creatures. He surrounds them with his providential care. By their mere existence they bless him and give him glory. Thus men owe them kindness. We should recall the gentleness with which saints like St. Francis of Assisi or St. Philip Neri treated animals.
The Catechism goes on to state very clearly, "It is contrary to human dignity to cause animals to suffer or die needlessly."
Since his first days as pope, Pope Francis has taken a firm stance on the environment, declaring that the abuse of nature is a sin. Pope Francis even took his papal name from St. Francis of Assisi, the patron saint of animals, which led to him being declared PETA's Person of the Year in 2015.
Pope Francis has underscored in his writings that humans do not have absolute dominion over animals, which means animals must be treated with kindness , given freedom, and left in their natural habitat as much as possible. One could surmise Pope Francis would frown on having a tiger at prom as entertainment for Catholic school students.
Video of the Tiger at School's Prom
https://www.youtube.com/watch?v=TIwdOCZy0yc
Updated on