Tesla's earnings call yesterday was anything but boring, as Elon Musk very roughly dismissed analyst questions. We jumped into Sentieo to quickly find the Tesla transcript and dig into the details.
Q1 hedge fund letters, conference, scoops etc, Also read Lear Capital: Financial Products You Should Avoid?
Q2 Hedge Funds Resource Page Now LIVE!!! Lives, Conferences, Slides And More [UPDATED 7/5 21:37 EST]
Simply click the menu below to perform sorting functions. This page was just created on 7/1/2020 we will be updating it on a very frequent basis over the next three months (usually at LEAST daily), please come back or bookmark the page. As always we REALLY really appreciate legal letters and tips on hedge funds Read More
A.M. Sacconaghi, Senior Analyst at Sanford C. Bernstein & Co., asked Musk about gross margin end of year targets with regard to the Tesla Model 3. Tesla CFO Ahuja cited the weakening of the dollar and increased labor costs as Elon began to dismiss the question altogether.
See the specific dialogue below, which we highlighted and saved in Sentieo:

When Sacconaghi tries to dig deeper into Tesla's plans to cut spending and where the company will be in terms of capital requirement, Musk brashly shuts him down:

(Note: Musk actually says, "Boring bonehead questions are not cool," but our transcription service excluded the word "bonehead.")
When responding to questions about the impact of news coverage on the recent Tesla crash fatality (during which the car was using "Autopilot"), Musk responds that these questions are "killing him," calls press headlines "inflammatory," and diverts back to an analyst from YouTube who only responds to him with clear, positive fanaticism.

We also decided to take a look at the transcript sentiment report for the call, with just another click within Sentieo. The chart below shows a huge uptick in analyst sentiment, but that's really only because Musk chose to gift half of the call to this enthusiast from YouTube (Galileo Russell is a 2015 college grad who describes himself as "a finance geek whose two biggest current fascinations are Tesla and Bitcoin.")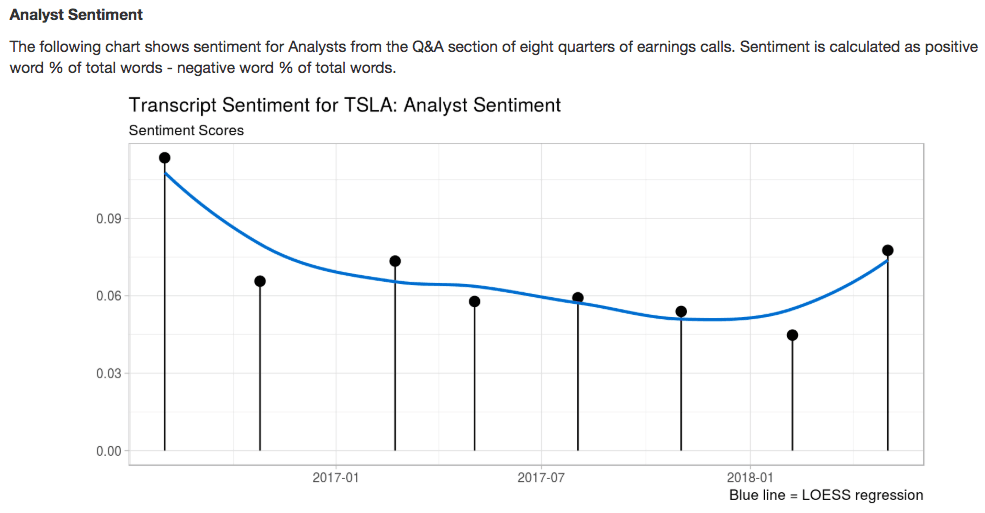 Lastly, we glanced at the comparison word clouds provided in the sentiment report for the call (below). We can see that analysts only wanted to talk Model 3, and management not at all. By contrast, in February, management spoke mostly about Model 3, but not at all in May. Clearly shown by this recent call, the focus has shifted to dodging the Model 3 discussion, whereas it was embraced previously.
Analyst vs. Management: Keyword Difference
This is another comparison cloud showing the major average difference between management and analyst keywords on the 2018-05-02 conference call.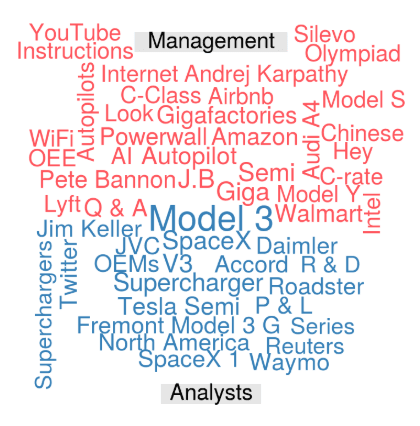 Conference Calls Sequential Comparison Word Cloud
The following comparison word cloud shows the biggest changes in average keyword frequency between the 2018-05-02 conference call and the 2018-02-07 conference call for TSLA.*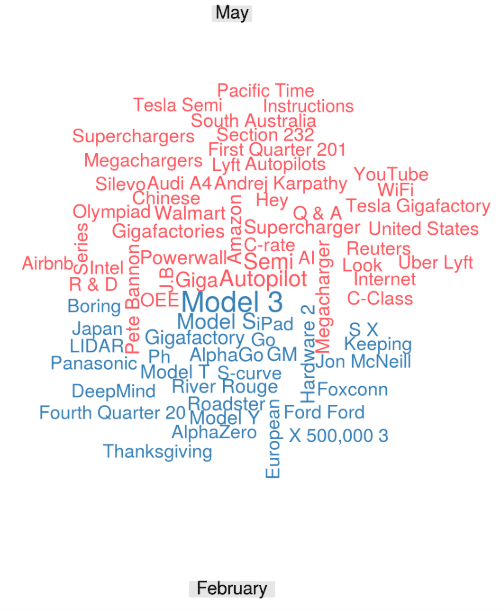 Musk certainly seems to be feeling the heat under analyst scrutiny. We will see what next quarter brings and if Tesla is able to meet the goals he suggests.
Article by Denise Martinez, Sentieo