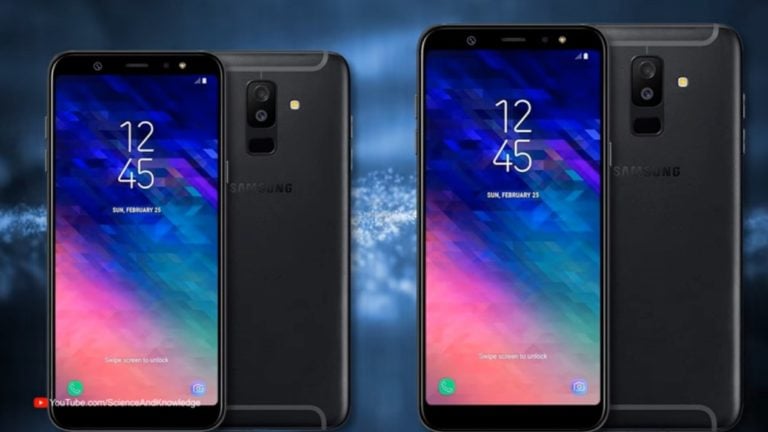 Samsung has officially unveiled latest smartphones 2018 Galaxy A6 and A6 Plus, that will not make a hole in pockets. These smartphones will be launched under Samsung's affordable A-series range. These smartphones were earlier spotted on FCC certification, but the launch is confirmed by Samsung recently.
Galaxy A6 is packed with a chipset of an octa-core SoC (1.6GHz), whereas A6 has the same chipset clocked at 1.8GHz. Both the phones have options of same storage options i.e. 4GB and 64GB, or 3GB and 32GB. The storage is expandable up to 256 GB on both the smartphones. Galaxy A6 and A6 Plus offer 3000mAh and 3500MAh battery respectively.
Talking about the camera, both the smartphones have a lot to offer in such price range. Galaxy A6 Plus is packed with 16 MP camera with 5 MP sensor. It has 24 MP front camera along with LED flash for selfies. Whereas, Galaxy A6 features a single 16 MP rear camera and a 16 MP front sensor. A6 Plus is also packed with 6.0-inch FHD+ (1080*2200) display. The screen ratio of A6 Plus phone is 18.5:9, whereas, Galaxy A6 has a 5.6-inch Super AMOLED HD+ (720*1480) display.
Robinhood 2021 Conference: Cathie Wood discusses her investment process with Lee Ainslie [Exclusive]
ARK Invest is known for targeting high-growth technology companies, with one of its most recent additions being DraftKings. In an interview with Maverick's Lee Ainslie at the Robinhood Investors Conference this week, Cathie Wood of ARK Invest discussed the firm's process and updated its views on some positions, including Tesla. Q1 2021 hedge fund letters, Read More
2018 Galaxy A6 and A6 Plus come with Samsung Pay support along with sound Bixby Vision, Reminder and Home optimized by Dolby Atmos.
Both the smartphones have a connectivity features of Bluetooth v4.2, 802.11 Wi-Fi a/b/g/n (2.4/5GHz) along with USB Type-B. These smartphones will be available in European and Asian markets for sale from May this year. It will be surely an interesting hands-on experience. Along with being pocket-friendly, these smartphones have so much to offer.
Find Samsung Press Release Below:
Samsung Electronics today announced the Galaxy A6 and A6+ that combine everyday convenience and stylish design with an advanced camera for more personalized way to express yourself.
Featuring a powerful front and rear camera, a sleek premium design and Samsung's signature Infinity Display, the new Galaxy A series is available in four stylish colors; Black, Gold, Blue and Lavender.1
"At Samsung we are committed to providing our consumers with the very best smartphone experience, while meeting their practical needs," said Junho Park, Vice President of Global Product Planning, Mobile Communications Business at Samsung Electronics. "The Galaxy A6 and A6+ draws on Samsung's smartphone heritage to combine everyday convenience with an impressive camera that lets users capture, personalize and share moments, in a way that lets them uniquely express themselves."
With the Galaxy A6 and A6+'s powerful front and rear camera, taking beautiful shots or selfies anytime, anywhere has never been easier. Featuring an adjustable front LED flash, Galaxy A6 and A6+ users can snap stylish selfies, from day to night. And with the rear camera's low-aperture lenses, users can also capture sharp, clear photos in low light conditions, without sacrificing image quality no matter what time of day.
The Galaxy A6+'s Dual Camera2 can even further enhance the pictures and moments that matter with Live Focus mode, meaning that users can control the depth of field and bokeh effect before or even after the shot is taken. Users can enrich their pictures with unique background blur patterns in a range of shapes including hearts, stars and more.
Users can experience a richer surround sound experience to enjoy movies, music and more with speakers supported by Dolby Atmos optimized audio3. The Galaxy A6 and A6+ provide a full range of sound from highs to lows, with outstanding clarity and true-to-life detail for a more powerful and immersive audio experience. Users can choose to turn on the Dolby Atmos effect to transform their audio with breathtaking moving sound that flows around them.
The Galaxy A6 and A6+ continue to set the standard for the ultimate uninterrupted viewing experience with Samsung's signature Infinity Display that goes beyond the bezel, featuring an impressive 18.5:9 screen ratio4. Its sleek smooth curves and metal design have been engineered to offer improved durability and comfortable grip for maximum usability, without compromising on style.
Designed with practicality and everyday convenience in mind, the Galaxy A6 and A6+ integrates several popular features from Samsung's flagship, including hassle-free security with Face Recognition and Fingerprint scanning for a quick and effortless way to unlock the device.
Both devices make multitasking fast and easy with App Pair, fully utilizing the Galaxy A6 and A6+'s large ergonomic screens by allowing users to pair two apps, halving time and doubling enjoyment. With the Always on Display5 users can get information at a glance without unlocking their phone, saving on time and battery life.
The Galaxy A6 and A6+ also support Bixby Vision, Home and Reminder. Samsung's Bixby can assist users in completing a range of everyday tasks, making the Galaxy A6 and A6+ smarter and more helpful. With Samsung Pay6 included, users will always have their wallet to hand. Supporting Near Field Communication (NFC), the Galaxy A6 and A6+ can be used virtually anywhere you can tap your credit or debit card. Every transaction via Samsung Pay is secure, yet very simple
Available from early May starting in select European, Asian and Latin American markets, before rolling out globally to additional markets throughout South Korea, Africa and China.