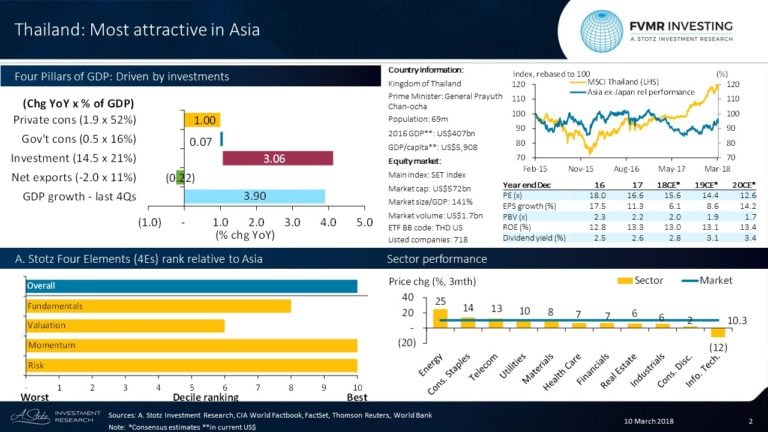 Four Pillars of GDP: Driven by investments
GDP growth in Thailand is moderate, driven mainly by investments. Government consumption has had almost no contribution and net exports have been the main drag on GDP growth in Thailand.
ADW Capital's 2020 letter: Long CDON, the future Amazon of the Nordics
ADW Capital Partners was up 119.2% for 2020, compared to a 13.77% gain for the S&P 500, an 11.17% increase for the Russell 2000, and an 8.62% return for the Russell 2000 Value Index. The fund reports an annualized return of 24.63% since its inception in 2005. Q4 2020 hedge fund letters, conferences and more Read More
Thailand trades in line with ASEAN markets on 2018CE* PE
The Thai market trades slightly above Asia ex Japan and in line with ASEAN markets at 2018CE* 15.6x PE. EPS growth expectations are slightly lower, decent dividend yield, and strong ROE.
Stotz Four Elements: Thailand's rank relative to Asia
Overall, Thailand appears most attractive in Asia considering all our four elements: Fundamentals, Valuation, Momentum, and Risk.
Fundamentals: Strong ROE.
Valuation: PB is slightly above Asia ex Japan, but ROE is also better. Decent dividend yield.
Momentum: Strongest price momentum, moderate earnings growth.
Risk: Thailand has had the lowest volatility among the 10 Asian markets we compare to as well as a relatively low beta to Asia ex Japan.
The giant PTT drove up the Energy sector
Top 3 largest sectors: Financials: 17% of the market; Energy: 16%; Industrials: 11%.
Best sector & stock: Energy: +24.9% & PTT PCL: +33.3%.
Worst sector & stock: Information Technology: -12.0% & Hana Microelectronics PCL: -24.0%.
*CE is consensus estimates.
Article by Become A Better Investor