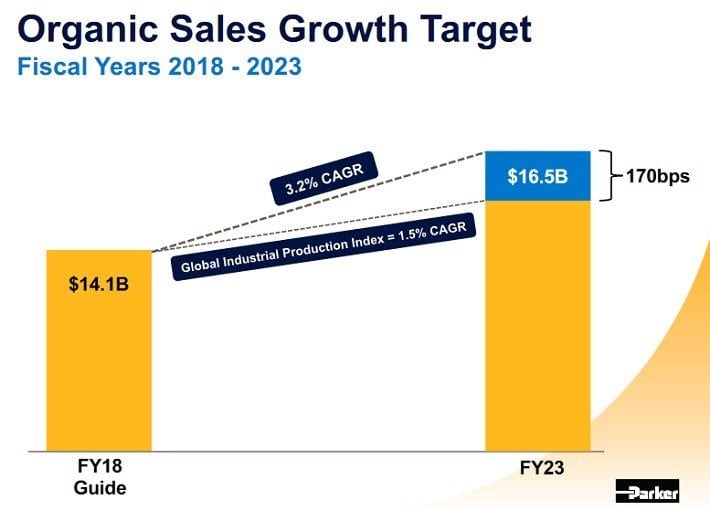 Parker-Hannifin (PH) is in very exclusive company when it comes to its dividend track record. PH has paid quarterly dividends to shareholders for the past 68 years consecutively, and it has raised its dividend for 61 years running.

Q1 hedge fund letters, conference, scoops etc
ValueWalk readers can click here to instantly access an exclusive $100 discount on Sure Dividend's premium online course Invest Like The Best, which contains a case-study-based investigation of how 6 of the world's best investors beat the market over time.
London Quality Growth Investor Conference: Buy Dassault Systemes
At this year's inaugural London Quality Growth Investor conference, Denis Callioni, analyst and portfolio manager at European investment group Comgest, highlighted one of the top ideas of the Comgest Europe Growth Fund. According to the speaker, the team managing this fund focus on finding companies that have stainable growth trajectories with a proven track record Read More
This amazing accomplishment puts it in the elite Dividend Kings, a group of stocks that have increased their payouts for at least 50 consecutive years. You can see the full list of all 25 Dividend Kings here.
Click here to download my Dividend Kings Excel Spreadsheet now. Keep reading this article to learn more.
Dividend Kings are the best of the best when it comes to rewarding shareholders with cash, and this article will discuss Parker-Hannifin's qualities that have put it in such select company.
Business Overview
PH recently celebrated its centennial as it was founded back in 1917 by Art Parker. Mr. Parker was an entrepreneurial man in every sense of the word and he used his penchant for solving engineering problems to file over 160 patents and created the foundation for what PH has become today. The company continues to try and embody Mr. Parker's approach to solving the world's engineering problems and the formula has certainly worked.
PH sells a wide array of components that help power the world's factories and machines. Part of PH's appeal is that it is so diversified in terms of product categories and offerings. This affords it a very long and diverse customer list and thus, it isn't reliant upon one or two industries for its revenue and earnings.
PH's market cap is right at $24B today and the company is expected to do $14B in revenue in fiscal 2018. From there, the company expects 3%+ organic sales growth over the next five years.
Source: Investor Presentation, page 80
It operates in three major segments called Diversified Industrial North America, Diversified Industrial International, and Aerospace Systems.
The North America business is the largest segment of the three and grew larger recently with the acquisition of CLARCOR. This segment provides industrial solutions to engineering problems on a massive scale including things like valves and fittings, cylinders and actuators, hoses, piping, tubing and a host of other product categories.
The International business is nearly as large as the North America segment and provides the same sort of solutions to PH's customers outside the US.
The Aerospace Systems business focuses on an industry where PH has decades of experience in making the world's aircraft more efficient and safer to operate. Revenue is split roughly 47% Industrial North America, 37% Industrial International and 16% Aerospace, so diversification is strong both in terms of customers and geographies.
Growth Prospects
PH's growth has been strong both in terms of organic expansion and acquisitions. I mentioned the CLARCOR buy and that helped push PH's recent Q2 revenue higher by an additional 13%. PH has always been a careful acquirer, striking when the time is right but not necessarily all that often. PH has stated it wants to be an acquirer of choice and part of that is making sure it passes on acquisitions when they don't make sense. CLARCOR made sense for PH so it made the deal and I'd expect we'll continue to see some acquisitions going forward, even if they may come with some irregular frequency.
However, even without those acquisitions PH is growing strongly on its own. Organic sales were up 9.5% in Q2 with both Industrial segments posting double-digit gains in the quarter. The Aerospace business was up just 0.8% on an organic growth basis but the consolidated company showed tremendous growth. Source: Q2 Earnings Presentation, page 11
This table shows how PH achieved its high rate of organic sales growth in Q2; it continued its prior momentum of very high rates of order growth. PH's organic growth is the exciting piece of the equation here because while acquisitions are nice and provide a spurt of growth, it is these order rates that make PH an attractive buy for the long term. Order rate growth like this and the revenue expansion that comes along with it are what set PH apart from its peers and indeed, what makes the stock attractive.
But revenue growth isn't the only avenue PH has to expand its earnings over time; margin growth has been a key component of PH's recent success and as efficiency is a constant focus of the management team, this should continue to be the case going forward.
Source: Investor Presentation, page 29
This chart from the company's recent investor presentations shows how margins have grown lately. Adjusted operating margins are expected to grow to 16.3% this fiscal year against 15.8% last year and 14.8% the year before. Adjusted EBITDA shows the same sort of story with 17.6% expected this year against 16.2% last year and 14.7% the year before.
PH's focus on constant improvement in its operating efficiency as well as the scale that targeted acquisitions provide both ensure PH is set up for success when it comes to margin growth. The bull case for PH is predicated upon continued organic revenue growth in addition to margin expansion, and given the terrific guidance above, it seems PH's growth story is certainly alive and well.
Competitive Advantages & Recession Performance
PH's competitive advantages include its scale, global distribution network and its 100 years of experience in solving engineering problems. PH makes some relatively obscure – but very critical – components of heavy machinery, factory equipment, aircraft, etc. and competition in many of these arenas is light. That plays into PH's hands when it comes to competitive advantage because in many cases, there is very little in terms of actual competition.
That's not to say that PH is immune from recession, however, because that is far from the case. After all, its customers need customers of their own in order to justify production and that means that when a recession does strike, PH necessarily suffers.
During the Great Recession, revenue fell from about $12B before the downturn to about $9B at the bottom. That's a very significant decline so again, it isn't that PH's diversification insulates it entirely from recessions. Naturally, this had a corresponding negative impact on earnings-per-share in 2009, as shown below:
2007 earnings-per-share of $4.67
2008 earnings-per-share of $5.53 (18% increase)
2009 earnings-per-share of $3.13 (43% decline)
2010 earnings-per-share of $3.40 (8.6% increase)
However, revenue recovered to pre-crisis highs by 2011 so while it was painful to be sure, even something as traumatic as the Great Recessions wasn't close to a death knell for PH. This company isn't beholden to any one particular industry and that diversification of product offerings and customers is what helps it weather economic storms.
Valuation & Expected Returns
ValueLine analysts forecast earnings-per-share of $9.40 for PH in 2018. As a result, the stock trades for a price-to-earnings ratio of 19.3. Source: ValueLine
This puts PH's current multiple higher than its recent historical multiples. In the past 10 years, the stock held an average price-to-earnings ratio of 15, according to ValueLine.
The good news is that PH's projected growth rates – including for this fiscal year – are in the mid-teens or higher. PH's track record of revenue and earnings growth is impressive and that means that these estimates must be taken seriously.
In other words, while PH may not necessarily look cheap against its historical earnings multiples, it does look relatively cheap against its projected growth rates. That is the sort of thing that leads investors to expand multiples over time and I believe that is why PH's earnings multiples have risen in the past decade. After all, if sustained growth rates move higher over time, investors will pay more for the stock.
There is also the matter of the dividend and below is depicted PH's dividend history going back to 2009. Source: Company investor relations and author's chart
We can see that PH's dividend increases are somewhat irregular but that has been the case throughout its history. The increases are still happening but occur on a somewhat unpredictable cadence and with similarly unpredictable magnitude.
Over time, however, PH's dividend moves ever higher and given its enormous streak of dividend increases, it would take an unprecedented disaster to stop PH from continuing to raise the payout. It is also paying out a small fraction of its free cash flow in dividends so the margin of safety is vast.
PH is able to do this because it has very high-quality earnings. That is, its earnings are converted into free cash flow at high rates, affording it the cash it needs to do things like pay the dividend. Source: 2017 Annual Report Presentation, page 10
This chart shows PH's free cash flow conversion and these numbers are very impressive indeed. Not only is every single year in this long data set above 100% – which is the standard for high-quality earnings – but some of them are significantly so. Producing free cash flow on this level is what allows PH to make acquisitions and pay the dividend, among other things, and there is no reason to think this trend will end anytime soon.
If we assume longer term EPS growth rates of 15% or so and the current yield of 1.5%, PH could easily produce longer term annual total returns in the high-teens. PH's EPS growth should be more like 20% this year due to tax reform and also keep in mind it will continue to raise the dividend, so that will help fuel incremental total return growth in the years to come.
PH possesses the potential for multiple expansion as well, as mentioned earlier. The company's last few years have shown a propensity to produce high levels of organic growth as well as a constant focus on margin expansion. Should that continue – all indications are that it will – investors will be more willing to continue to bid up the multiple.
PH doesn't need this to be an attractive buy here but it would certainly add a kicker to long positions. The total return profile for PH here looks very attractive given its recent performance and long track record of growth and profitability.
Final Thoughts
PH is not a high-yield income stock. The company's enormous dividend track record is impressive to be sure and appears that it will continue for decades to come, but PH doesn't set out to be an income stock. It uses its prodigious free cash flow to reward investors via a decent yield that grows over time, but also through growing by acquisitions and investing in its business. That's not to say the dividend should be discounted but it certainly isn't the primary focus of this company despite its Dividend King status.
However, the stock looks very reasonably priced against future growth expectations, thanks to a very bright outlook for earnings growth. That makes the total return profile for PH very attractive here and the dividend is a nice bit of icing on top of the cake.
Thanks for reading this article. Please send any feedback, corrections, or questions to support@suredividend.com.
Article by Josh Arnold, Sure Dividend
Updated on