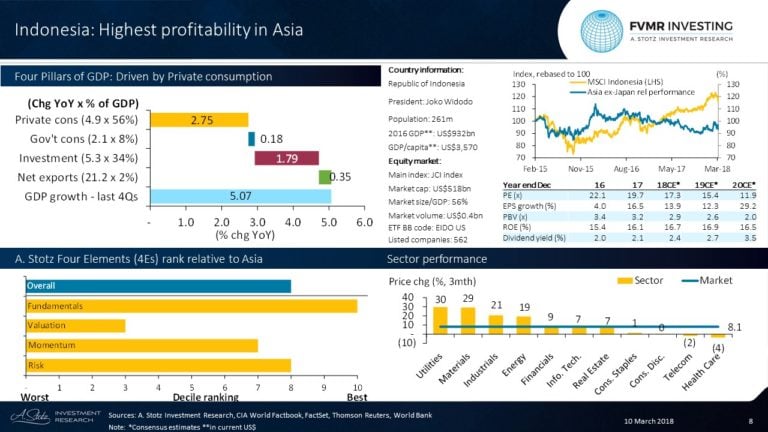 Four Pillars of GDP: Driven by private consumption
Indonesia has good GDP growth, driven mainly by private consumption and secondly investments. Government consumption contributed the least to GDP growth in the past four quarters.
[REITs]
Star hedge fund macro trader Colin Lancaster warns: Inflation is back
Talk of inflation has been swirling for some time amid all the stimulus that's been pouring into the market and the soaring debt levels in the U.S. The Federal Reserve has said that any inflation that does occur will be temporary, but one hedge fund macro trader says there are plenty of reasons not to Read More
Highest profitability in Asia reflected in valuation
Indonesia has had, and consensus expectations are, that the country should continue to have the highest ROE in Asia. This is also reflected in the valuation, Indonesia's 2018CE* 2.9x PB is the highest in Asia ex Japan.
A. Stotz Four Elements: Indonesia's rank relative to Asia
Overall, Indonesia appears third most attractive in Asia considering all our four elements: Fundamentals, Valuation, Momentum, and Risk.
Fundamentals: Indonesia has the highest ROE in Asia.
Valuation: This strong profitability is reflected in the highest PB in Asia.
Momentum: Good price and earnings momentum.
Risk: Relatively low volatility and low beta to Asia ex Japan.
Massive price performance in Utilities and Materials
Top 3 largest sectors: Financials: 31% of the market; Consumer Staples: 23%; Consumer Discretionary: 10%.
Best sector & stock: Utilities: +29.7% & PT Perusahaan Gas Negara (Persero) Tbk: +42.8%
Worst sector & stock: Health Care: -3.7% & PT Kalbe Farma Tbk: -11.9%.
*CE is consensus estimates.
Article by Become A Better Investor