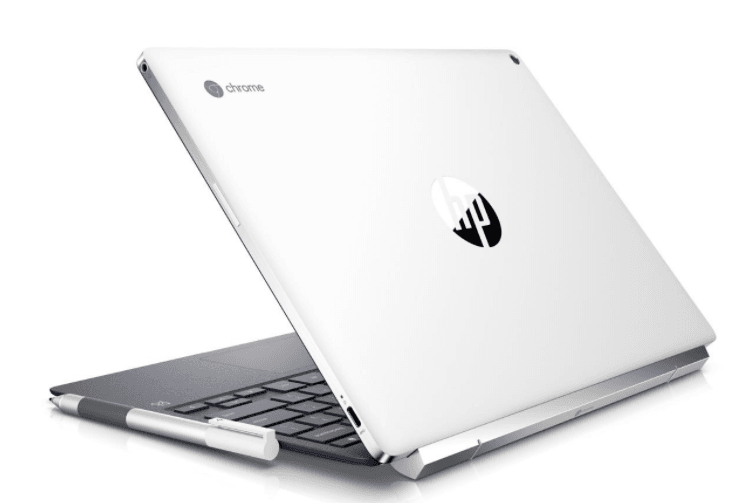 HP has unveiled the world's first detachable Chromebook that supports Android apps at an attractive price point. It sounds like an amazing combination of features, design, and price. The HP Chromebook X2 is not just another device running Chrome OS. It has a premium design, and HP has thrown in a keyboard cover and a stylus with the Chromebook X2, instead of charging extra for the accessories. Everything about the HP Chromebook X2 signals that it aims to compete with Apple's iPad Pro and Microsoft's Surface Pro.
HP has priced the tablet at $599. Its exterior has an Anodized Electrodeposition coating that feels like ceramic, but offers high durability and a scratch-resistant matte finish. You can use it as a computer or detach the keyboard for a tablet experience. It also comes with an Active Pen stylus. HP has added a leather palm-rest on the keyboard for additional comfort. A magnetic hinge connects the keyboard with the display, making it easier for users to attach and detach them.
The HP Chromebook X2 has a 12.3-inch IPS WLED backlit display with 2400 x 1600 resolution. The base model of the tablet comes with Intel's Core m3-7Y30 processor and 4GB RAM, which you can configure with 8GB if you want. Other features include a headphone jack, stereo speakers, a microSD card slot, and two USB Type-C ports. It has a 5-megapixel front-facing camera and a 13MP rear camera.
Corsair highlights SPAC FG New America ahead of OppFi merger
Corsair Capital highlighted its investment in a special purpose acquisition company in its first-quarter letter to investors. The Corsair team highlighted FG New America Acquisition Corp, emphasizing that the SPAC presents an exciting opportunity after its agreement to merge with OppFi, a leading fintech platform powered by artificial intelligence. Q1 2021 hedge fund letters, conferences Read More
The Chromebook X2 offers 32GB of internal storage. The microSD card slot supports 256GB of external memory. On top of that, you enjoy 100GB of free Google Drive storage for two years. HP added that the device comes with a 4-cell, 48-watt battery that promises up to 10.5 hours of battery life. It measures 11.5 x 8.32 x 0.33 inches, making it slightly thicker than the 12.9-inch iPad Pro.
To enhance the audio experience, HP has included front-facing stereo speakers fine-tuned by Bang & Olufsen through B&O Play. The audio experience also benefits from the company's own Audio Boost technology and a built-in amplifier. It comes with Bluetooth v4.2 for people who prefer wireless headphones.
Google and HP both have realized that Android support has become important for the Chrome OS. The HP Chromebook X2 will come with Google Play Store, and run Android apps. The stylus support and improved touch sensitivity will let you make the most out of the stylus-enabled features. HP has also included hall sensor, ambient light sensor, a compass, and an accelerometer in the device to make the user experience similar to Android tablets.
From the looks, the keyboard cover appears to be made of a synthetic material with a leather-like finish. The keyboard hasn't yet been tested in the real world by reviewers and experts, so it's difficult to say how easy it is to type on. HP claims that keyboard was designed to hold firmly to the tablet to make it feel like a clamshell laptop when it is connected to the display.
The complete package consisting of the tablet, the keyboard, and the stylus costs $599 for the base model. In contrast, if you want to buy a 12.9-inch iPad Pro with a keyboard and stylus, you'll have to shell out close to $1,100. HP makes a strong case here. But, on the other hand, the HP Chromebook X2 looks expensive compared to other Chromebooks that cost around $300. Its pricing suggests that it will also have to compete with the low-cost Windows laptops.
A bigger question here is whether the Chrome OS is refined enough to work smoothly on a tablet. The software is based on Google's Chrome desktop browser. Though Google has been working for a long time to make it work better with touchscreens, it would be difficult to say whether the user experience will be as refined as on iPads, which are designed for touch from scratch.
HP didn't announce a specific release date, but stated that the detachable tablet would go on sale in June this year. It is expected to be available in multiple hardware configurations and price points. Consumers would still see value in the product as it comes bundled with the stylus and the keyboard.