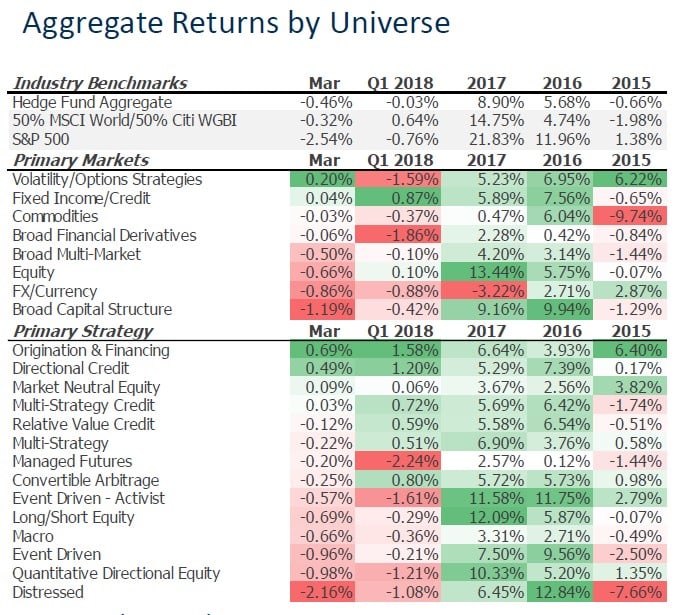 Hedge funds waded through another month of mixed, but negative returns in March to end Q1 2018 down slightly. Returns are virtually split down the middle, between positive and negative, while gains and losses based on 2017 investor preferences are also mixed.
While equity markets are finally showing the volatility many expected for several months, hedge funds are mostly performing admirably. Yes, there have been some exceptionally large losses within the managed futures space, and from within a handful of other notable managers, but for the most part, it is likely investors who dare reflect on 2017 allocation decisions so early in
the ensuing year, are not feeling too bad.
David Einhorn At The 2021 Sohn Investment Conference: Buy These Copper Plays
There's a gold rush coming as electric vehicle manufacturers fight for market share, proclaimed David Einhorn at this year's 2021 Sohn Investment Conference. Check out our coverage of the 2021 Sohn Investment Conference here. Q1 2021 hedge fund letters, conferences and more SORRY! This content is exclusively for paying members. SIGN UP HERE If you Read More
Compared to recent periods, like most of 2015 and 2016, feeling "ok" about allocation is a step in the right direction. So while the industry is not overall positive for the year, having a somewhat satisfied investor bases is a positive.
Highlights
Hedge funds declined an average of -0.46% in March, a second consecutive loss after fifteen straight monthly gains.
Credit managers and volatility funds performed best in March, along with regional exposure to Africa/Middle East.
Macro funds posted losses, but many of the largest managers remain positive for 2018.
Large multi-strategy funds were mostly positive in Q1, despitenegative investor sentiment stretching back to mid-2016.
Credit and Volatility Strategies Up in March, Emerging Markets and Big Macro Among Leaders in Q1 2018
Hedge fund returns declined an average of -0.46% in March, and -0.03% in Q1 2018. Credit was resilient during the month, while EM strategies suffered losses. However, both segments are among industry leaders so far in 2018.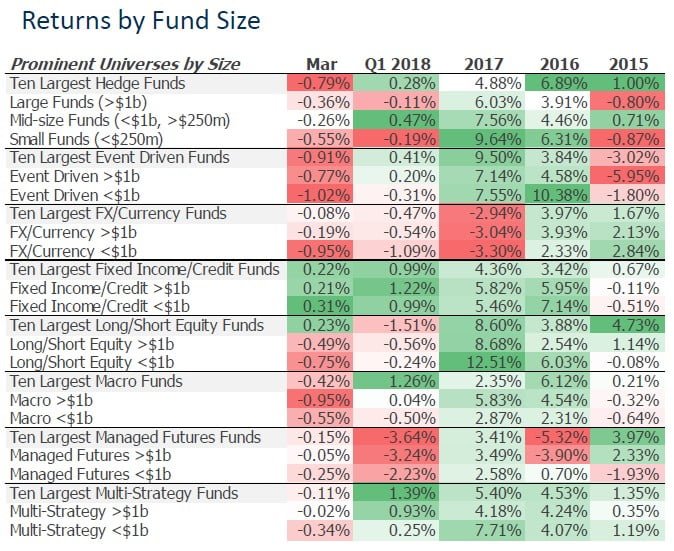 Key Points
Industry returns are split in Q1 2018.
Just over half of all funds were up in Q1 (50.5%), while just under half were negative in the volatile first quarter of the year. After fifteen consecutive months of gains, the industry has had two consecutive months of aggregate declines, which hasn't occurred since December 2015/January 2016.
Investors mostly getting it right with allocations to large macro strategies.
In 2017 and 2018, investors returned to macro strategies in a meaningful way, allocating over $20 billion into the strategy. Since the end of H1 2017 through March, the ten largest reporting macro funds have outperformed the other ten-largest strategy segments. In 2018, the group is producing positive returns in a difficult environment where their quantitative cousins, managed futures funds, are having a very difficult time.
Light losses continue within managed futures after major February declines.
Just over 40% of managed futures strategies were able to post gains in March, but only near 20% are positive for the year. March was a negative month overall, but paled in comparison to losses over 6% in February, the strategy's largest monthly decline in over 20 years.
Large multi-strategy funds also among Q1 2018 leaders.
Despite a minimal average decline in March, the ten largest reporting multi-strategy funds are performing well in 2018, behind only origination/financing and EM strategies for the year. The segment has been out of favor with investors since mid-2016 with over $20 billion being removed.
Long/short equity, the overarching winner from 2017, dips into negative territory in 2018.
The good news is that 2018 returns are beating US equity markets (S&P 500) through Q1, but the not-so-good news is the largest funds are underperforming their peers for the year, despite posting positive returns in March.
Emerging Markets Dip in March as Almost All Regional/Country Exposures Decline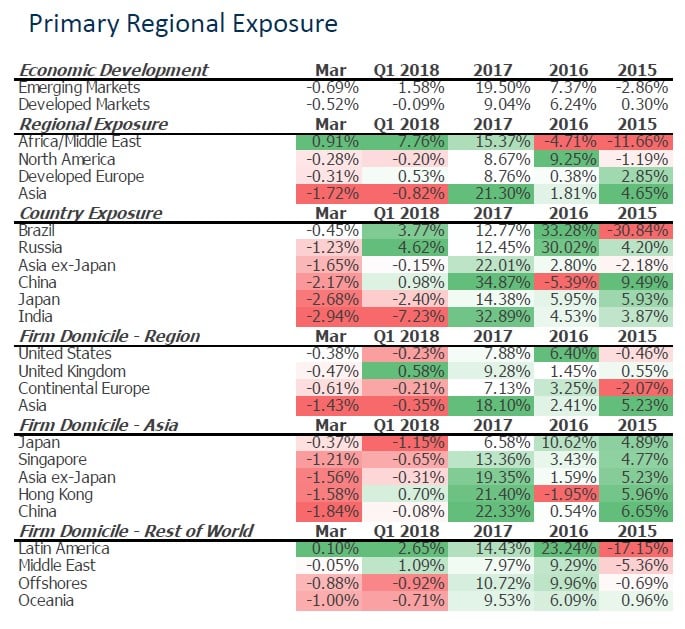 Key Points
Emerging market hedge funds continue to be among the leading segments in 2018. Nearly 75% of emerging market hedge funds are positive in 2018, far better than the rest of the industry. Q1 positive returns are primarily due to large gains in January, as most regional and country specific exposures have since been in
MENA products continue their excellent 2018, which follows an excellent 2017. Despite broad EM declines in March, funds operating within the MENA region continued to post positive returns. The segment was likely most positive influenced by rising energy commodity prices in March.
Article by eVestment