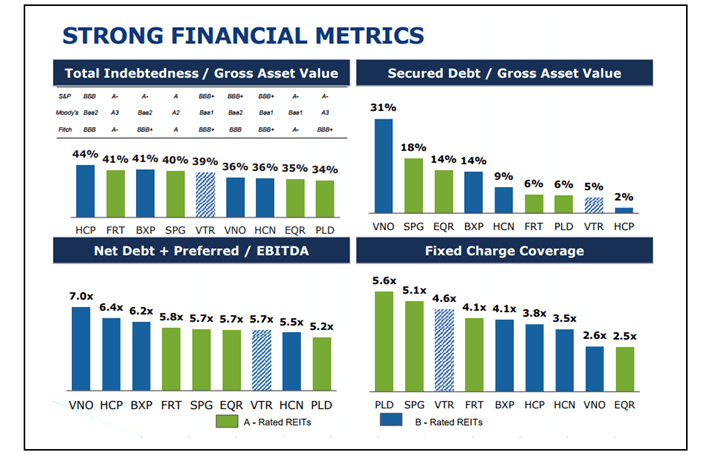 I recently wrote an article for Sure Dividend entitled "Consider Equity REITs for Your Next Investment".  In that article, I listed nine equity REITs (eREITs) for dividend investors to consider in light of the drubbing that eREIT valuations have recently taken due to fear of rising interest rates and to capitalize on the pass-through provision for REIT income included in the new tax legislation.  Both of these topics are covered in some detail in the previous article.

ValueWalk readers can click here to instantly access an exclusive $100 discount on Sure Dividend's premium online course Invest Like The Best, which contains a case-study-based investigation of how 6 of the world's best investors beat the market over time.
Fund Manager Profile: Zhang Hui Of China's Southern Asset Management
Historically, the Chinese market has been relatively isolated from international investors, but much is changing there now, making China virtually impossible for the diversified investor to ignore. Earlier this year, CNBC pointed to signs that Chinese regulators may start easing up on their scrutiny of companies after months of clamping down on tech firms. That Read More
This article provides a more complete investment thesis for Ventas, Inc., one of the nine eREITs highlighted in the previous article.
Ventas, Inc.  
Ventas (VTR) is one of the larger healthcare eREITs in the US with an enterprise value of roughly $35B  and more than 1200 healthcare properties/assets consisting of Medical Office Buildings (MOBs), Senior Living Developments, Life Science Facilities, and Acute Care Facilities located in 32 states.
Ventas has very little exposure to Medicaid and/or Medicare payment structures with roughly 94% of its revenues generated through operators relying on private pay or private insurance reimbursement for senior housing and healthcare services.
Ventas maintains a strong balance sheet with conservative use of debt and carries a BBB+ credit rating.  The chart below shows four critical metrics for VTR's balance sheet.
Source:  Ventas Investor Relations Site
The bottom two charts are particularly important as they show that VTR's net debt including preferred stock issues is manageable with respect to EBITDA and the interest on debt and preferred dividend payments (fixed charges) is well covered by EBITDA.  These are the metrics that are important to maintaining an investment grade credit rating and allows VTR to issue more debt for growth acquisitions at favorable (i.e. low) rates.
eREIT's management grow their businesses typically by acquisition of new properties or by acquisition/merger of other eREITs.  VTR has been delivering and continues to deliver value to its shareholders through investments in new properties and acquisition of other eREITs.  The chart below shows VTRs investment results and its underlying principles for continued growth and value creation. Source:  Ventas Investor Relations Site
Readers should take some time to read over the material in the above chart and note that VTR focuses on premium properties in wealthier areas of the country.  The more exclusive properties with higher barriers to entry ensure VTR will be able to temper competition from other eREITs.
Ventas Recent Financial Performance 
Had you made a $10,000 investment in VTR ten years ago and reinvested all dividends, today you would have roughly $23,000.  The chart below shows that growth in value compared to the growth of all US REITs. Source:  Morningstar
Venta's early performance was interrupted by the 2008/2009 recession where the value dropped to roughly $5,000 after the first year.  The nine year performance of an initial $10,000 investment in February 2009 would have the investor holding a bit more than $44,000 today.
Ventas, like all REITs, shares its financial performance with investors primarily through its dividend distributions.  REITs must distribute 90% of their of their taxable income to shareholders to maintain their REIT status.
Today, VTR's annual dividend is $3.16 per share for a yield of 6.1%.  Readers should note that the recently passed tax reform legislation contained a new pass-through provision exempting 20% of income of REITs and partnerships from Federal income tax.  That means that investors will only pay tax on $2.53 (80% of $3.16) of VTR's dividend distribution.  The other way to view this is that VTR's effective dividend yield is 7.48% (5.98%/0.8).
The dividend is well covered by VTR's cash flow.  Funds from operations (FFO) for 2017 was $4.15 and for 2018 is estimated to be $4.22 providing a dividend to FFO payout ratio of 0.77.  Anything less than 90% payout for a REIT is considered acceptable and less than 80% should be considered conservative.
Ventas Investment Thesis
With the general market currently experiencing a mini-correction and eREIT valuations suffering further from fear of rising interest rates why would I be considering an investment in VTR at this time?
The short answer is that, "I like steak" and "I like steak on sale even more".  Today, Ventas is like steak on sale.  While the market has pushed eREIT valuations down over the last quarter due to fears of rising rates, history tells us that eREITs generally do well during periods of slowly rising rates and some eREITs will even beat the big market indexes under these conditions.  For a more complete discussion of the impact of rising rates on REIT financial performance as well as a more detail on the new pass-through provision, readers should see my earlier article "Consider Equity REITs for Your Next Investment".
The other significant driver for healthcare eREITs in general and VTR in particular is the shift in our age demographics here in the US.  Today, we have roughly 8M citizens over the age of 85.  Due to the benefit of medical advances and increases in longevity, by 2050 we will have more than 20M citizens over the age of 85.  That is a 2.5 fold increase over 30 years.  Another metric to consider is that we have currently 10,000 baby boomers retiring every day.  Readers can find a more detailed discussion of our aging demographics here.  The chart below shows the estimated growth of various segments of our aging population between 2000 and 2050. This will be very significant for companies providing services and housing specifically to accommodate the needs of our senior citizens.  VTR will have a long term growing client base for the services of their MOBs, acute care facilities, and their senior housing.
Final Thoughts
Ventas is a large well established and well run healthcare eREIT with a solid balance sheet and a long history of growth through economic contractions as well as expansions.  Recent investor jitters over rising interest rates has pushed VTR's stock price into bargain territory and its dividend yield up to just under 6%.  The partnership and REIT pass-through provision in the recently passed tax legislation will shield 20% of VTR's dividend from Federal income taxes.
Our aging demographics essentially ensures a growing client base for VTRs buildings and facilities over the next 30 years.  Ventas should provide many years of healthy dividends and capital appreciation to today's investors.
Thanks for reading this article. Please send any feedback, corrections, or questions to support@suredividend.com.
Article by Dirk S. Leach, Sure Dividend
ValueWalk readers can click here to instantly access an exclusive $100 discount on Sure Dividend's premium online course Invest Like The Best, which contains a case-study-based investigation of how 6 of the world's best investors beat the market over time.
Updated on