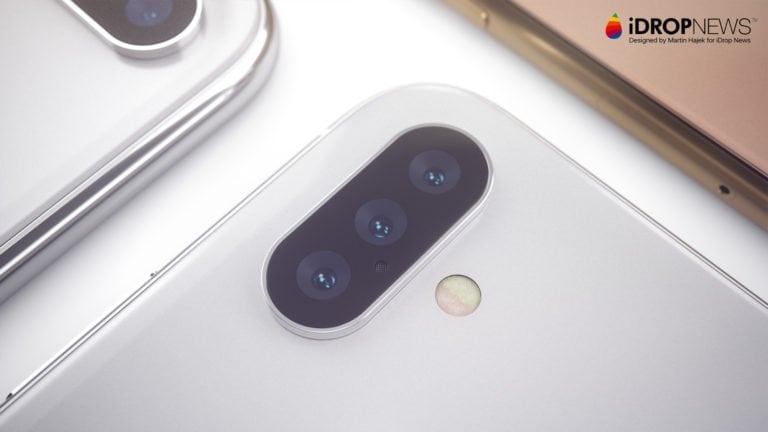 Just a few days ago, Counterpoint Research said in a report that the iPhone X alone generated 35% of the smartphone industry's profits during the fourth quarter of last year. That's incredible, especially considering the notched iPhone was only available for two months of the quarter. Now an analyst says Apple would discontinue its most expensive – and highly profitable – iPhone later this year.
CNBC reports that Mirbaud Securities analyst Neil Campling says TMSC's record high inventory levels suggest Apple is not buying components for the future iPhone X models. It means the tech giant might be planning to kill off the anniversary model following the launch of new iPhones in September this year. If true, it would be a strange move considering Apple tends to retain the older models for a few years and sells them at a lower price.
Apple has lost nearly $60 billion in market value since TMSC said in its earnings call that the second-quarter revenues would be affected by "weak demand from the mobile sector." TSMC is the sole supplier of A11 Bionic chips for Apple. Another worrisome report noted that smartphone sales in China fell last year for the first time since 2009. Global smartphone shipments declined in Q4, 2017 for the first time in 2004.
Hedge fund managers present their best ideas at Robinhood [In-Depth]
The latest Robinhood Investors Conference is in the books, and some hedge funds made an appearance at the conference. In a panel on hedge funds moderated by Maverick Capital's Lee Ainslie, Ricky Sandler of Eminence Capital, Gaurav Kapadia of XN and Glen Kacher of Light Street discussed their own hedge funds and various aspects of Read More
Neil Campling, who has been tracking TSMC's inventory data for more than a decade, told investors that the company's inventory "has never been higher." The Mirbaud Securities analyst believes Apple will continue to sell the older iPhone X stock, but it would produce "no new units." Campling noted that the decline in iPhone X orders coupled with record high inventory at TSMC suggests that "the iPhone X is dead."
The biggest problem with the iPhone X is that it's too expensive. The phone sold pretty well during the holiday quarter as loyal Apple fans flocked to experience Apple's most innovative smartphone in years. Sales fell dramatically since the beginning of this year. Morgan Stanley analyst Katy Huberty has revised down her iPhone sales estimates for the April-June quarter from 40.5 million to 34 million units.
Back in January, KGI Securities analyst Ming-Chi Kuo had also predicted that Apple would discontinue the iPhone X later this year due to poor sales. According to Kuo, Apple would cease the iPhone X production "in the summer." The tech giant would not keep the iPhone X as a lower priced option after the launch of new iPhones.
However, Moor Insights & Strategy president Patrick Moorhead told CNBC that the word "kill" makes no sense at all. Apple would update the anniversary iPhone, but it won't kill it. Suppliers receiving fewer orders were likely replaced by other suppliers. Global Data research director Avi Greengart said "the whole thing sounds ridiculous." Given the insanely high profit margin on the iPhone X, Apple would not want to kill the device anytime soon.
Ming-Chi Kuo recently told investors that Apple would release three flagship iPhones this year. One would be a giant iPhone X Plus with a 6.5-inch OLED display while another would be an iPhone X successor with a 5.8-inch OLED panel. The third model would sport a 6.1-inch LCD screen, and would sell at a relatively lower price tag. All three models will have Face ID and a bezel-less display, but the LCD version would be deprived of 3D Touch and dual camera to keep its production costs down.
Kuo revealed in his latest research note that Apple would launch single-SIM as well as dual-SIM variants of the LCD iPhone. The single-SIM model would be priced between $550 and $650 while the dual-SIM variant would cost between $650 and $750. Dual-SIM smartphones are popular among business users and in countries such as China and India. Apple is unlikely to launch the dual-SIM variant in the US, though.
Taiwan-based Economic Daily News recently reported that Samsung was preparing to start OLED production for the second-generation iPhone X and iPhone X Plus in May. Samsung is said to double the output in June. The Korean company will likely remain the sole supplier of OLED panels for the iPhones this year. Apple was working with LG Display to diversify its supplier base, but LG might not be able to meet its demand.
The Wall Street Journal reported last week that LG Display was facing "manufacturing issues" with OLED screens meant for iPhones. LG currently supplies LCD panels used in the iPhone 8 and 8 Plus. LG Display has fallen behind in its manufacturing schedule, and Apple executives are worried the supplier might not be able to deliver OLED panels in time for the new iPhone launch. LG was supposed to deliver nearly 20% of OLED panels for this year's iPhones.