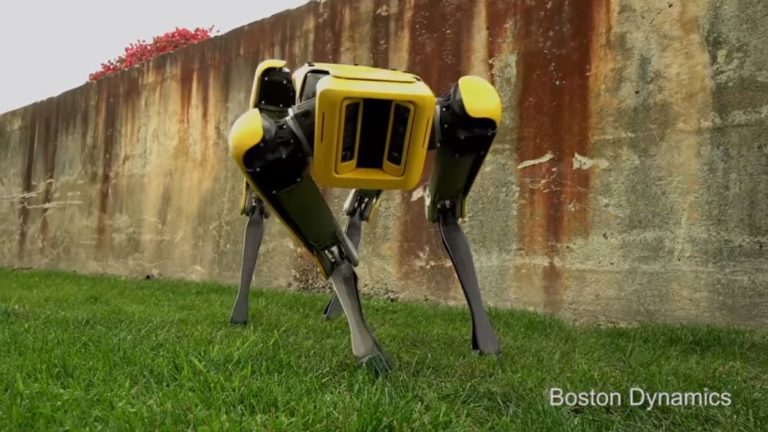 Amazon has changed the game with their Echo smart speaker – remaining a step ahead of competitors like Google and Apple when it comes to providing a hub for queries and music alike. Just four years after the initial launch of the Echo, the company has reportedly started building an Amazon home robot as its next major venture.
A recent Bloomberg report claims that the project – codenamed Vesta after the Roman goddess of the Hearth – is being developed by the Lab126 hardware research and development division in California. Considering the fact that Lab126 is the same outlet that developed the Echo, Fire TV set-top boxes and the Fire phone, the Amazon Home robot is looking as if it may be a game changer – just as the previous devices were.
Sources that spoke to Bloomberg claim that the Amazon Home robot project has been in development for years at this point, but Amazon reportedly began ramping up hiring earlier this year with dozens of job listings popping up on the Lab126 website in the past few weeks. According to Bloomberg, we could see Amazon Home robots sent home with employees by the end of 2018, with a possible public launch as soon as 2019.
Why The Term 'Value Investing' Is Redundant
What does value investing really mean? Q1 2021 hedge fund letters, conferences and more Some investors might argue value investing means buying stocks trading at a discount to net asset value or book value. This is the sort of value investing Benjamin Graham pioneered in the early 1920s and 1930s. Other investors might argue value Read More
The fact that we're likely only around a year away from a potential Amazon Home robot is crazy, and it's unclear right now as to what exactly we can expect from the device. It's unlikely that it will be an all-in-one robot as the technology isn't quite there yet, but it should elevate existing Amazon Echo functionality to a whole new level with the introduction of robot functionality.
Sources speculate that the Amazon Home robot will essentially function as a "mobile Alex" – moving with the owners through the home and assisting them when the Echo device isn't close enough to hear commands. It would definitely be convenient to have access to Alexa whenever you need it without necessitating multiple echo devices, although it's unclear as to whether an Amazon Home robot would be useful enough simply as a mobile version when compared to just buying a few cheap Echo dots. At this point, it's difficult to consider it much more than a novelty – at least until we get more information about what the device will actually entail. Prototypes of the Amazon Home robot suggest that it will come equipped with advanced cameras and vision software that will let it navigate through the obstacles throughout the home, which may mean that it will be rather expensive – at least at first.
While the possibility of the Amazon Home robot is certainly tantalizing, it's important to keep expectations in check. The idea of a mobile Alexa to follow you around is appealing, but it won't add so much functionality that it will change the smart home game, unless Amazon has something amazing up their sleeves. Having a mechanical assistant that can follow you and respond to queries at your leisure is no doubt an interesting idea, but it remains to be seen whether the implementation of this technology will be game-changing or another quirk that offers Echo functionality in a slightly different way – adding another product to the Echo line that hosts a number of smart devices at this point in time.
If Amazon is able to offer the Amazon Home robot at an attractive price, it's possible that they could have another hit product on their hands – staying a step ahead of competitors in the process. Amazon certainly has the infrastructure to streamline the development and manufacture of such a product, but there's only so much you can drop the price of a product before it's no longer making a significant profit. It will be interesting to see whether the Amazon Home robot is affordable enough to make a significant impact, as people will likely not be willing to pay huge amounts for existing functionality on wheels. As we get closer to 2019, we will probably see more information regarding a potential launch – expected sometime in the next year or so.