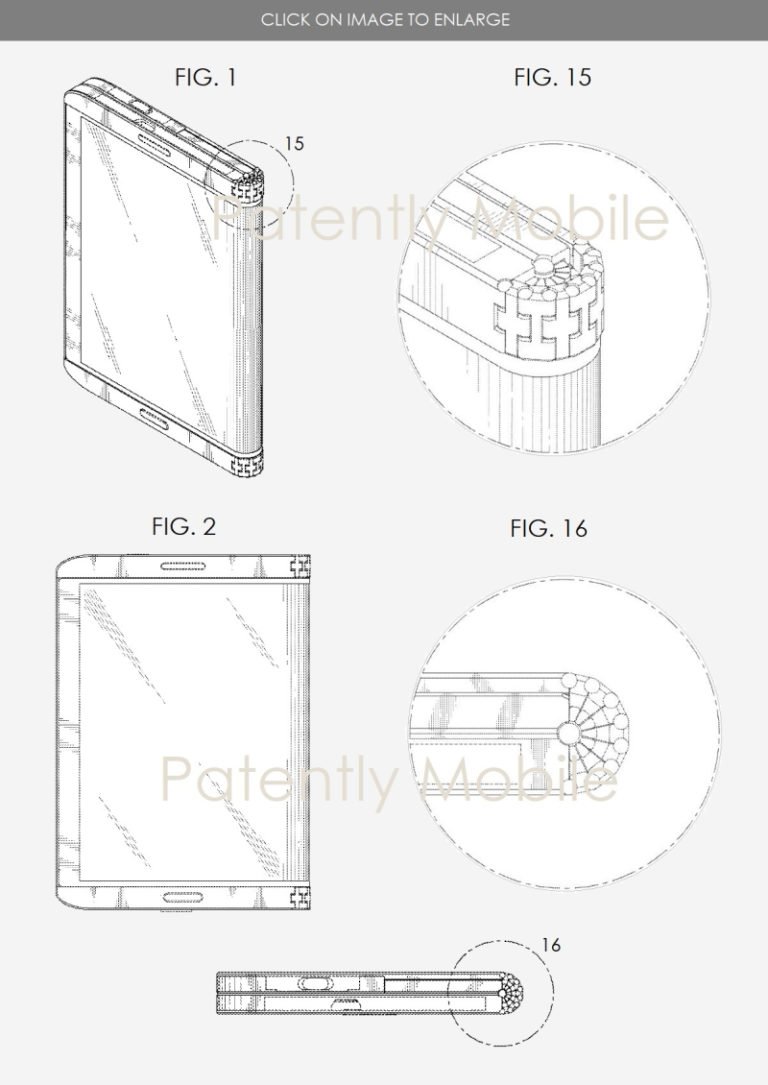 While Samsung has already confirmed that they're working on a foldable Galaxy X, the actual mechanics of the phone are not yet clear. A new patent recently discovered now gives us a sense of what we might expect from the foldable design we'll see with the Galaxy X.
The patent in question was discovered by PatentlyMobile, and gives key insight into the foldable design of the Galaxy X. There hasn't been any sort of confirmation from the company that this is the setup they're going with, but considering it's a mockup for a foldable phone and the Galaxy X is in development, it's pretty safe to say that we'll see some sort of variation on this design when the phone finally releases.
The Korean tech giant was awarded a patent on the new design, and it describes a way by which the smartphone would have a wraparound screen. The phone would normally remain closed, but when you want to use it you can fold out the screen in order to have a smartphone with a much larger surface area. It almost feels like a high-tech flip phone of sorts, yet with all the modern convenience and excellent technology we've come to expect from a Samsung flagship.
Looking Into the Gaming Industry with VanEck's JP Lee
ValueWalk's Raul Panganiban interviews JP Lee, Product Managers at VanEck, and discusses the video gaming industry. Q4 2020 hedge fund letters, conferences and more The following is a computer generated transcript and may contain some errors. Interview With VanEck's JP Lee ValueWalk's ValueTalks ·
The foldable design of the Galaxy X has been talked about ad nauseum across the web with various outlets offering their thoughts about what we might actually see from the phone, but this recently filed patent combined with the knowledge that the company is, indeed, working on a foldable Galaxy X gives us a little better sense of how the phone will function.
The actual mechanics of this high-tech flip phone aren't entirely clear. The majority of reports have suggested that the phone will flip up when you're done using it, while others have figured that the standard screen will be expanded into the size of a tablet whenever you need it. Either way, Samsung will have arrived at a foldable design that allows people to take the power of a Galaxy flagship with them wherever they go – expanding it as needed into a larger device that's primed for your favorite movies or shows.
As more and more people start to use their phones as the primary way in which they stay connected, smartphones have become more and more fully-featured in order to keep up with the demand for an all-in-one computer that fits in your pocket. Many people – especially those in countries where having their own TV or computer isn't quite as common – rely on their phones for watching shows, movies, and YouTube, so having a big screen has become somewhat of a necessity as well. While it would technically be possible to keep on expanding the screen by normal means, some flagships are already getting so big that it's difficult to fit them in a pocket. By developing a foldable design for the Galaxy X, Samsung may be able to solve this problem – providing a much bigger screen while maintaining the convenience of a compact phone.
One interesting feature displayed in the patent is a number of physical buttons displayed around the screen, which suggests we might actually see rather large bezels with the foldable design of the Galaxy X. This is a bit of a departure from their other flagships, which have followed the trend of shrinking bezels into nothingness. The Galaxy X is uncharted territory for Samsung, however, so doing something completely new with the bezels isn't the only thing shocking about this upcoming device. There do appear to be some side buttons as well, which would likely be where you turn it on and off as well as control volume. We also expect that the Galaxy X will be rather thick due to the foldable design, due to the fact that the width of both parts of the phone are being combined in a more compact
As more information comes out regarding the foldable design of the Galaxy X, we'll get a confirmation one way or the other as to what the format will be. Whether it will be a standard size phone that expands into a tablet or a compact device that flips shut when you're done, we're certainly in for a device that's different from anything we've seen before – both from Samsung and the industry at large.