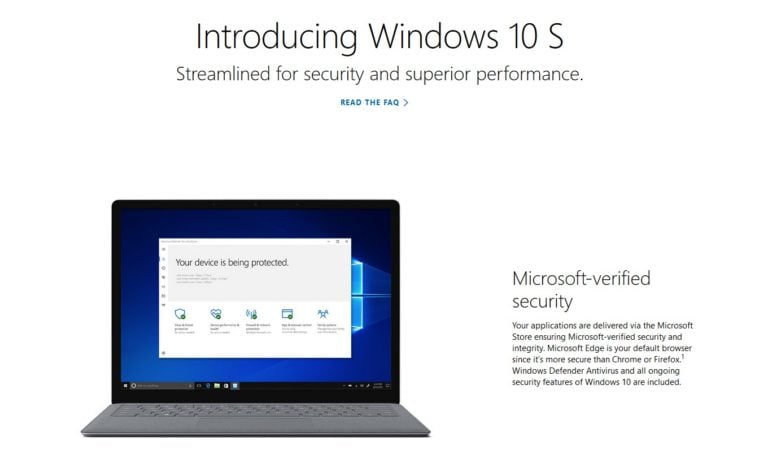 Around a year ago, Microsoft released their Windows 10 S operating system – intended to be a direct competitor to the Google Chrome Operating System. Less than a year later, Windows is calling it quits on making it its own operating system, instead making it a regular Windows 10 S Mode option.
The Chrome operating system, while lacking some of the features that a fully-fledged operating system like Windows has for programs and games, has gained significant traction as the go-to system for educators. With a number of schools and universities offering their students Chromebooks as a way to do homework and stay connected to their education, Google has seen great success with their stripped-down operating system in terms of connection within the classroom – a market that Microsoft desperately wants to be a part of.
The Windows 10 S was intended to be somewhat of a "lite" version of the full Windows 10 system, with the company claiming that the "S" stood for "Simplicity." In a rather bizarre development, however, it turns out that the Windows 10 S was actually hiding the full version of Windows 10 – a feature that could be unlocked on the majority of operating systems for a $50 fee.
Looking at Trends with AlphaSimplex's Dr. Kathryn Kaminski
ValueWalk's Raul Panganiban interviews Dr. Kathryn Kaminski, Chief Research Strategist at AlphaSimplex, and discuss her approach to investing and the trends she is seeing in regards to quant investing and hedge funds. Q1 2021 hedge fund letters, conferences and more The following is a computer generated transcript and may contain some errors. Interview with AlphaSimplex's Read More
It appears as if the success of Windows 10 S has not been where Microsoft was hoping, as they're now encouraging users to start upgrading to the regular version of Windows and take advantage of a new Windows 10 S Mode. The Windows 10 S Mode is a simple modification of the stock Windows 10 itself, and it seems as if Microsoft is trying to focus on integrating the simplicity into their existing operating system rather than trying to build a whole new one for their low-cost devices.
Part of the appeal of Chrome OS and Windows 10 S mode is the ability to perform basic tasks required for work and education on a capable laptop or PC that is much less expensive than a traditional computer. The repackaging of Windows 10 S Mode into a simpler version of a full operating system calls into question whether or not lower-powered PCs will be able to run at full efficiency if they're still having to use a full-blown operating system with a stripped down UI.
During the initial release of the operating system that would soon become Windows 10 S mode, Microsoft made partnerships with a number of laptop manufacturers that would offer their own take on an inexpensive laptop that is optimized for tasks like education and other basic computing needs. Companies like Acer, Asus, Dell, Fujitsu, HP, Samsung, and Toshiba all offered their own version of laptops that would run Windows 10 S mode, with many of the computers starting at just $189. It was clear that Microsoft was gunning for Google's position as the go-to device for the education market, although it appears that Windows 10 S didn't catch on well enough to warrant its own full operating system.
The choice to move to a Windows 10 S mode in their competing devices was expected by many, but it's also muddying the waters and making it more difficult to tell which Windows PCs are intended to capture the attention of an education market that is currently enamored with Chromebooks. If these PCs are just running regular Windows with a modified Windows 10 S Mode, are they really similar to the low-cost devices that Google has been able to offer?
Recent estimates have stated that Chrome OS accounts for about 60% of the US education market in grades K-12. While this is a huge amount of sales in and of itself, it's also significant because children that grow up using these Google devices are more likely to purchase them themselves when they come of age to purchase their own electronics. Chrome OS has also been expanded to higher-end devices, giving these same audiences the option to opt for more power with devices such as the Google Pixelbook.
In a recent post on Twitter, Microsoft executive Joe Belfiore wrote that "We use Wind10S as an option for schools or businesses that want the 'low-hassle'/guaranteed performance version…Next year 10S will be a 'mode' of existing versions, not a distinct version."
Reports suggest that administrators will be able to take steps to lock devices in Windows 10 S Mode, ensuring that a standardized experience is guaranteed across their entire network. The details of how exactly this Windows 10 S mode will function are still scarce, but Microsoft is certainly hoping that this revamp and integration into their already-successful Windows 10 system will give them the traction they need to pose a real threat to the dominance of Google.
Rumors have given the impression that Windows 10 S device owners who want to upgrade to Windows 10 Home will do so for free, with a Windows 10 Pro upgrade costing $50.