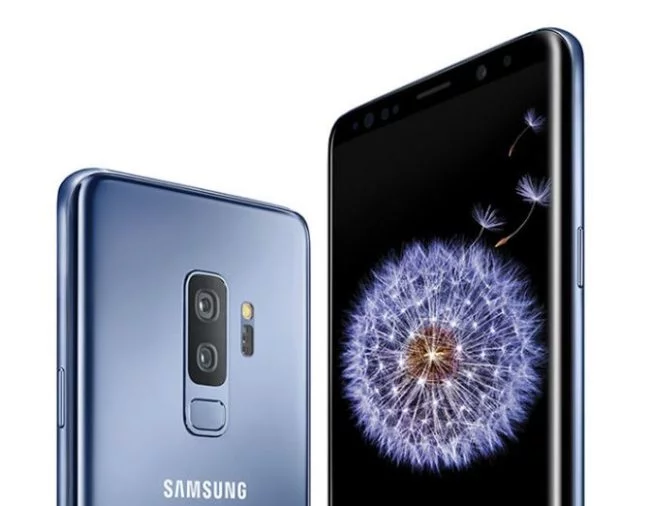 Samsung's latest Galaxy S9 and S9 Plus smartphones come with a rear-mounted fingerprint sensor and an Intelligent Scan feature for security. The Intelligent Scan combines data from facial recognition and iris scanner to recognize the user. The facial recognition still relies on 2D solutions, which means it can easily be fooled. Samsung is working with a couple of 3D sensor suppliers to take on Apple's Face ID next year, hints the latest Galaxy S10 rumor emerging from South Korea.
The Face ID on the iPhone X is far more secure than Samsung's Intelligent Scan or any other facial recognition system available today. It uses a 3D depth-sensing module that projects 30,000 infrared dots onto your face to generate an accurate 3D model of your face for authentication. Apple claims there is only one in a million chance that a random person would be able to unlock your iPhone X, and that person will most likely be someone genetically related to you.
In contrast, the facial recognition system on Galaxy S9 and S9 Plus relies on a less secure 2D system that could easily be fooled by waving a photo of the registered user's face in front of the phone. The Korean company is looking to change it with next year's Galaxy S10. Sources familiar with the development told The Bell (via The Investor) that Israel-based Mantis Vision is developing Face ID-like 3D sensing modules for Samsung's 2019 flagship, tentatively titled Galaxy S10.
Why The Term 'Value Investing' Is Redundant
What does value investing really mean? Q1 2021 hedge fund letters, conferences and more Some investors might argue value investing means buying stocks trading at a discount to net asset value or book value. This is the sort of value investing Benjamin Graham pioneered in the early 1920s and 1930s. Other investors might argue value Read More
Mantis Vision has teamed up with Namuga to integrate the 3D sensing software into the smartphone's camera module. Namuga currently makes camera modules for Samsung's low- and mid-range smartphones such as the Galaxy A and Galaxy J series. It also supplies 3D sensing modules for Intel's RealSense AR cameras. Samsung's sister firm Samsung Electro-Mechanics said in January that it would commercialize the 3D sensing technology in the first half of this year.
Samsung's flagship phones lag behind iPhone X's Face ID in terms of security. Adding the 3D sensing module to Galaxy S10 would help Samsung close the gap with its biggest rival. The 3D sensors could also help enhance augmented reality experiences. Apple is replacing Touch ID with Face ID on its upcoming products including the next-gen iPad Pro. All the iPhones coming this year would also retain the Face ID technology.
Only time will tell whether this Galaxy S10 rumor would turn out to be true. KGI Securities analyst Ming-Chi Kuo recently told investors that it would take Android vendors about two years to copy Face ID due to its complex technology. Problems with the Face ID system were the main reason Apple had to delay the iPhone X launch to November. The Galaxy S10 is expected to launch in March or April 2019, roughly 16 months after the iPhone X launch.
The Galaxy S10 rumor indicates that it would also have an in-display fingerprint sensor that would allow users to unlock their devices and authenticate payments by placing their finger on the screen. Samsung has been testing ultrasonic as well as optical fingerprint scanners. The feature was expected to debut with the Galaxy Note 9 later this year, but Samsung has reportedly dropped it from the Note 9 due to "technological difficulties." The in-display fingerprint reader is now expected to come with the Galaxy S10.
Samsung could change the naming pattern with next year's flagship model. Samsung's mobile business chief DJ Koh told media recently that the next year's phone might not be called Galaxy S10. Koh said the company would retain the "Galaxy" brand, but it was evaluating whether it should keep the "S" moniker and the numbering system. Samsung has to find another naming pattern because it would be weird if future devices are called Galaxy S13 or Galaxy S17.
The rumor mill claimsthe 2019 flagship might be called Galaxy X instead of Galaxy S10. And the future devices could be named Galaxy X1, Galaxy X2, and so on. However, the name Galaxy X has been associated with Samsung's rumored foldable smartphone for a long time. Samsung also trademarked the name Galaxy X in March last year. It would be interesting to see whether the Galaxy S9 successor would launch with a foldable OLED display.
Not much is known about the S10 (or whatever it's called) at this point. The Galaxy S10 rumor mill claims it would be powered by a 7nm chip and support 5G connectivity. The US version of the device will likely be powered by Qualcomm's next-gen Snapdragon 855 chipset that would bring 5G support. The device is also said to have a Neural Processing Unit (NPU) to take care of AI-related tasks.