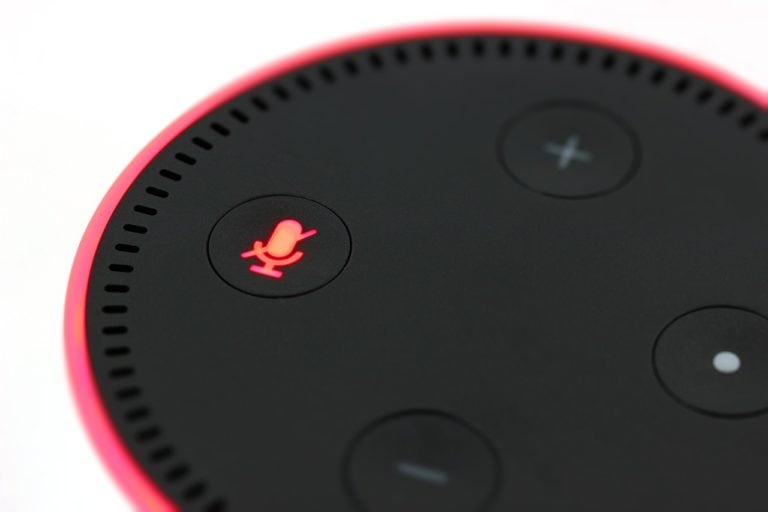 Amazon Alexa powered devices allow people to perform multiple tasks, but lately, its been acting ghostly as well for some users. According to various Echo users, Alexa voice assistant starts laughing for no reason.
Some users took to Twitter and Reddit to complain that Alexa starts laughing all of a sudden, while some reported that the outburst happened after it was asked to turn on the lights, suggesting the voice assistant could have misheard the command. A Twitter user with handle @DavidSven tweeted, "Having an office conversation about pretty confidential stuff and Alexa just laughed."
"[So] my mom & I are just sitting in the living room, neither of us said a word & our Alexa lit up and laughed for no reason. she didn't even say anything, just laughed. we unplugged her," tweeted another user.
Alkeon expects data growth to surpass 5G's capabilities by 2028 [Q4 Letter]
Alkeon Growth Partners wrote at length on tech stocks and why they are defensive in their recent letter to investors, which was reviewed by ValueWalk. The fund also highlighted 5G and other advanced technologies and the investment opportunities they offer. Q4 2020 hedge fund letters, conferences and more Artificial intelligence and machine learning The Alkeon Read More
Following the reports of the laughing issue with Alexa, Amazon released a statement, saying it could be because smart speakers must have heard accidental orders, according to the Chicago Tribune. "In rare circumstances, Alexa can mistakenly hear the phrase 'Alexa, laugh.'" To make sure that it does not repeat this, Amazon is changing the trigger phrase to "Alexa, can you laugh?" the company said.
Also, Amazon said it would change the way that Alexa behaves. Rather than simply breaking into laughter when ordered to, Alexa would first say, "Sure, I can laugh."
This is not the only incident where Alexa has exhibited over sensitiveness to the surroundings. Previously there have been incidents where the device has picked up far away voices. Just last month, Alexa accidentally heard an ad saying, "Alexa, re-order Purina cat food." And sure enough, this particular Echo Dot obliged, responding: "I've found Purina cat food. Would you like to buy it?"
The owner then filed a complaint with the UK's Advertising Standards Authority saying it is not socially responsible. However, the Authority announced that the complaint has not been upheld, notes The Sun.
Amazon, on the other hand, stated that the company has been taking security measures that require customers to confirm the order made through the Echo. The company, however, accepted that the order was placed from the complainant's account on the day when the ad was broadcast. The order was canceled immediately.
To prevent such situations, Amazon has also introduced a new feature – "acoustic fingerprints." This feature ensures that Echo understands the difference between an advertisement and a voice command.
For a long time, the Silicon Valley has presented its products and services as perfectly engineered items. However, not everything is as perfect as the companies' want them to be. Facebook, which has long been struggling to get algorithms right to ensure it is not biased, is a good example of that.
Despite these occasional issues with its voice assistant, Amazon is always looking to make Alexa smarter by developing an AI chip similar to what Google and Apple have embarked upon. Such custom artificial intelligence chips would improve the quality, as well as the response time of its Alexa voice assistant.
Tasks based on AI require a great deal of codes, so they require custom designed chips and even custom-designed servers for the data centers, where AI algorithms are often trained, developed, and deployed from the cloud.
Apple and Google have already built and deployed custom AI hardware into their devices.  Apple recently added a new "neural network" in the A11 Bionic chip, which is used to process machine learning algorithms in the FaceID and ARKit computations. Google has also been busy developing its own AI hardware, and recently added its AI chip to the Clips camera.
Thus, the online retail giant, which is looking to hold its turf in the smart home market, now has around 450 people with chip expertise on its staff – thanks to the hires and acquisitions it made, according to The Information. The company acquired Israeli chipmaker Annapurna Labs in 2015 for $350 million and security camera maker Blink last year.
With all these acquisitions, Amazon wants to further improve AI in its expanding Echo line-up, and make progress towards on-device processing rather than communicating with the cloud, in order to decrease the response time. At present, Alexa contacts the cloud to read the commands, resulting in a slight delay after the command is given.