"Diversification covers up ignorance." – Bill Ackman

"If you can identify six wonderful businesses, that is all the diversification you need. And you will make a lot of money." – Warren Buffett
Some investors are big proponents of wide diversification, others hold very concentrated portfolios. In this post, we look into the portfolios of five well-known investors and how concentrated their portfolios are. The information of holdings comes from SEC filings, looks at long equity positions in the portfolios these investors manage, and are in most cases as of 31 December 2017.
Is First Gen An Overlooked Power Play That Deserves A Re-Rating?
The post was originally published here. Highlights: Resolving gas supply issues ensures longevity A pioneer in renewable energy should be future proof Undemanding valuation could lead to re-rating Q1 2022 hedge fund letters, conferences and more
Bill Ackman
Hedge fund manager, founder and CEO of Pershing Square Capital Management.
Carl Icahn
Businessman and investor, controlling shareholder of Icahn Enterprises.
Daniel Loeb
Hedge fund manager, founder, and CEO of Third Point.
David Einhorn
Hedge fund manager, founder, and president of Greenlight Capital.
Warren Buffett
Legendary value investor, chairman, and CEO of Berkshire Hathaway.
Buffett Has the Largest Number of Holdings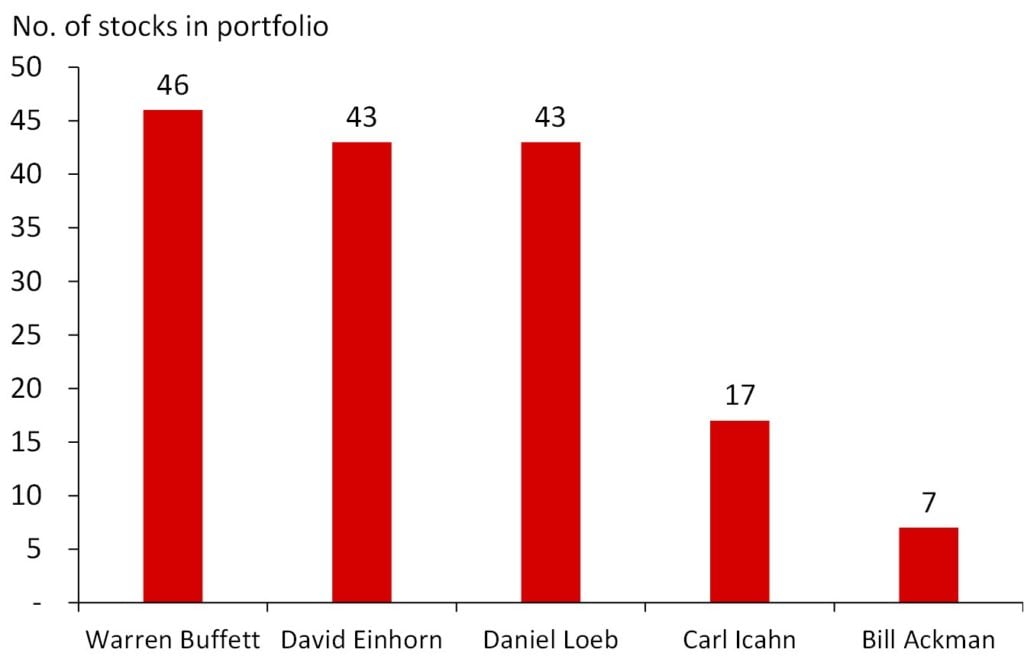 Buffett has the largest number of holdings in his portfolio, but he also has the largest portfolio in terms of AUM by far. Ackman only has 7 long equity positions in his portfolio.
Icahn Is Heavily Concentrated in His Icahn Enterprises LP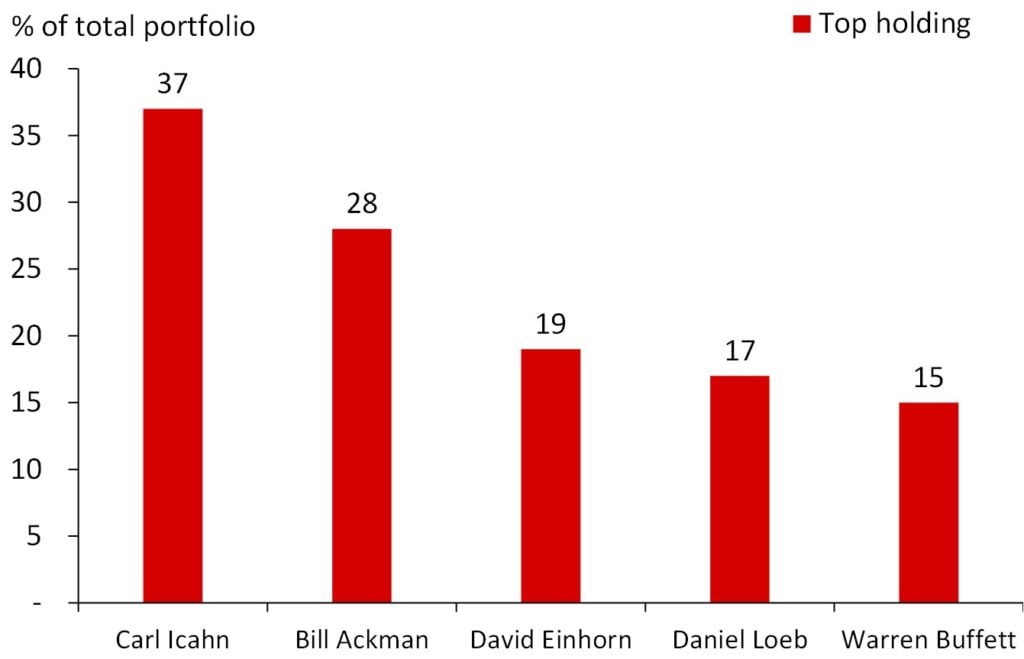 The top holding for each investor is:
Icahn: Icahn Enterprises (IEP US)
Ackman: Restaurant Brands International (QSR US)
Einhorn: General Motors (GM US)
Loeb: Baxter International (BAX US)
Buffett: Apple (AAPL US)
The Top 5 Holdings Almost Make Up 90% of Ackman's Portfolio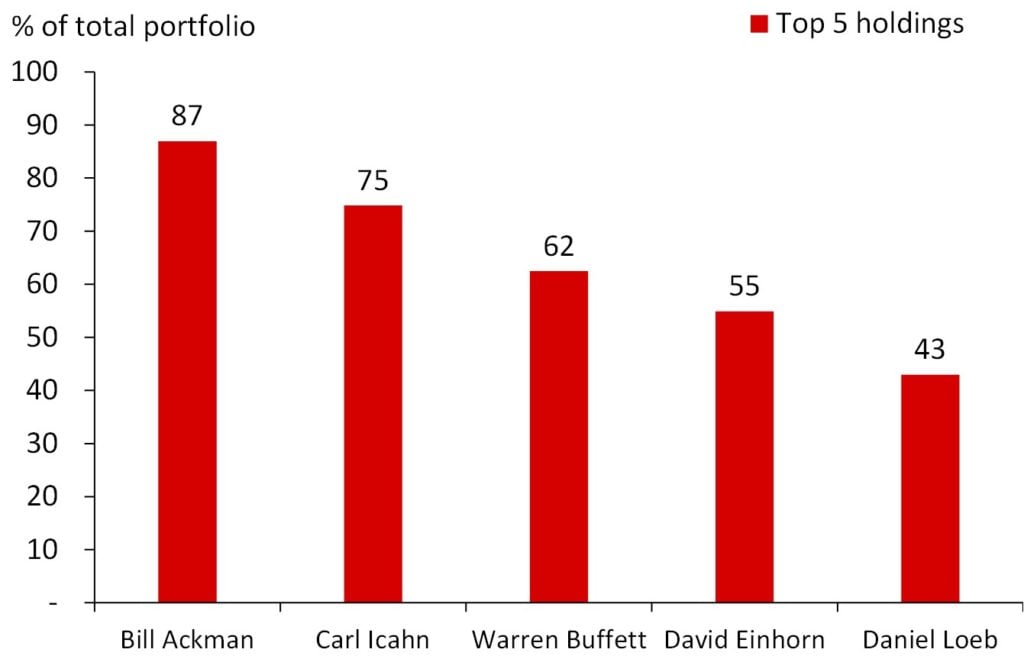 Only Loeb has less than 50% in the top 5 stock holdings. As Ackman only holds 7 long equity positions, his top 5 holdings naturally account for a large part.
Fewer Than 10 Stocks Make Up 90% of Icahn's and Ackman's Portfolios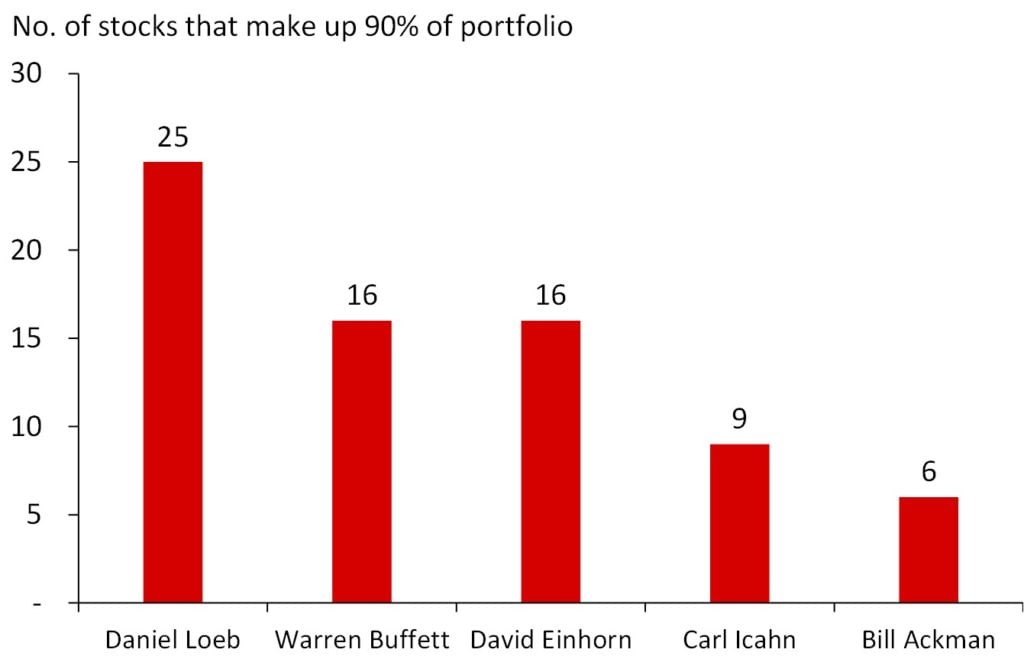 Loeb has spread out his capital the most, his top 10 holdings account for 61%. The other four investors are more concentrated, their top 10 holdings account for 77-100% of their total long equity portfolio.
Article by Become A Better Investor
Updated on