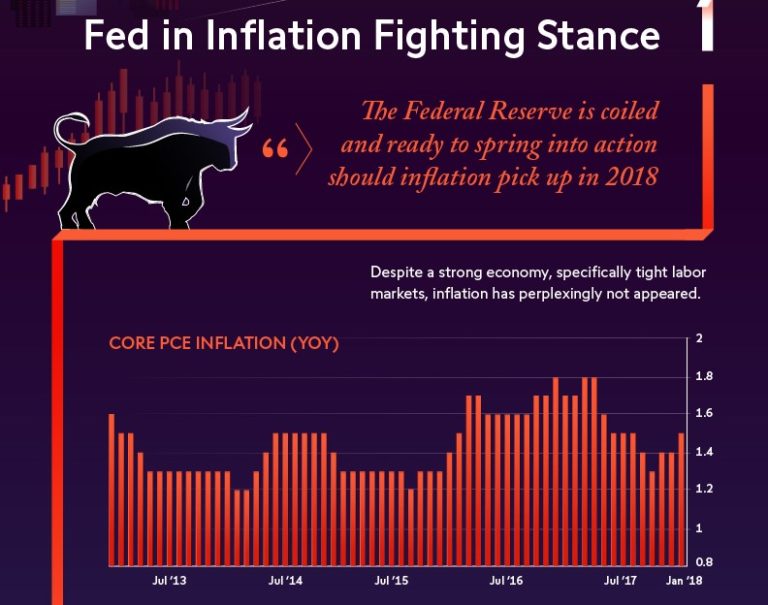 Despite being roughly nine years into the second-longest bull market in history, recent headwinds have cropped up to make the start of 2018 an interesting one for markets.

As investors re-evaluate their portfolios and exposure, it's worth exploring some of the major themes and trends that are expected to drive markets in 2018.
Predictions for 2018
Today's infographic was done in collaboration with Swissquote, a Swiss banking group, and it highlights their five most important predictions for the rest of the year ahead.
London Value Investor Conference 2022: Chris Hohn On Making Money And Saving The World
Chris Hohn the founder and manager of TCI Fund Management was the star speaker at this year's London Value Investor Conference, which took place on May 19th. The investor has earned himself a reputation for being one of the world's most successful hedge fund managers over the past few decades. TCI, which stands for The Read More
Taken from their 2018 Market Outlook Report, which can be downloaded for free, the following graphic discusses key themes of the year such as central bank policy, European unity, China, cryptocurrencies, and emerging markets.

Enjoy the infographic? Get the full report for free from the Swissquote 2018 Market Outlook page.
Swissquote's Predictions
Here are the high level points of Swissquote's predictions:
1. Fed in Inflation Fighting Stance
Despite a strong economy, specifically tight labor markets, inflation has perplexingly not appeared. In Swissquote's view, expansionary monetary policy by central banks is the primary reason for the current stretched valuations.
And of the central banks, the Fed is not only the most important – but also the most active. Expecting a sudden kick from ultra-tight labor markets to boost wage growth and consumer inflation, the Fed is again ready to act in 2018.
As a result, Swissquote sees U.S. GDP growing 2.2%, the labor market tightening, and annual core PCE inflation hitting 1.8%.
Prediction: The Fed will hike three times.
2. Unified Europe Will Emerge from Spain
The start of 2017 brought fears of the EU's demise, as rising political populism suggested an end to EU federalism. However, despite recent events in Catalonia, Swissquote sees Europe actually emerging from 2018 more united.
Heading into 2018, economic sentiment in Europe is at 10-year highs. Further, the election of Macron in France – and the re-election of Merkel in Germany – will mean a continued push for deeper EU integration.
In 2018, Swissquote sees the following headwinds in Europe: uncertainty around independence in Catalonia, the Italian elections, and austerity in Greece.
Prediction: The powerful trio of Macron, Merkel, and Draghi will weather the storm – and their unity will have a profound effect on pricing in events such as Brexit and the Italian elections.
3. China Grabs the Political Void
China's economy will slow in growth slightly in 2018, but the country's regional economic dominance is undisputed. With a GDP (PPP) of $21.5 trillion, it even dwarfs India ($8.7 trillion), Japan ($5.3 trillion) and Russia ($3.4 trillion) combined.
And empowered by the volatile behavior of President Trump, China has embraced its new role as regional and global leader. Judging from the 2017 World Economic Forum in Davos and the Chinese Communist party congress, Xi Jinping and China are ready to step into the light.
Prediction: China will step up efforts to further entrench its hybrid model, which includes politics and economics.
4. Cryptocurrencies are the Real "Populist" Vote
While the Brexit and Trump votes represent the protest of existing systems – there's also a monetary component to that populism that is hiding in plain sight.
Central banks have created trillions of dollars out of thin air since the 2008 crisis, and people no longer trust the government to protect their money and wealth. As a result? People have been pouring money into bitcoins and altcoins instead.
Prediction: This "populist" vote against the monetary policy of global central banks will continue in full form.
5. Emerging Markets Lead the Growth Charge
GDP growth in emerging markets for 2017 is expected to be 4.5% – its highest point since 2015 – versus 2.1% for developed markets.
Although protectionism will continue to make the headlines, any real action will be limited, even by the Trump administration.
Prediction: The story for EM in 2018 will be a further increase in international trading. Following a trend, China has reached 15 free-trade agreements with 23 countries and regions. And like in 2017, emerging markets will continue to have more growth and higher returns as a result.
Article by Jeff Desjardins, Visual Capitalist
Updated on