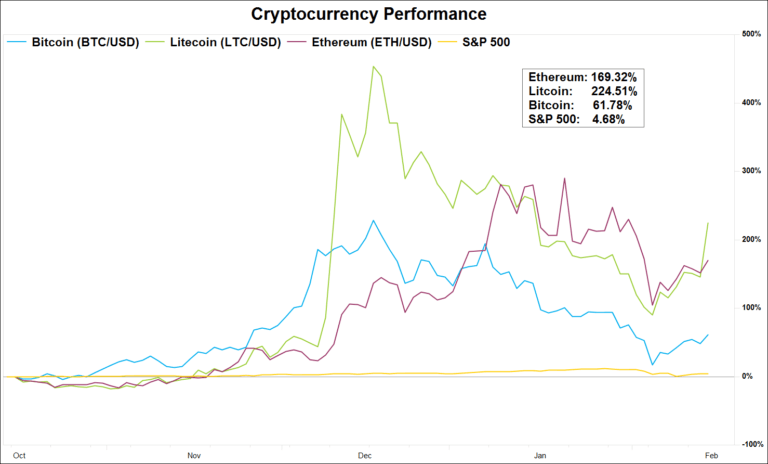 Over the past year, cryptocurrencies have garnered considerable investor attention as much for their volatile swings as their ability to make millionaires overnight. Originally created to facilitate global digital transactions, trading by speculators has led to volatile short-term market fluctuations in cryptocurrencies such as Bitcoin (BTCUSD-BITS), Ethereum (ETHUSD-BITS), and Litecoin (LTCUSD-BITS).
There is plenty of skepticism regarding the value and future of cryptocurrencies driven by ongoing sagas regarding government denouncements, exchange shutdowns, and even trade bans. In recent weeks, we have seen a major decline in leading cryptocurrency prices. One Bitcoin alternative attempting to differentiate itself from the standard crypto model is Ripple (XRPUSD-BITS), more commonly known as XRP.
Consistency is what makes the top 50 best-performing hedge funds so strong
Every month and quarter, multiple reports on average hedge fund returns are released from several sources. However, it can be difficult to sift through the many returns to uncover the most consistent hedge funds. The good news is that Eric Uhlfelder recently released his "2022 Survey of the Top 50 Hedge Funds," which ranks the Read More
Ripple hopes to become a "global liquidity solution" by offering financial institutions a method for sending money anywhere in the world in a matter of seconds utilizing its unique blockchain technology and cryptocurrency. Currently, conventional payment methods can take upwards of five days to settle and can be very expensive; Ripple hopes to clear similar transactions in a matter of seconds.
Over the past year or so, Ripple has landed several key partnerships with credit card companies and banks, including American Express, Santander, and Japan Bank Consortium (JBC). Its strategic partnership with JBC includes a group of 61 Japanese banks, and they are reportedly nearing production-ready status to send payments at a low cost in real-time domestically and cross-border.
Ripple has many obstacles, doubters, and a long road ahead of them before they can truly be considered a viable solution, but is there a specific industry where they could be successful?
Money Transfer Services Industry
The Remittance and Money Transfer Services industry may serve as a launch pad for a functional and impactful use of Ripple. According to FactSet's RBICS Revenue, this industry is worth $8.1 billion, of which, leader Western Union (WU-US) currently captures 56.9% of revenues: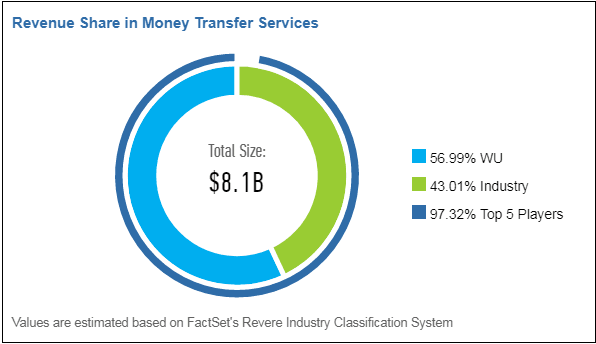 The top five players in the industry control an astonishing $7.8 billion, leaving little wiggle room for other competitors. As seen below, Western Union derives 85.14% of its $5.4 billion total revenues directly from money transfer services: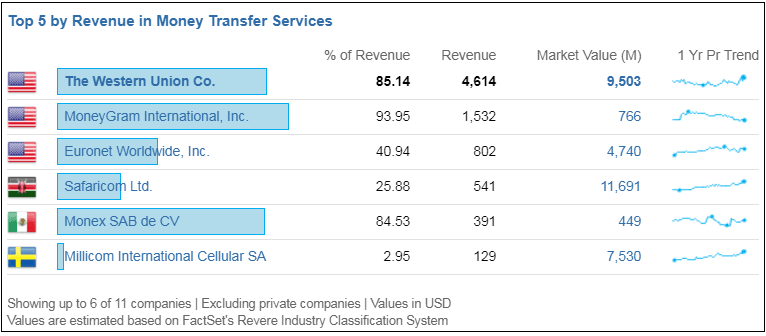 Ripple has a unique opportunity and use case with remittance companies, potentially reducing aggravating bottlenecks and lowering costs. As discussed above, it can take several days to wire money internationally through remittance companies due to the necessary bank authorizations, costing both the company and the sender a pretty penny. Ripple hopes to support on-demand liquidity through real-time FX settlement utilizing the cryptocurrency XRP and its supporting solutions. This could be groundbreaking for the industry, but breaking into such a well-established space is no small feat.
Breaking into the Industry
In early January, Ripple CEO Brad Garlinghouse announced that MoneyGram International (MGI-US) would be piloting XRP, sending the cryptocurrency to an all-time intraday high of $3.32. MoneyGram looks to be a valuable partner, as it derives 93.95% of its revenues directly from Money Transfer Services. But where will XRP really help MoneyGram and other companies who plan to use this?
Large remittance companies operate across dozens of currencies in order to serve the demands of customers sending money across the world. This requires pre-funded accounts for FX conversion which creates exposure to price volatility. With this in mind, remittance companies must constantly monitor and revaluate balances, settling them back to USD, GBP, and euro. Utilizing Ripple's solutions and the XRP cryptocurrency, the need to stash millions in pre-funded accounts would no longer be necessary, due to the ability to exchange money in real time.
As Ripple looks to modernize the way we move money across the globe, there will be many questions ahead. For instance, could price volatility of the XRP cryptocurrency affect the freedom of companies utilizing solutions built off the coin and blockchain? The Money Transfer Services industry looks ripe for change; it will be interesting to see if Ripple (or anyone for that matter) can make waves in the industry.
Article by Carmine DiCesare, FactSet
Updated on