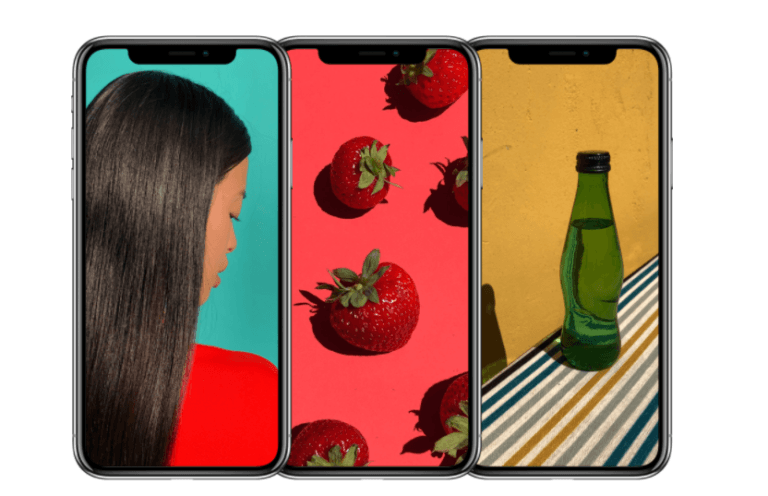 Wall Street analysts have been shouting for months that the iPhone X sales were far below expectations. The anniversary model might have sold well during the holiday quarter, but most people who wanted to buy the iPhone X have already purchased it. As a result, demand has declined dramatically in the current quarter. A new report coming out of Asia claims that Samsung is cutting the OLED panel production by more than 50% for the January-March quarter.
Samsung Display is the sole supplier of OLED panels for the iPhone X. Sources familiar with the matter told the Nikkei Asian Review that Samsung had reduced the OLED panel output at its South Chungcheong plant to just 20 million units in the January-March quarter. The Korean company's previous output goal was 45-50 million units. The production cut was in response to "Apple's decision to reduce output of the iPhone X following weak demand."
The Korean company is yet to decide its production target for the April-June quarter, but Nikkei speculates that a "further cutback may be in store." The revised OLED panel production plan would reduce the output to roughly 60% of the original plan. At the facility dedicated to Apple, the decline will be roughly 50%. To offset the impact, Samsung Display is trying to secure more orders from Chinese vendors. It means we could see more mid-range Android smartphones with OLED screens in the near future.
David Einhorn At The 2021 Sohn Investment Conference: Buy These Copper Plays
There's a gold rush coming as electric vehicle manufacturers fight for market share, proclaimed David Einhorn at this year's 2021 Sohn Investment Conference. Check out our coverage of the 2021 Sohn Investment Conference here. Q1 2021 hedge fund letters, conferences and more SORRY! This content is exclusively for paying members. SIGN UP HERE If you Read More
Anticipating strong demand from Apple, Samsung Display had made a capital investment of $12.6 billion last year, which resulted in $1.4 billion jump in depreciation costs in the current year.  Sources told Nikkei that Samsung's display arm will likely see a profit decline in the first half of 2018. For the October-December quarter of 2017, the company had registered an operating profit of 1.41 trillion won, which was down from 1.7 trillion won in April-June quarter of the last year.
Many analysts expect Samsung Display's profits to skyrocket in the second half of 2018 because Apple will launch not one but two iPhones with OLED screens. Samsung will be responsible for a huge chunk of orders, though it will no longer be the sole OLED panel supplier to Apple. The Cupertino company has reached a deal with LG Display to source 15-16 million OLED screens for the 6.5-inch iPhone X coming this year. The iPhone maker doesn't want to rely exclusively on Samsung, its biggest rival in the smartphone market.
Past reports suggest that Apple would be able to ship only 20-25 million iPhone X units in the January-March quarter. The anniversary iPhone has fared poorly in international markets due to its high price tag and lack of many innovative features. The device costs as high as $1,500 in markets like Russia and India. The phone's notch has also turned off many buyers, especially in China where consumers prefer phones with larger displays. The notch gives an impression that the iPhone X's usable screen area is smaller than the iPhone 8 Plus.
However, Apple CEO Tim Cook told investors during the quarterly earnings call that the iPhone X sales were even higher than the company's expectations. He said it was the top-selling iPhone in every week since its launch. The device's higher price pushed the iPhone's average selling price (ASP) from $695 to $796.42. However, total iPhone sales declined from 78.2 million units in December quarter of 2016 to 77.4 million in December 2017 quarter.
Apple's revenue guidance for the current quarter has also been below Wall Street projections. The company expects revenues between $60 billion and $62 billion. Analysts on average were expecting revenues of $65 billion.
According to KGI Securities analyst Ming-Chi Kuo, Apple will be releasing three iPhones in September this year. All three of them will look similar to last year's iPhone X, meaning all of them will have a bezel-less display with a notch and the Face ID technology. One of them will have a 5.8-inch OLED display and another would sport a larger 6.5-inch OLED panel. The third device would have an LCD screen, and its price would be similar to the iPhone 8.
To keep costs down, Apple is said to remove the 3D Touch functionality from the LCD iPhone. It would feature an older rectangular battery design and just 3GB RAM. The OLED variants will have a higher 4GB RAM, a two-cell L-shaped battery design, and 3D Touch. The only major difference between the two OLED models will be battery size and screen size. And both of them are expected to cost upward of $1,000.
Recent reports suggest that Apple has added two Chinese suppliers for 3D sensing modules. LG Innotek will remain the largest supplier of 3D sensors for the TrueDepth camera system. The Chinese suppliers will be responsible for only a small portion of the total requirement. Apple will need more 3D sensing modules because all three upcoming iPhones will have the TrueDepth camera. The upcoming iPad Pro 3 is also said to feature the Face ID technology.