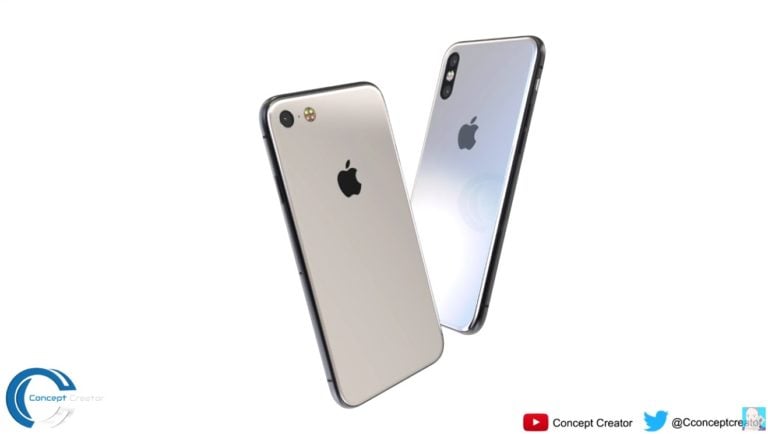 Apple has been sourcing baseband modems from both Intel and Qualcomm since 2016. Now that Apple is involved in a range of legal battles with Qualcomm, the Cupertino company could ditch Qualcomm to source iPhone 11 chips exclusively from Intel. KGI Securities analyst Ming-Chi Kuo has told clients (via MacRumors) that Intel would be the sole supplier of baseband chips for the 2018 iPhones.
Intel bags 100% orders for iPhone 11 chips
Kuo said in a research note to investors that Qualcomm would "not have a share of the orders at all." Back in November, the analyst had told clients that Apple would split the orders for iPhone 11 chips between Intel (70%) and Qualcomm (30%). Now he believes Qualcomm will not supply modems for 2018 iPhones because Intel is offering several advantages. According to the KGI Securities analyst, Intel's modems are capable of meeting Apple's technical requirements.
Intel is also said to be offering more competitive prices. Its XMM 7560 baseband chips support 4×4 MIMO technology, which would enable faster LTE transmission speeds. The current iPhone X, iPhone 8, and iPhone 8 Plus come with modems that support only 2×2 MIMO technology. The iPhone 11 chips made by Intel will also support dual SIM functionality and dual standby, but that's no guarantee that the future iPhones would offer dual SIM support.
Corsair highlights SPAC FG New America ahead of OppFi merger
Corsair Capital highlighted its investment in a special purpose acquisition company in its first-quarter letter to investors. The Corsair team highlighted FG New America Acquisition Corp, emphasizing that the SPAC presents an exciting opportunity after its agreement to merge with OppFi, a leading fintech platform powered by artificial intelligence. Q1 2021 hedge fund letters, conferences Read More
Intel's XMM 7560 modems support both CDMA and GSM, which means Apple could launch a single iPhone model that would work across all the major US carriers such as AT&T, Sprint, Verizon, and T-Mobile. Intel's previous chips lacked support for CDMA. Benchmark scores have revealed in the past that iPhones running Qualcomm modems performed better than those running Intel chips. Since Apple will be sourcing iPhone 11 chips from a single supplier, there will be no discrepancy this time.
Intel might not remain the sole supplier for long
Apple is embroiled in multiple lawsuits with Qualcomm over "unfair" licensing practices. The European Union has already slapped a $1.23 billion fine on Qualcomm for misusing its dominance in the baseband chipset market. Ming-Chi Kuo says Apple's decision to switch to Intel for iPhone 11 chips would add further pressure on Qualcomm.
In its latest lawsuit, Qualcomm has accused Apple of sharing its proprietary code with Intel. Qualcomm had also sought a ban on iPhone X in the US. After losing the iPhone business, Qualcomm will be more aggressive in securing orders from Chinese smartphone vendors. However, Kuo told investors that Qualcomm might return as a supplier to Apple, most likely as concessions in their lawsuit settlement.
Even though Intel will be the sole supplier of baseband modems for 2018 iPhones, its exclusivity might not last long. Kuo believes Apple prefers to diversify its supplier base and it wouldn't want to rely entirely on Intel for long. Also, Intel might not be ready for 5G support by the time Qualcomm brings 5G. It may force Apple to go back to Qualcomm.
Apple to launch three iPhones this year
Ming-Chi Kuo has told investors in the past that Apple would launch three flagship iPhones this year. One of them would be iPhone X2 or iPhone 11 (or whatever Apple chooses to call it) with the same 5.8-inch OLED display as the iPhone X. The second model would have a larger 6.5-inch OLED panel. The third device is said to sport a 6.1-inch LCD screen. The LCD model would feature 3GB RAM and cost $700-$800. It would also boast iPhone X-like features such as Face ID, Animoji, and bezel-less design.
The OLED models would both cost more than $1,000, according to Kuo. They are said to have a higher 4GB RAM and a two-cell, L-shaped battery design similar to the iPhone X. The LCD iPhone will be manufactured by Pegatron, Wistron, and Foxconn. Ming-Chi Kuo has learned from sources that Apple would drop the 3D Touch functionality from the LCD iPhone. While the OLED versions will both have a dual camera setup on the back, the LCD model is said to come with a single camera lens.