Madeline Susa, Consulting Manager, also contributed to this post
On December 14th, the Federal Communications Commission voted in favor of a proposal called Restoring Internet Freedom, rolling back net neutrality rules which went into effect in June 2015. The proposal reversed the restrictions that kept internet and mobile service providers such as Comcast, Verizon and AT&T from blocking, slowing down or speeding up access to specific websites, content or applications. The impact on large and small businesses is likely to be varied, granted the proposal survives a legislative measure hoping to override the FCC's decision.
For streaming services like Netflix, Hulu, and Spotify, net neutrality has historically kept operational costs low and customer accessibility high. Many of these content providers feel that the success of future streaming business models is reliant on the consumer having unfettered access to any service they choose. Production efforts must lead to tangible profits, so if certain content becomes less accessible to a group of customers, it becomes more difficult to justify the cost of a product or service.
Mohnish Pabrai On Value Investing, Missed Opportunities and Autobiographies
In August, Mohnish Pabrai took part in Brown University's Value Investing Speaker Series, answering a series of questions from students. Q3 2021 hedge fund letters, conferences and more One of the topics he covered was the issue of finding cheap equities, a process the value investor has plenty of experience with. Cheap Stocks In the Read More
On the opposite side of the spectrum, reversing net neutrality regulations is seen as a benefit to service providers, potentially allowing them to give preferential treatment to their own streaming services by driving up costs of competing options. For service provider AT&T, it's no coincidence that its overall cost of sales jumped 14.4% after net neutrality took effect in 2015 and is expected to decrease -1.3% between 2017 and 2018 with its reversal.
Should Restoring Internet Freedom be implemented as originally planned, how will it impact businesses on either side of the debate?
Mergers and Acquisitions
One area the reversal of existing net neutrality laws could boost is M&A activity. Under net neutrality, many companies were restricted to deals within a certain transaction value range or needed to sell off smaller portions of their business in order to get the green light to acquire or collaborate with another. This would change with implementation of the FCC proposal. Under the previous regulations, limitations on M&A deals were seen as slowing the innovation of the industry and forcing smaller companies to take fewer actions. For example, post-reversal, one of the first M&A deals approved is rumored to be between Sinclair Broadcast Group and Tribune Media Co. for $3.8 billion.
According to FactSet's M&A Database, "The transaction will allow Sinclair Broadcast Group Inc to help Tribune Media Co with the higher programming costs and challenging advertising environment which it faces…" and if regulations were approved, "The transaction [was] likely to be rejected by the Federal Communications Commission as it [did] not allow media companies to own multiple television stations exceeding 39% nationwide." However, if this is no longer the case, the deal will likely move forward.
If the deal is approved, the potential combined entity would then represent almost 10% of the $45.9B Broadcast Media Services Industry: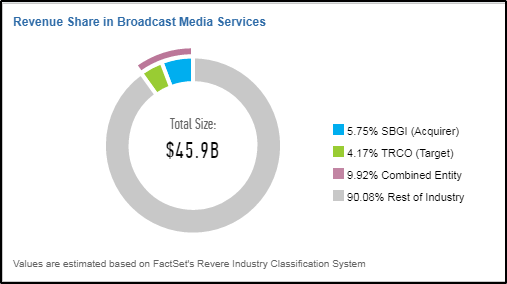 Considering both Sinclair and Tribune are relatively small in size compared to the larger corporate giants, let's look at one of the rumored deals for AT&T. In 2016, a hot topic was the rumored deal between Time Warner and AT&T for a transaction value of $83.7 billion. As the deal went back and forth for approvals, the Department of Justice and the FCC were involved, in addition to numerous foreign authorities with interests at stake. Speaking to the point mentioned above, the Department of Justice wanted AT&T to sell off DirectTV or Time Warner to sell off Turner Broadcasting to help facilitate the deal. Although eventually terminated in the era of net neutrality and resistance toward monopolies, the reversal could bring it to table once again.
The Internet as a Utility
For most companies, the internet is just as essential as office space, which means (depending on who you talk to) it should be considered a utility. Under Title II of the Communications Act, data delivered to consumers via any utility must be treated equally. This is the exact argument that was used by previous FCC leadership in 2015.
If net neutrality standards are removed, proponents argue that this would discourage entrepreneurial development of new online services. Supporters of net neutrality believe that this is the key to consistently increasing job opportunities and increasing investors' positive sentiment toward these industries.
For example, pairing two companies on opposite sides of the argument, we can see how investor sentiment shifted before, during, and after the 2015 decision that reinforced previously existing net neutrality rules. As these new rules were implemented, Netflix's investor sentiment (gauged using short interest) rose and AT&T's fell. Leading up to the December 2017 FCC decision, short interest in AT&T rose while Netflix saw a decline. Looking at the chart below, we can see that investor sentiment shifted in a meaningful way from 2015 to 2016. AT&T sentiment dropped about 78% over the red highlighted region below; meanwhile, Netflix's investor sentiment rose 58% over that same period.
Annotating this short interest data with StreetAccount News on Legality and Regulations, we can see that net neutrality was part of the dialogue for investors and did have an impact when it was implemented.
What Will Be the Impact of the Reversal of Net Neutrality?
The net neutrality debate continues to be at the forefront of our news streams as Congress works on a bill to reinstate the regulation, but there's nothing left to do but watch it play out. How much space will be available to small businesses in the competitive landscape of the internet? Will deregulation increase consumer freedom or hand over those freedoms to internet providers? Will we see more innovation in the next two years than we have in the last two? Alternatively, will there be a reversal of fortunes as stagnant subindustries start to thrive and others fail? As investors follow those companies most affected and seek answers to these questions, their performance from 2015-2020 will yield insights into the true effects a regulatory decision like this can have on an industry and its key players.
Article by Katy Serio, FactSet
Updated on