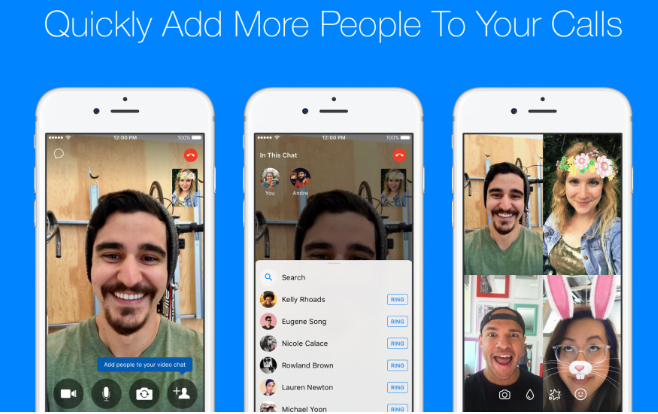 Did you ever feel a need to add more friends to an ongoing audio or video chat without the need to hang up first? If yes, then Facebook Messenger just heard you. With a new Facebook Messenger feature introduced today, you can add more users to an ongoing call while you're still talking.
This new feature comes as a big relief for users who often use group audio or video chat. Until now, to add more people to an ongoing call, one has to hang up and manually add the people before restarting the call. However now, it's all too easy.
To add people to an ongoing audio or video chat in Facebook Messenger, all you need to do is tap the screen and go to the "add person" icon. Then chose the friends you want to add. In addition, after the call is over, you can even message everyone in the chat via an automatically created group, notes The Verge.
Odey's Special Situations Fund highlights Formula One and Shaw
The Odey Special Situations Fund was down 0.27% for April, compared to its benchmark, the MSCI World USD Index, which was up 4.65%. For the first four months of the year, the fund is up 8.4%, while its benchmark returned 9.8%. Q1 2021 hedge fund letters, conferences and more The Odey Special Situations Fund is Read More
"With the ability to add more people seamlessly to your calls, you can continue your conversation in the moment, just like if you were together in real life. Never again worry about skipping a beat when sharing your BFF's spontaneous karaoke performance on Messenger," Facebook said in a blog post.
To get Facebook Messenger's latest feature, you will have to update your Android and iOS Messenger app. Though it is a small update, allowing users to add more people to an ongoing call would surely make the app more useful and position it better against rivals like Skype, Google Hangout and more that already offer such a facility to the users.
This latest update is a part of Facebook's plan, which it announced back in January, to simplify Messenger this year. In 2016, when Facebook Messenger first added audio calls to the service it became quite popular among users. Later that year, the social networking giant added group video calls. It must be noted that China's WeChat added the feature in Dec. 2015.
Group calls are an important part of the strategy of social platforms to make users spend more time on the platform. Apple still doesn't offer group calls via its FaceTime app. However, the iOS 12 is expected to bring this desired feature to the iPhone users. But, according to Bloomberg, the feature would not be ready for this year.
If the group video calls fail to make it to the iOS 12 coming later this year, then other rumored features would surely compensate for it. For example, FaceTime will reportedly get Animoji, which would allow the use of animated emoji characters for video chats.
Separately, voices are growing against Facebook's chat app for kids. After Facebook launched Messenger Kids, its first app for kids under thirteen years of age, many have raised concern that the app could be bad for kids. These critics have cited several research studies that link time spent on social media to dissatisfaction, adolescent depression and more. However, Facebook maintains that its app is safe for kids and gives parents "more control" over their kids' online experience.