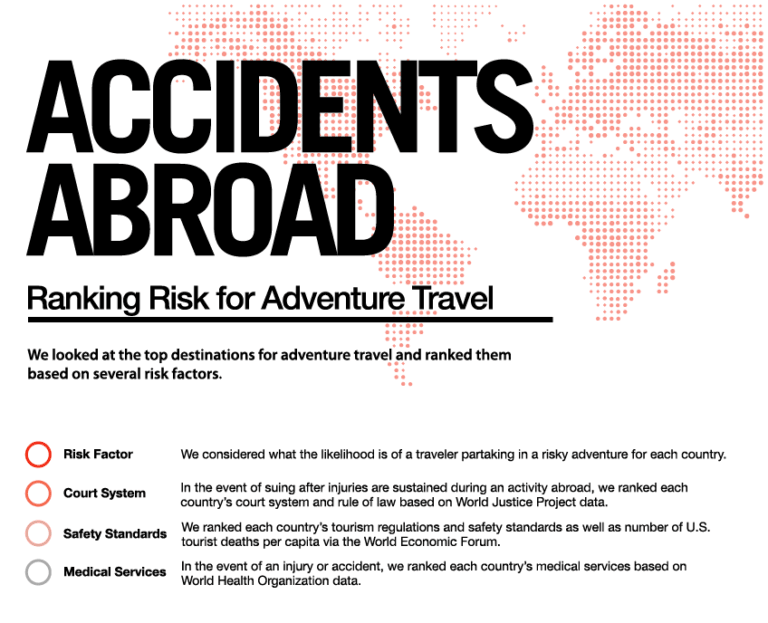 Accidents while traveling happen more than you realize. This is even truer when it comes to outdoor adventure travel destinations. Outdoor adventure is defined as leisure pursuits that are engaged in the outdoors.  They can include but are not limited to backpacking, camping, canoeing, kayaking, fishing, hiking, disc golf, hunting and ATV riding among others. So just how risky are the world's top destinations for adventure travel?
Rubens Kress & Mulholland recently analyzed the top fifteen adventure travel destinations around the world and ranked each location based on several risk factors including:
Risk factor (They considered what the likelihood is a traveler partaking in a risky adventure for each country)
Court systems (In the event of suing after injuries are sustained during an activity abroad, we ranked each country's court system and rule of law based on World Justice Project data)
Safety standards (We ranked each country's tourism regulations and safety standards as well as the number of U.S. tourist deaths per capita via the World Economic Forum)
Medical services (In the event of an injury or accident, we ranked each country's medical services based on World Health Organization data)
Based on those ranking factors, below is the list of the 15 most dangerous countries for Adventure travel ranked from most to least dangerous.
David Einhorn At The 2021 Sohn Investment Conference: Buy These Copper Plays
There's a gold rush coming as electric vehicle manufacturers fight for market share, proclaimed David Einhorn at this year's 2021 Sohn Investment Conference. Check out our coverage of the 2021 Sohn Investment Conference here. Q1 2021 hedge fund letters, conferences and more SORRY! This content is exclusively for paying members. SIGN UP HERE If you Read More
Thailand
Mexico
Brazil
Belize
India
Jamaica
South Africa
Costa Rica
Bahamas
China
France
Canada
United States
Iceland
Australia
There can be some level of subjectivity when accessing the risk for adventure. There are some countries are more risky by default based on unreliable medical services and safety standards that are not up to par with other countries. Countries with more adventure activities also run the risk of more injuries, simply by the fact that there are many people traveling to this countries with the intention of adventure travel.
To see the full analysis from Rubens Kress & Mulholland, check out the full infographic below. The source from their data rankings came from the World Justice Project, data from the World Health Organization, TripAdvisor, the World Economic Forum, the U.S. Department of State, the FIA foundation, the Telegraph and the publications Adage.