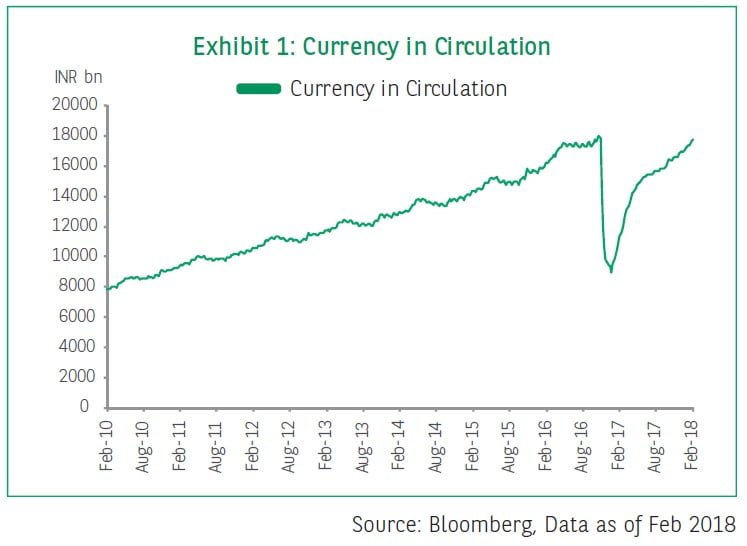 BNP Paribas on how remonetisation, credit growth and budgetary support has fueled Consumption, Investment and Government spending which are working in tandem. This makes us believe that the nominal GDP growth will surprise us on the upside aiding corporate margins and revenue growth. This will push the demand for credit and banks may evaluate to raise their deposit rates to meet the rising credit demand. They think there is still some time for this to play out and yields to peak out.
[REITs]
Check out our H2 hedge fund letters here.
Hayden Capital 2Q22 Performance Update
Hayden Capital's performance update for the second quarter ended June 30, 2022. Q2 2021 hedge fund letters, conferences and more Dear Partners and Friends, The markets continued to sell-off in the second quarter, especially for internet-based businesses.  This year continues to be the toughest stretch for us, since the Hayden's inception.  Inflation concerns and the Read More
Since early November 2017 we have noticed an increase in currency in circulation (CIC) to the tune of INR 1.4 trillion. This has resulted in the banking system liquidity moving from INR 1 trillion positive (lending to RBI) to borrowing of around INR 550 billion currently. The system has been completely remonetised and the pace of CIC continues to move up. (Exhibit 1)
Generally, the CIC would rise in the following scenarios.
Consumption confidence on the rise:
RBI's latest consumer confidence survey gained some traction wherein perceptions of general economic situation improved with sentiments on income outlook improved reflecting better employment prospects. (Exhibit 2)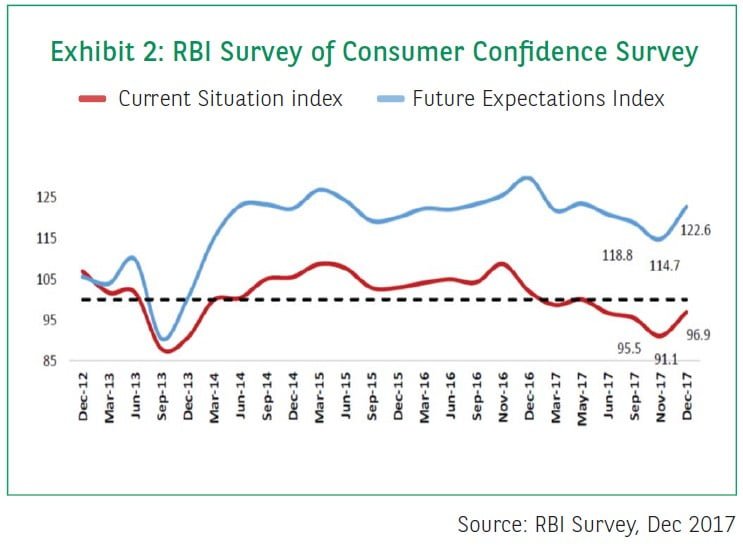 Rising household inflationary expectations:
RBI's survey showed much elevated inflation expectations. Household inflationary expectations have started to inch up since last one year. This could be due to lower savings rate leading to lower disposable income and higher retail prices reflecting in elevated CPI inflation numbers. Higher inflation always results in increased use of cash. (Exhibit 3)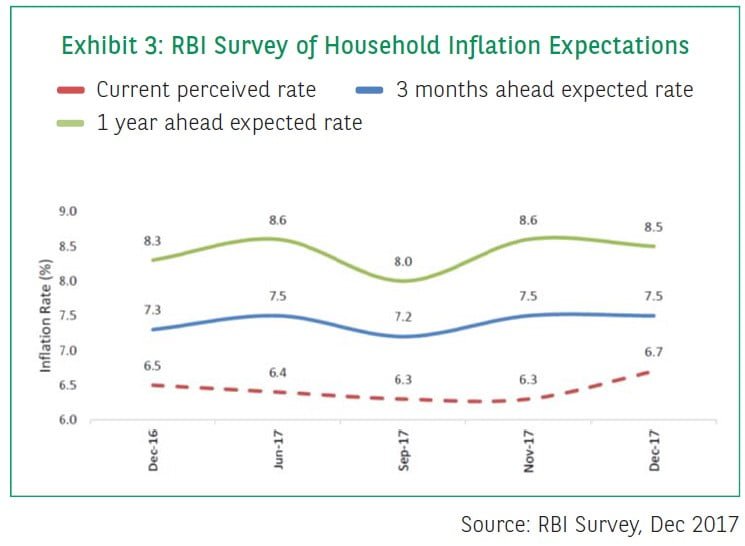 World Economics comes out with a Sales Managers Index for major economies and the charts below pertaining to India confirm the rising business confidence. This should lead to better growth, rising capacity utilization and rising inflationary impulse in the economy. (Exhibit 4A & 4B)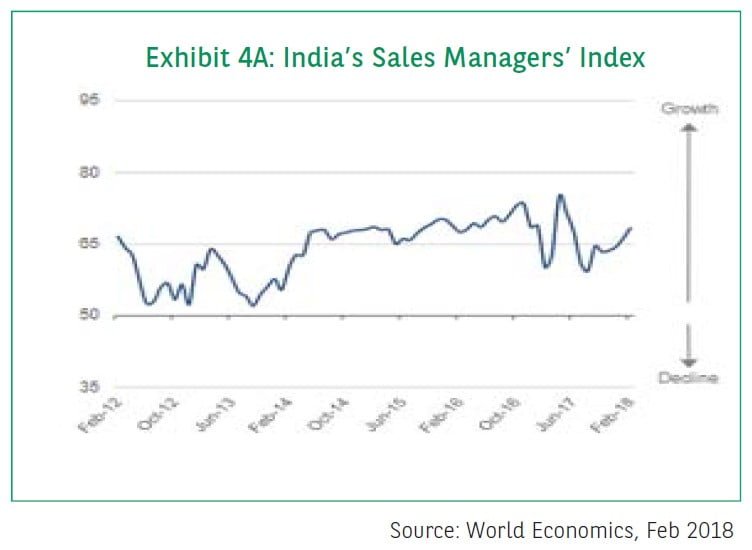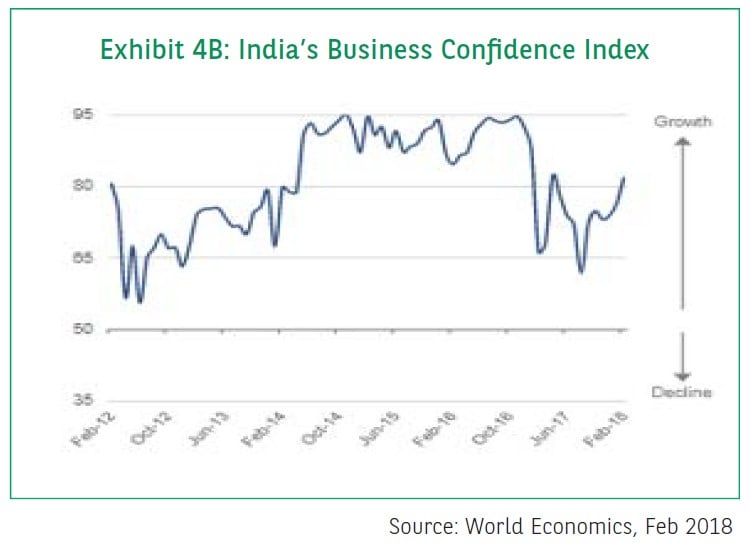 Budget 2018 – Government to stimulate growth:
The government has started spending through measures such as farm loan waivers, policy push on affordable housing, roads / highways etc. The governments endeavor to double farm income via MSP increase will put more money in the hands of the people which will be positive for consumption.
The increase in cash in the hands of the public and accelerating consumer debt is boosting consumption, the rising business confidence and economic recovery is depicting inventory rebuilding, and governments rising deficit due to focus towards infrastructure and rural economy will provide the necessary growth impetus. All the three (Consumption + Investment + Government) elements are now working in tandem which makes us believe that the nominal GDP growth will surprise us on the upside aiding corporate margins and revenues. However, rising trade deficit may detract growth. (Exhibit 5)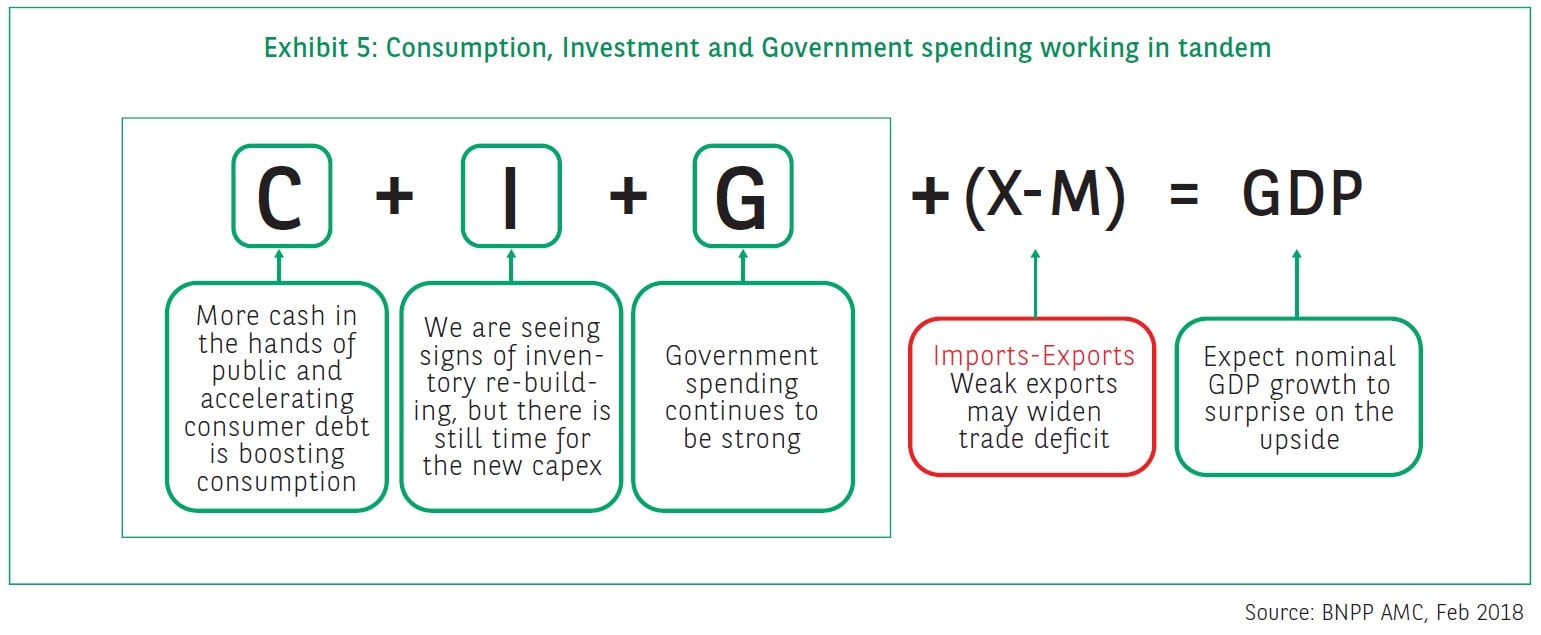 This prognosis also re-affirms our view that growth impulses are getting stronger, profit margins of manufacturers are improving while credit growth is picking up and is also becoming broad-based. The credit growth has been in double digits while the deposit growth still lags behind. Thus to meet the incremental credit requirements, RBI either provides system with reserve money which in an inflationary scenario seems unlikely or banks increase their deposit rates to garner the currency which has leaked back in the economy. We think there is still some time for the latter to play out and yields to peak out.
See the full PDF below.
Updated on