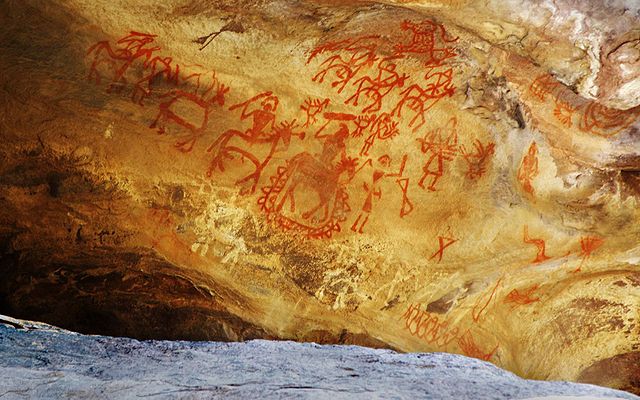 The evolution of the first human language has always been a mystery. It is believed that the human language originated 100,000 years ago. It is still unknown how homo sapiens managed to start speaking and writing down things from their surroundings. However, a new study sheds light on their language development, suggesting that early humans turned acoustic sounds into cave art.
The paper published in the journal Frontiers in Psychology indicated that thousands of years ago, early humans were impressed with the sounds reverberating off the walls. The sounds were likely created by humans making sounds or walking, which generated sounds which resembled that of a hoof. That inspired them to draw a hoofed animal on the walls of caves to give that sound a meaning.
Shigeru Miyagawa from MIT believes that the ancient cave art provides info that could be our best chance to comprehend how linguistic skills developed throughout time. Miyagawa and his team suggest in the paper that it is the cave art inside thousands of year old caves that is the oldest representation of human language.
Gator Financial Partners 1H2022 Performance Update
Gator Financial Partners letter to investors for the first half of the year ended June 30, 2022. Q2 2022 hedge fund letters, conferences and more Dear Gator Financial Partners:  We are pleased to provide you with Gator Financial Partners, LLC's (the "Fund" or "GFP") 1st Half 2022 investor letter. This letter reviews the Fund's 1st Read More
"Cave art was part of the package deal in terms of how homo sapiens came to have this very high-level cognitive processing," Miyagawa, who is a professor of linguistics and the Kochi-Manjiro Professor of Japanese Language and Culture at MIT said in the statement. "You have this very concrete cognitive process that converts an acoustic signal into some mental representation and externalizes it as a visual."
According to the scientists, back in the day, early humans were fond of places where sound echoed, and that many humans used those acoustic "hot-spots" in order to find a way to express those sounds as cave drawings.
"I think it's very clear that these artists were talking to one another," Miyagawa said in the press release. "It's a communal effort."
The researchers conducted their study and suggested this theory after they had analyzed 70,000-year-old ancient drawings which were discovered in South Africa's Blombos Cave. They also said that the ancient cave drawings are similar to human language, and are present in different locations around the globe. They are present in Europe, the Middle East, and Asia.
Even though their theory is just a working hypothesis, the team thinks that the ancient cave drawings could be of great help to archaeologists who are trying to understand how humans developed from symbolic beings to using human language.
"We could speculate that human language emerged as an abstract symbolic system, while its expression — in the form of cave and rock art, or any other modality — may have occurred very late," study co-author Vitor Nobrega told National Geographic.
Some archaeologists say that the theory is not convincing, although the team is planning to continue studying the ancient cave drawings and try to explore more of them in the future. According to them, aside from helping them understand the connection between the artwork and linguistic terms, their research should also help them discover the exact origin of human language.
Updated on