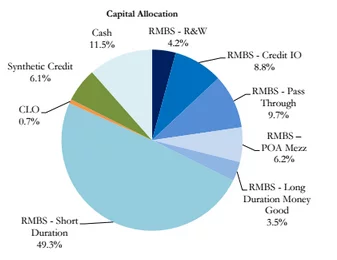 Run by a team of CFA and PhD holding fund managers the Serenitas Capital Credit Gamma Master Fund is centred on dynamic allocations across corporate and mortgage debt securities. With almost half of the portfolio (49.2%) allocated to short duration residential mortgage backed securities (RMBS) the credit gamma master fund delivered strong double digit returns to investors during 2017, according to a letter to investors reviewed by ValueWalk. 1
Specifically, the fund returned 19.24% in 2017, the best year since 2013, and almost doubling the year-on-year performance compared to 2016. Serenitas focusses on delivering absolute returns irrespective of market direction with a relative value credit approach. Additionally, incorporating a low net risk approach to credit spreads and interest rates, has paid off for the Serenitas capital, which is owned by $8 billion manager, LMCG.
Serenitas capital Credit Fund Analytics
With an annualized return of 13.44% since its 2013 inception and even better a respectable Sharpe Ratio of 2.72 over the same time frame, the five-person team lead by Chief Investment Officer, David Weeks have made consistently smart market calls over the past 5 years. With a low correlation (0.17) to the S&P 500 a position with Serenitas would be a prudent, attractive, choice for an investor currently holding a more traditional 60/40 equity/ fixed income allocated portfolio – with valuable diversification benefits to be gained. 1
GrizzlyRock Value Partners returned 30 percent in the fourth quarter; Here are their favorite stocks
GrizzlyRock Value Partners returned 30.31% net for the fourth quarter, bringing its full-year return to 7.57% net. During the fourth quarter, longs added 42.8%, while shorts detracted 10.3%. Q4 2020 hedge fund letters, conferences and more In his annual letter to investors, which was reviewed by ValueWalk, managing partner Kyle Mowery noted that 2020 was Read More
2018 – Serenitas capital And Other Credit Funds See Opportunities in RMBS abound
The strategy from the Serenitas fund has been devised by applying quantitative techniques to calculate valuations – identifying opportunities through proprietary pricing and risk management models. Their heavy allocations to RMBS also look likely to pay off well in 2018 – and they aren't alone in positioning their funds to capture these market opportunities. Only 10 years after similar real estate instruments fuelled the financial crash and we are seeing investors directing capital flows towards mortgage backed instruments.
Credit risk transfer (CRT) was one of the best performing themes in RMBS for 2017 -as investors are betting big that homeowners will not default on their mortgage loans. In May 2017, at the Mortgage Bankers Association National Secondary Market Conference and Expo, expert panellists voiced strong opinion that they expect the housing market to attract increasing amounts of capital inflows all the way through to 2021.
Also driving this market upwards is the fact that Fannie Mae and Freddie Mac began issuing CRT bonds to pass default risks through to private investors and off the shoulders of taxpayers in 2013. 2 These bonds have performed well through the course of 2017 – so much so that Fannie Mae closed its ninth and final risk transfer tranche of the year in November 2017, creating a total $5.3 billion of insurance coverage of about $220 billion in loans.3
Serenitas' specialisation in trading residential mortgage-backed securities, CLOs, and credit derivatives may very well leave them in a better position to manoeuvre around certain segment risks that have led many investors to exercise caution. For example, the extreme weather events of 2017 (including hurricanes and wildfires) have been enough to scare certain investors out of the space. Astute, thorough, risk management will be key in avoiding the downside risks these types of events may continue to present in 2018.
Sources:
1Serenitas Credit Gamma Master Fund, December 2017, Termsheet
2Mortgage Bankers Association, MBA.org
3Housing Wire, December 27th 2017