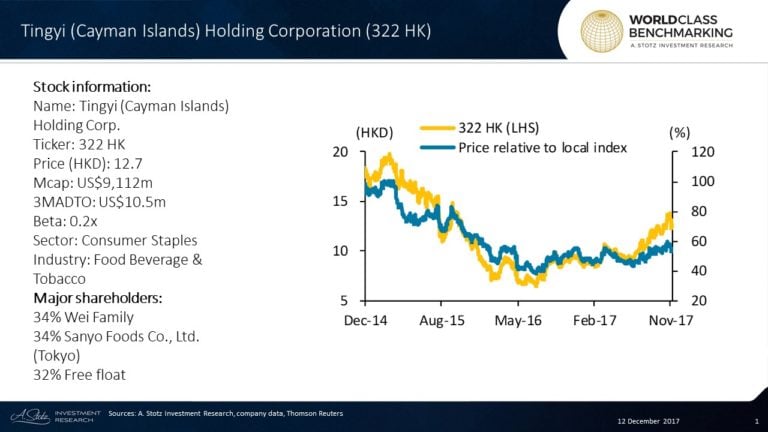 Background
Tingyi (Cayman Islands) Holding Corporation is a food and beverage company that manufactures and sells instant noodles, beverages and baked goods in China.
[REITs]
Warren Buffett's Annual Letter: Mistakes, Buybacks and Apple
Warren Buffett published his annual letter to shareholders over the weekend. The annual update, which has become one of the largest events in the calendar for value investors, provided Buffett's views on one of the most turbulent and extraordinary years for the financial markets in recent memory. Q4 2020 hedge fund letters, conferences and more Read More
It is best known by its Master Kong brand name and has established leading market shares in instant noodles and ready-to-drink (RTD) tea in terms of volume in 3Q17.
Business Description
Beverages is the major revenue contributor, comprising 62% of total sales. Tingyi offers varied products including RTD Tea with no.1 market share by volume at 52%, bottled water (market share: 15%), carbonated drinks, juice drinks (21%), milk and coffee drinks. It exclusively manufactures, distributes and sell PepsiCo (PEP US) non-alcoholic drinks in China.
The instant noodle business contributes 35% of total sales which comes in varieties to cater to different consumers, from premium and high-end noodles for the middle-class group and mid-end snack noodles that focus on affordability. In 3Q17, the noodle segment ranked first with a market share of 41%. It also manufactures cakes, sandwich crackers and biscuits.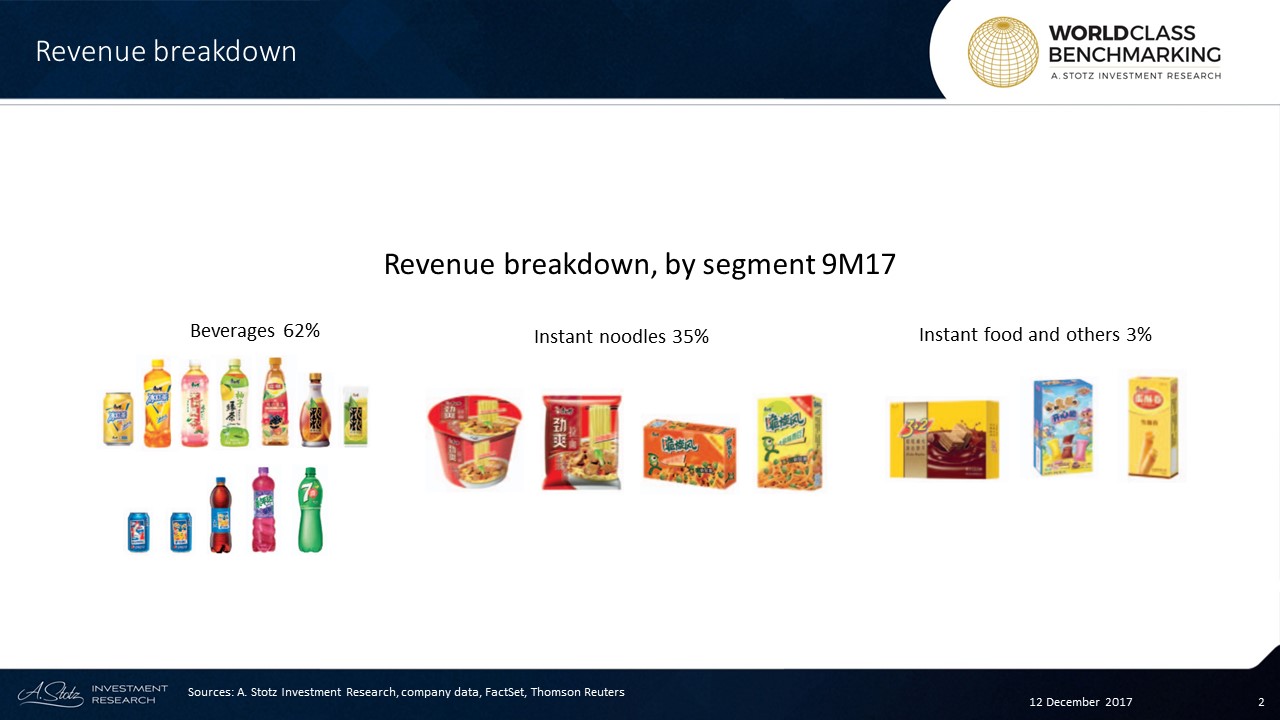 Tingyi has teamed up with foreign large companies to develop its business through JVs. Besides PepsiCo, Tingyi teamed up with Asahi (2502 JP) to develop its beverage business through a JV. On December 1, Tingyi exercised its options to increase its ownership to 77.9% from 57.5% in the JV company Tingyi-Asahi Beverages Holding Co., Ltd. For its snack food business, it has a JV with another big Japanese company, Itochu (8001 JP).
Leadership
Tingyi was founded by the Taiwanese Wei brothers. Wei Ing-chou is currently serving as the Chairman of the company. He has received a doctorate degree from Waseda University, Japan.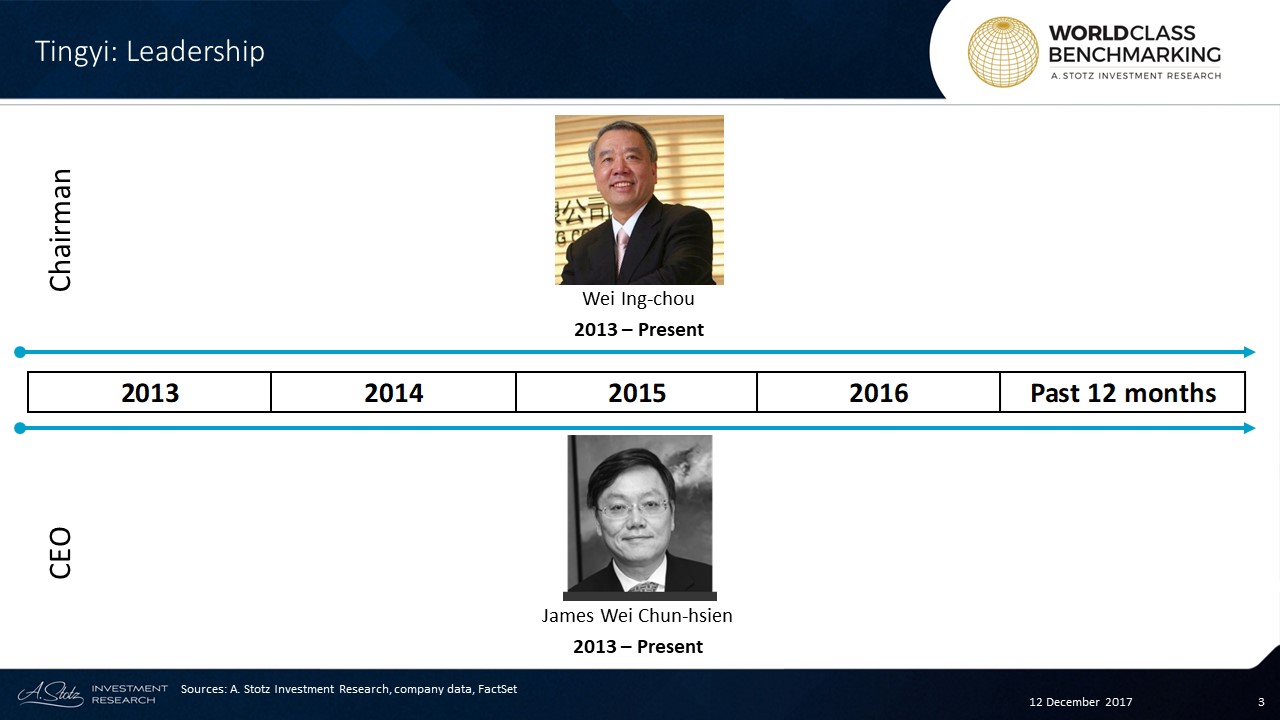 James Wei Chun-hsien is another of the four Wei brothers and was appointed CEO of Tingyi in 2013. He has held multiple board memberships in others companies and is still active in some. James obtained his Bachelor's degree in Engineering from National Taiwan University and an MBA from University of Chicago, US.
World Class Benchmarking
Profitable Growth has been falling since 2013 but has recovered slightly in the past 12 months, ranked at #7.
Profitability has been consistently low at #8 since 2015 while a spike in Growth can be observed in the past 12 months. The improvement in Growth drove up the overall Profitable Growth rank.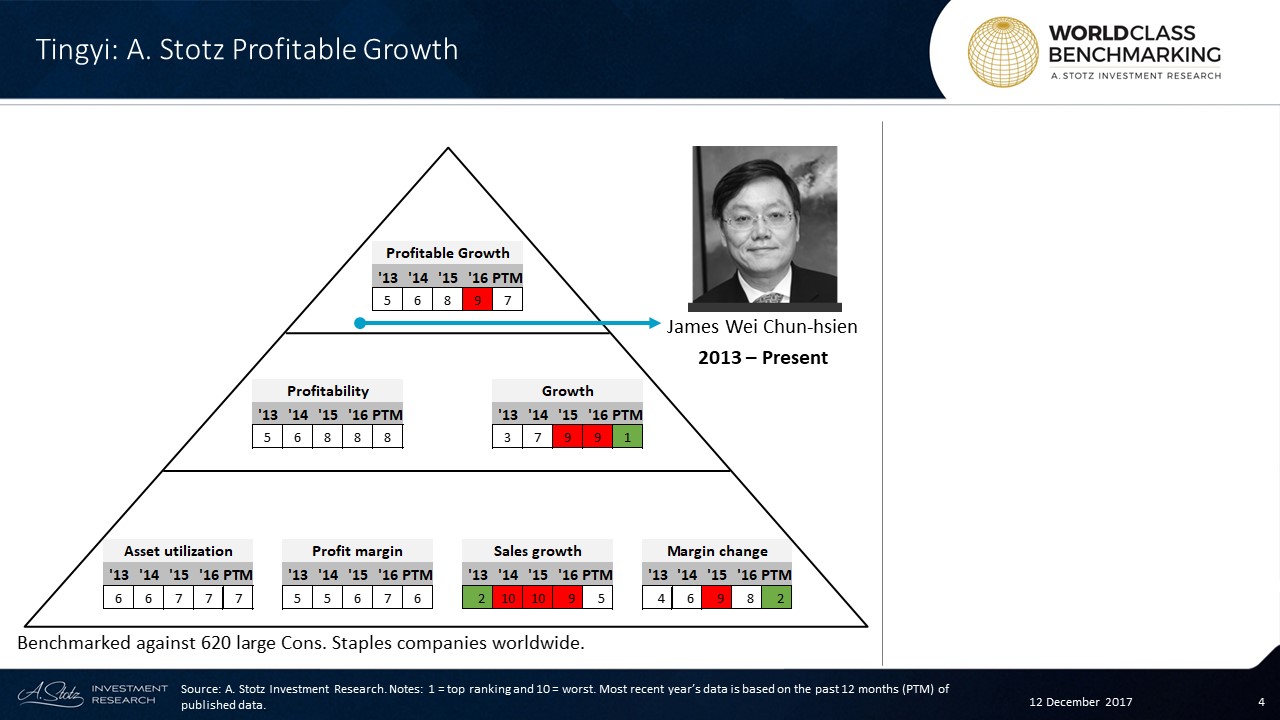 Asset utilization and Profit margin have been stable at below average ranks. Profit margin improved one step to #6 in the past 12 months.
Sales growth has improved from the worst ranks to average and Margin change has improved to #2 from #8 in the past 12 months.
Article by Become A Better Investor