According to Credit Suisse, which tracks margin debit balances at NYSE member firms to gauge retail and prime brokerage activity, through November, margin debit balances grew 3.8% quarter on quarter to $580.9 billion, the highest level recorded since the turn of the century. It is impossible to draw any concrete conclusions from this data (margin balances have been rising to new highs since 2014) there are plenty of other exciting takeaways from Credit Suisse's year-end 2017 investment banking industry roundup.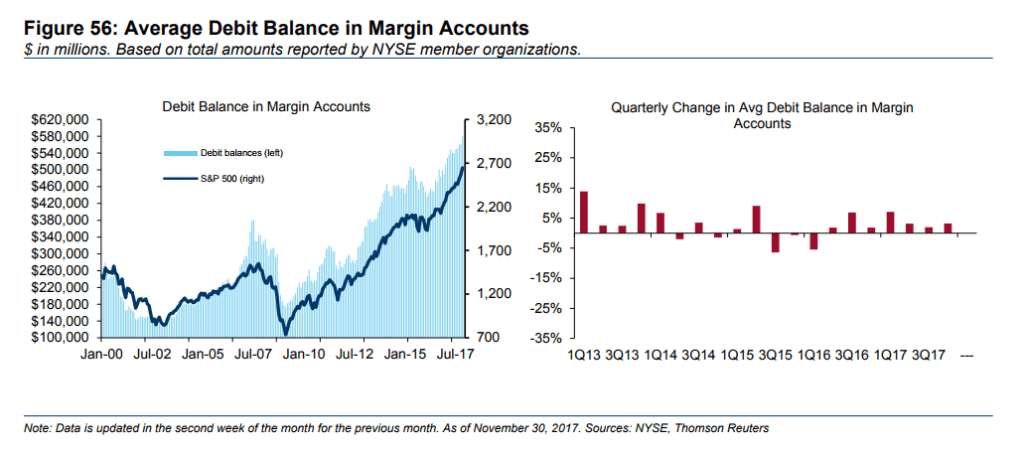 Investment banking industry sees a mixed end to the year
The roundup, which was published earlier this week, aggregates trends from the global investment banking industry from the throughout the year such as margin debt and trading data.
Generally speaking, Q4 2017 was a benign period for investment banks. A lack of M&A activity and volatility weighed on trading and advisory income and as a result, total fees for the period declined 3% year-on-year and 6% quarter-on-quarter. Equity underwriting and IPO fees rose 21% and 14% respectively year-on-year although M&A fees declined 21%.
The Credit Suisse report notes:
"Investment Banking revenues declined in 4Q17… investment banking fees in aggregate were down 6% qtr/qtr (-3% yr/yr) with ECM quite strong, but DCM and M&A weighing down the comparisons. Specifically, equity underwriting fees were up 16%; debt underwriting fees were down 15%; M&A fees were down 12%; the M&A backlog was up 9% at quarter end."
Interestingly, despite the broad S&P 500 rally that has been taking place over the past decade, it seems as if investors are still highly cautious about what the future holds for markets. The Credit Suisse Global Risk Appetite index (which measures relative risk-adjusted performance across a range of assets to gauge of investor sentiment) rose to an average of 0.5 in December, only just above the neutral 0 level and far below a reading above 5, which indicates euphoria.
With investors' risk appetite subdued, it's no surprise that throughout the year, equity funds recorded net outflows. As shown in the chart below, since February, equity funds have seen outflows in every month since but taxable fixed income and money market funds recorded $75.2 billion of inflows in Q4 alone.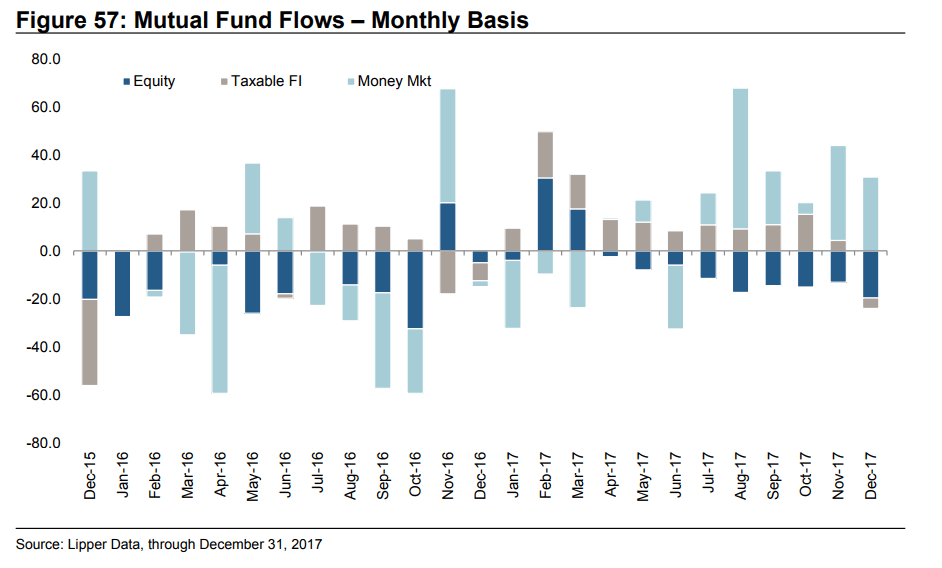 Good year ahead for investment banking industry
Following a mixed 2017 for the investment banking industry, Credit Suisse's analysts see a bright year ahead, as they explain in the report:
"All in, our base case estimates translate to 10% year to year EPS growth and a ~14% ROTCE, on average in 2018. Our blue sky estimates are ~25% above base case, with near equal incremental upside in the stocks. Looking at a weighted average of our blue sky, base case and gray sky scenarios translates to ~10% total return in our recommended names—BAC, JPM, MS and C. We strongly favor the universal banking model, with its multiple levers for growth and greater potential for realization of scale economies."
Like Us On Facebook - For Business And General News: ValueWalk - For Tech And Science News: ValueWalk Tech - For Tech Insights, Technical Questions and Queries: Follow Our COO, Sheeraz Raza.