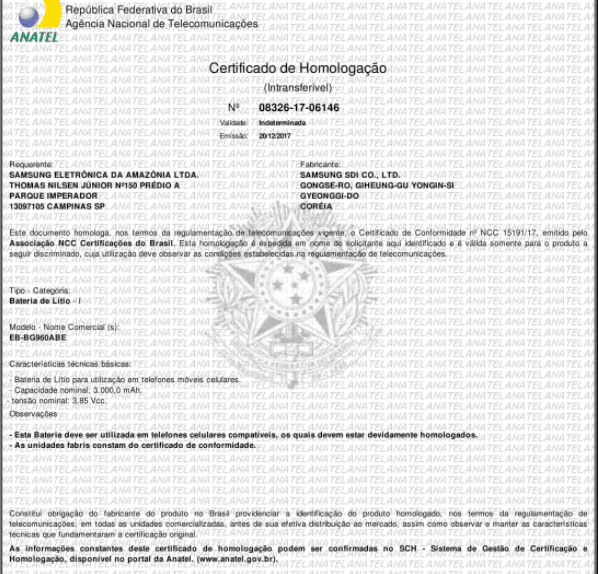 The Galaxy S9 and S9 Plus launch is just around the corner. Samsung's mobile business head DJ Koh has confirmed that the upcoming flagship would be unveiled at the Mobile World Congress (MWC) next month, though he did not specify a date. The rumor mill has revealed tons of details about the Galaxy S9. But there was little clarity on its battery size and when Samsung would start taking pre-orders for the device. Now these aspects have also been revealed in two separate leaks.
Galaxy S9 to have the same battery size as the Galaxy S8
As the Galaxy S9 inches closer to its launch, it has been appearing on different certification sites. Folks at SlashLeaks have spotted the Galaxy S9 and S9 Plus passing through Brazil's National Telecommunications Agency (ANATEL). The certification documents contain information about both the phones' battery sizes. Apparently, the Galaxy S9 and S9 Plus would have the same battery sizes as last year's Galaxy S8 and S8 Plus.
#Samsung – #GalaxyS9 – Galaxy S9 to come with 3000mAh battery, confirmed by ANATEL https://t.co/2R4z0EGjLD pic.twitter.com/nMva3K02Wq

Jim Chanos Unveils Lastest Short As Fund Manager Bets On Further Market Declines

Jim Chanos has a new short target in his sights. Earlier this week, the hedge fund manager disclosed that he is betting against "legacy" data centers that face growing competition from the trio of technology giants, which have previously been their biggest customers. The fund manager, who is best known for his winning bet against Read More

— /LEAKS (@Slashleaks) January 15, 2018
According to certification documents, the Galaxy S9 would pack a 3,000mAh battery and the S9 Plus would include a 3,500mAh battery. It contradicts rumors that the S9 would come with a larger 3,200mAh battery. Keeping the battery sizes same as last year's models makes sense considering the Galaxy S9 and S9 Plus would have the same 5.8-inch and 6.2-inch screens as their predecessors. According to the ANATEL certification documents, Galaxy S9's battery will have 3.85V voltage and 11.55Wh, while the S9 Plus would have 13.48Wh.
#Samsung – #GalaxyS9Plus – Galaxy S9+ to come with 3500mAh battery, confirmed by ANATEL https://t.co/ymqxlnQEe2 pic.twitter.com/e95FQ3bBj0

— /LEAKS (@Slashleaks) January 15, 2018
It doesn't mean the upcoming phones would not offer any improvement in terms of battery life. The new phones would be powered by Qualcomm's Snapdragon 845 or Exynos 9810 chips. The Snapdragon 845 is 30% more energy efficient than last year's Snapdragon 835, meaning it would consume less power than its predecessor. Samsung claims the Exynos 9810 is 15% more energy efficient compared to the last year's chips.
We can expect the Galaxy S9 and S9 Plus to offer better battery life even with the same battery size as the Galaxy S8 and S8 Plus. Also, the Snapdragon 845 brings Quick Charge 4+ technology, which would allow a phone's battery to go from "empty to 50% in just 15 minutes," claims Qualcomm. The Snapdragon variant would be sold in the US and China, while the rest of the world would get the Exynos version of the Galaxy S9 and S9 Plus.
Samsung to start taking Galaxy S9 pre-orders on March 1st
While Samsung has only stated that it would unveil the devices at the MWC, ever-reliable tipster Evan Blass has revealed the unveiling date, pre-order date as well as the launch date of the phones. Citing a "C-level executive at a major casemaker," Blass says the Galaxy S9 would be unveiled on February 26th, the very first day of MWC in Barcelona. The Galaxy S9 and S9 Plus would become available for pre-orders on March 1st.
According to a C-level executive at a major casemaker, the go-to-market schedule for Galaxy S9 / S9+ is as follows:

Launch – 2/26
Pre-orders – 3/1
Ships/releases – 3/16

— Evan Blass (@evleaks) January 16, 2018
Samsung will start selling the phones in launch markets on March 16, according to Blass. Evan Blass is a reliable tipster, so there is a good chance these dates are accurate. Last year, the Galaxy S8 and S8 Plus were unveiled on March 29 and started retailing on April 21st. The S8 and S8 Plus launch had been delayed by about a month due to the Galaxy Note 7 debacle.
Galaxy S9 features and specs
A Galaxy S9 retail box that appeared on Reddit recently revealed the phone's specs. The Galaxy S9 would feature a 5.8-inch Quad HD+ Super AMOLED display. It would come with 4GB RAM, 64GB of internal storage, a 'Super Speed Dual Pixel' 12-megapixel main camera with OIS, an 8MP front autofocus camera, and an advanced iris scanner that would work even when you are wearing sunglasses. The Dual Pixel camera would have a variable aperture of f/1.5 to f/2.6.
The Galaxy S9 Plus would differ from its smaller sibling in that it would have a bigger 6.2-inch Super AMOLED display, a higher 6GB RAM, a bigger 3500mAh battery, and a vertically aligned dual camera system on the back. Yes, the dual camera would be exclusive to the S9 Plus as Samsung tries to differentiate the more expensive version from the regular Galaxy S9, similar to what Apple has been doing for years. It means the S9 Plus would offer 2x optical zoom like Galaxy Note 8. It would also come with Live Focus.
Both the phones would have the fingerprint sensor on the back, placed below the camera module. Of course, they will include the Bixby AI assistant, wireless charging, a USB Type-C port, and the 3.5mm headphone jack. The S9 and S9 Plus would be competing against Apple's iPhone X and LG's upcoming LG G7.
Updated on